Tim Kaine: Hillary Clinton's running mate makes his debut in Miami
'Tim Kaine is everything Donald Trump and Mike Pence are not'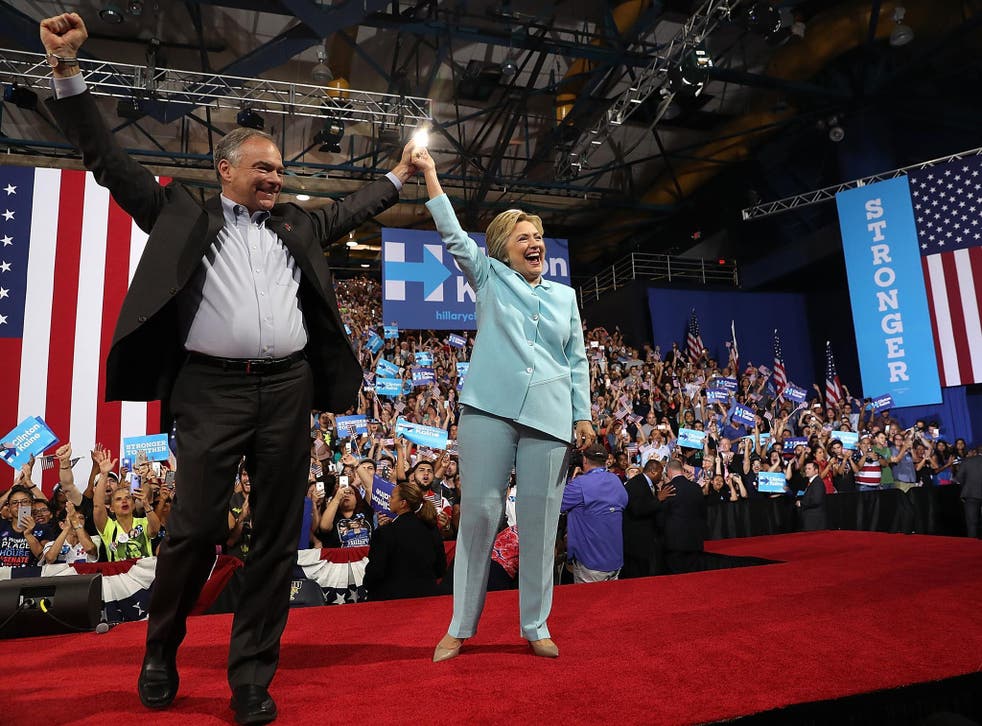 The Clinton-Kaine ticket made its debut at a Miami, Florida, campaign event in the running mates' first public appearance together since the Virginia senator was named the vice presidential pick.
Hillary Clinton announced Virginia Senator Tim Kaine as her running mate Friday evening after a long selection process. It had been speculated that Massachusetts Senator Elizabeth Warren or Housing and Urban Development Secretary Julián Castro were among the top picks who could have potentially energised the Clinton campaign.
"Senator Tim Kaine is everything Donald Trump and Mike Pence are not," Ms Clinton said to cheers introducing Mr Kaine, describing him as a "leader who cares more about making a difference than making headlines".
She further outlined the differences between the potential vice president, juxtaposing him to their Republican rivals.
"One of his first cases [as a civil rights lawyer] was a pro bono case representing a woman who was denied an apartment because she was African American," Ms Clinton said. "So while Tim was taking on housing discrimination and homelessness, Donald Trump was denying apartments to people who were African American."
"While Mike Pence slashed education funding in Indiana, and gave more tax cuts to the wealthiest, Tim Kaine cut his own salary and invested in education from pre-K through college and beyond."
Mr Kaine, who had spent time serving as a Jesuit missionary in Honduras, began his speech demonstrating his fluency in Spanish.
"Bienvenidos a todos in nuestro país, proque somos americanos todos." Mr Kaine said. ("Welcome to everyone in our country, because we are all Americans.")
Mr Kaine used the platform to dig into Donald Trump, warning voters to be wary of the New York tycoon's promises.

"We've seen again and again that when Donald Trump says he has your back you better watch out," he said. "From Atlantic City to his so-called university, he leaves a trail of broken promises and wrecked lives wherever he goes. We can't afford to let him do the same thing to our country.
Bernie Sanders campaigns with Hillary Clinton

Show all 15

"We don't have to because Hillary Clinton is the direct opposite of Donald Trump."
The enthusiastic running mate continued: "Hillary Clinton... doesn't insult people, she listens to them. What a novel concept. She doesn't trash our allies, she respects them. And she'll always have our backs – that is something I am rock solid sure of."
President Barack Obama issued a statement in support of Mr Kaine, 58, after Ms Clinton made the announcement.
"Like Hillary, Tim is an optimist. But like Hillary, he is also a progressive fighter," he said.
"This job is… about surrounding yourself with the best possible people. And there's no more important decision you'll make as a presidential candidate than choosing a vice president," Mr Obama added.
The president had considered Mr Kaine as a potential running mate during his 2008 campaign, and reportedly encouraged Ms Clinton to choose the senator.
Mr Obama attempted to assuage fears of Clinton supporters who accepted Mr Kaine with some trepidation.
One focus of progressive concerns are Mr Kaine's personal beliefs about abortion, but reproductive rights groups immediately came out in support of the running mate, who has a longstanding pro-choice voting record.
"While Senator Kaine has been open about his personal reservations about abortion, he's maintained a 100 per cent pro-choice voting record in the US Senate," Ilyse Hogue, president of NARAL Pro-Choice America, said. "He voted against dangerous abortion bans, he has fought against efforts to defund Planned Parenthood, and he voted to strengthen clinic security by establishing a federal fund for it.
"We trust Secretary Clinton would not select Senator Kaine, and Senator Kaine would not accept the position, if he could not fully support Secretary Clinton's robust agenda when it comes to preserving and expanding reproductive freedom and justice."
Mr Kaine sits on both the Senate Armed Services and Foreign Relations committees, and exhibits strong foreign policy qualifications – something the Clinton campaign touted in their announcement.
"Hillary chose a running mate who will be a real partner and help bring our country together in these divided times," the statement said. "Tim's experience at the local, state, and national level makes him uniquely qualified to help build an economy that works for everyone – not just those at the top – and keep American families safe."