Hillary Clinton: Trump would be like 'Christmas for the Kremlin'
The Democrat told Stanford University that Donald Trump would make 'America less safe, and the world more dangerous'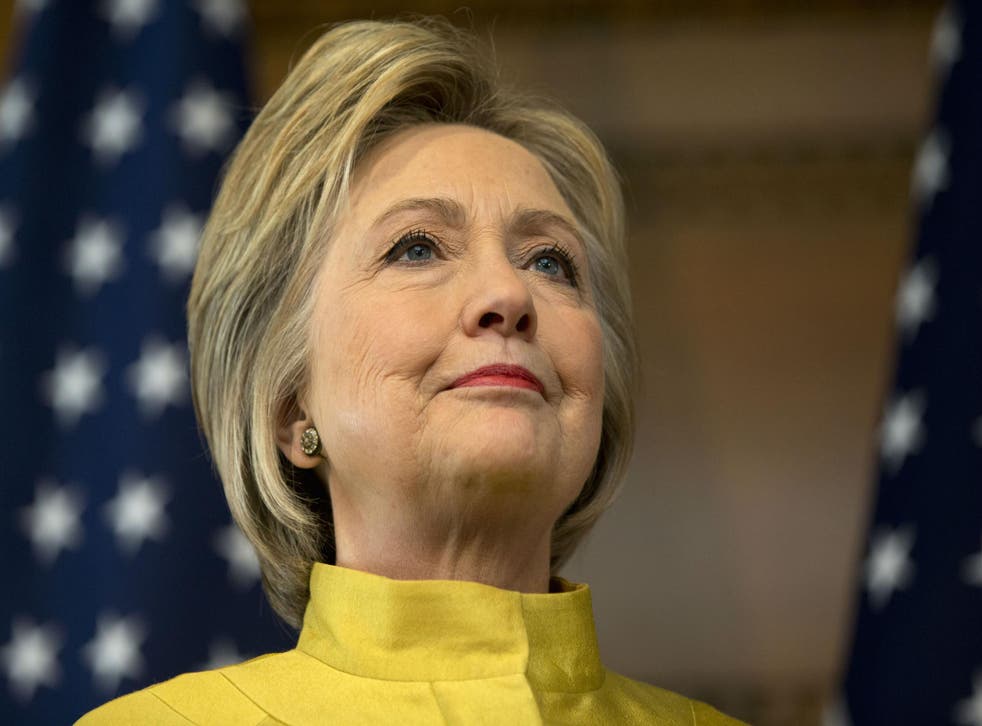 Hillary Clinton has said the Brussels bombing is evidence that the fight against Isis is far from finished, and has described how Donald Trump's foreign policy would make the US less safe.
Ms Clinton, in a speech to Stanford University, lambasted her rival's policies and "inflammatory rhetoric", including demonising Muslims, building walls on the US border, advocating torture like waterboarding and the desire to pull out of an alliance with Nato.
"If Trump gets his way, it will be like Christmas in the Kremlin," she said. "It will make America less safe, and the world more dangerous."
Her comments echo those of Ted Cruz who said earlier the same day that Mr Trump's foreign policy would make Isis "dance in the street".
She said her three-point plan on counter-terrorism, revealed last year, included being ahead of the curve technologically as building "walls" would not detain Isis.
"We need to work with the brightest minds of Silicon Valley to more effectively track and analyse Isis's social media and map jihadists' networks online," she said. "When other candidates talk about building walls around America, I want to ask them - how high does the wall have to be to keep the internet out?"
The Democrat, who gained a strong victory in Arizona this week, warned against "carpet bombing populated areas into oblivion" or "stumbling into another costly ground war in the Middle East".
"Proposing that doesn't make you sound tough, it makes you sound like you're in over your head," she said. "Slogans aren't a strategy. Loose canons tend to misfire. What America needs is strong, smart and steady leadership to wage that struggle."
She did not rule out further airstrikes or foot soldiers in Syria and Iraq, but also stressed the need for diplomatic solutions.
As a senator in New York during the 9/11 attacks, she said the fight against terrorism is a "personal" one as she said she saw the devastation caused by an attack that was "well prepared and executed".
While Mr Trump wants to end his alliance with Nato, Ms Clinton countered: "Nato in particular is one of the best investments America has made.
"From the Balkans to Afghanistan and beyond, Nato allies have fought along the United States, sharing the burdens and sacrifices."
As Ted Cruz has also made headlines for suggesting surveillance of Muslims should continue in New York, Ms Clinton voiced the NYPD's concerns about demonizing 1,000 Muslim police officers and said it risked alienating the "moderate" Muslims around the world that are needed as allies.
Register for free to continue reading
Registration is a free and easy way to support our truly independent journalism
By registering, you will also enjoy limited access to Premium articles, exclusive newsletters, commenting, and virtual events with our leading journalists
Already have an account? sign in
Register for free to continue reading
Registration is a free and easy way to support our truly independent journalism
By registering, you will also enjoy limited access to Premium articles, exclusive newsletters, commenting, and virtual events with our leading journalists
Already have an account? sign in
Join our new commenting forum
Join thought-provoking conversations, follow other Independent readers and see their replies