Hillary Clinton attacks Vladimir Putin as leader of 'white supremacist and xenophobic movement'
'We can see this authoritarian movement rippling out from the Kremlin, reaching across Europe and beyond,' the former Democratic presidential candidate says
Chris Riotta
New York
Saturday 23 June 2018 00:48 Comments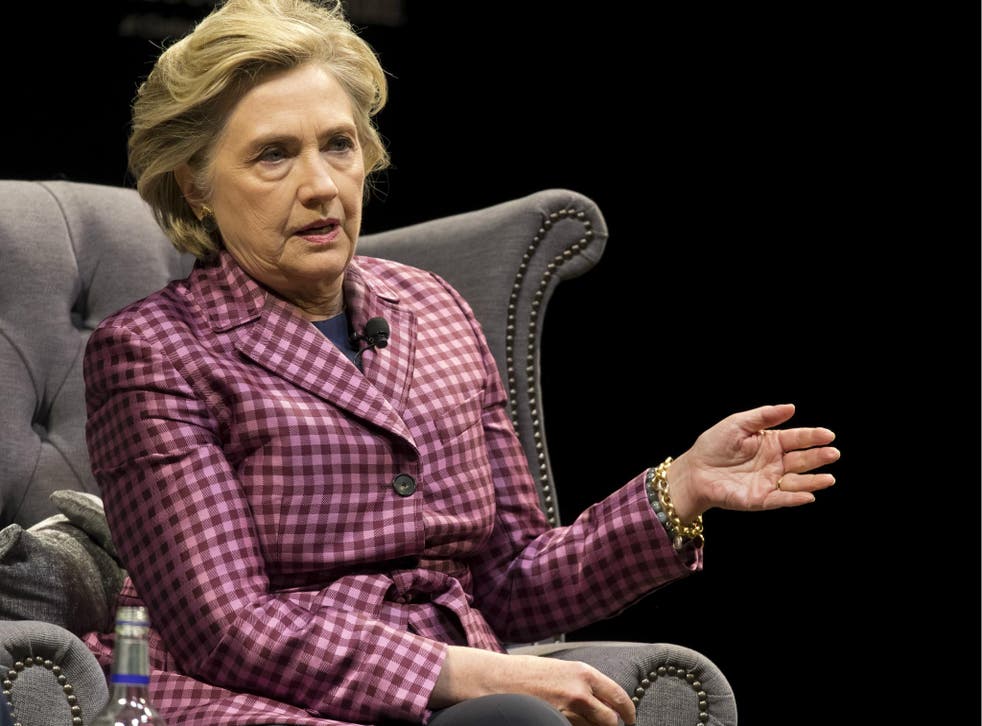 Former Democrat presidential nominee Hillary Clinton has hit out at Russian President Vladimir Putin, describing him as the leader of a "white supremacist and xenophobic movement" which is designed to "weaken America's traditional alliances and undermine democracy."
The former secretary of state did not mince words when discussing the Mr Putin during a lecture at Trinity College Dublin, and declared that Russian interference in the 2016 presidential election - which is the subject of multiple investigations in the US Congress and the FBI - as a "clear and present danger" to Western democracy.
"Vladimir Putin has positioned himself as the leader of an authoritarian, white-supremacist and xenophobic movement that wants to break up the EU, weaken America's traditional alliances and undermine democracy," Ms Clinton said. "We can see this authoritarian movement rippling out from the Kremlin, reaching across Europe and beyond. It's emboldening right-wing nationalists, separatists, racists and even neo-nazis."
Hillary Clinton mocks President Trump with a Russian hat during her speech at Yale University
The Democratic National Committee was repeatedly attacked by Russian-linked hackers throughout the 2016 election cycle, according to the US intelligence community, with the apparent aim of damaging Ms Clinton. Mr Putin denied the Kremlin was involved in working to undermine the election process in America, adding that the content of emails leaked via the hacks was more important than who was behind it.
Donald Trump then echoed those sentiments, refusing to admit Russia was likely the culprit of the attacks against his presidential opponent. "It could be Russia, but it could also be China," he said during a presidential debate with Mrs Clinton. "It could also be lots of other people. It also could be somebody sitting on their bed that weighs 400 pounds."
Hillary Clinton's life in pictures

Show all 10
Mrs Clinton has continued speaking out against Russia's alleged impact on the 2016 election and the current White House administration, most recently raising over $1.5m to aid children separated from their families at the border due to Mr Trump's "zero tolerance" policy. The hardline immigration rule imposed by Attorney General Jeff Sessions "may amount to torture," according to a statement issued by the UN's Human Rights Council.
"We are living through an era when fundamental rights, civic virtue, even facts and reason are under assault like never before," Mrs Clinton added.
Register for free to continue reading
Registration is a free and easy way to support our truly independent journalism
By registering, you will also enjoy limited access to Premium articles, exclusive newsletters, commenting, and virtual events with our leading journalists
Already have an account? sign in
Join our new commenting forum
Join thought-provoking conversations, follow other Independent readers and see their replies