Hillary Clinton battles rain and strangled vocal chords as she urges Florida voters to spurn 'divisive' Donald Trump
Almost half of all registered voters in Florida have already cast their ballots, but African-American enthusiasm is muted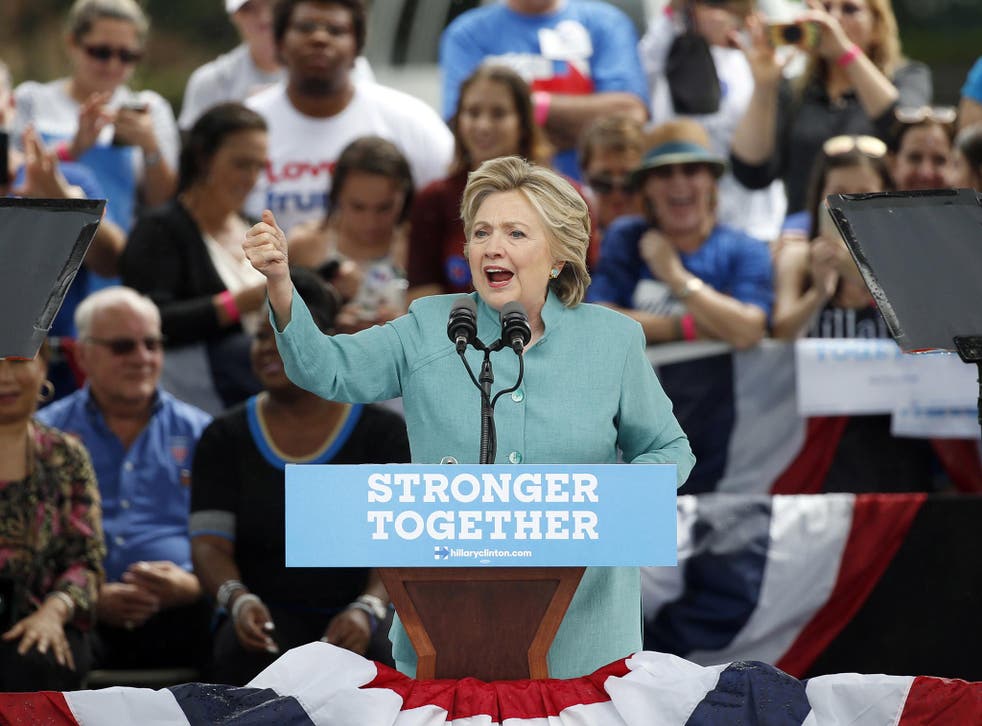 Rain in the Sunshine State was not the best omen for Hillary Clinton as she appeared in Pembroke Pines in north Miami on Saturday to make one last urgent appeal to her supporters to show up at the polls and help her win crucial Florida and, she hopes, the White House.
That Ms Clinton cut her scheduled speech down to just a few minutes might, however, have had less to do with the poor weather and more with her increasingly strained vocal chords.
"Donald, you don't want to go there," Ms Clinton virtually croaked, referring to his repeated queries about what she has achieved in 30 years of public service. With it, she listed a short resume of accomplishments including guaranteeing healthcare for children, helping rebuild lower Manhattan after 9/11 when she was a senator from New York, and defending basic rights.
"I've stood up for human rights, women's rights, worker rights, and LGBT rights," she declared, rain drops dampening her light-green jacket, before turning to the most pressing priority at hand, ensuring the highest possible turnout, particularly in southern Florida, a Democrat stronghold.
"We are seeing tremendous momentum with people coming out to vote and breaking records in places," Ms Clinton averred, alluding to new data showing that some 40 million Americans have already taken advantage of early voting, 18 million of them in battleground states.
"You are a hardy bunch standing out in the rain, I don't think I need to tell you all the things that are wrong with Donald Trump," she went on. "I want to tell you I want to be the president for all the people", a jab at Mr Trump's divisive rhetoric during this campaign.
In Florida, nearly half of all registered voters have already cast their ballots, with the numbers evenly split between Republicans and Democrats. That is potentially a good sign for Ms Clinton, as it is Republicans who traditionally tend to cast their votes early in the state, not Democrats.
Earlier Ms Clinton dropped in her campaign's grassroots office in Little Haiti in Miami to try to gin up enthusiasm in the Haitian community. Her campaign has become concerned that hidden in the early voter data is evidence that African American voting appears depressed. This weekend, it is deploying a small army of volunteers in south Florida to try drive up early voting numbers in part to offset what is sure to be lopsided support for Mr Trump in more conservative northern reaches of the state.
"I know we have work to do today," she told volunteers crowded into the office. "There has never been a more important election when you stop to think about who we are as a country. I think we are stronger together and that the diversity of America is a great gift and blessing. I will fight every single day to provide greater opportunities here and throughout Florida."
New polls on Saturday suggested that after several days of a tightening race, Ms Clinton continues to preserve a slight edge over Donald Trump nationally and in most of the battleground states. A YouGov poll released on Saturday gave her a three-point lead and estimated she would win 293 electoral college votes, more than the 270 needed to win the White House.
Ms Clinton has the chance to deliver a potential knock-out blow to Mr Trump if she can win Florida, but even her staunchest supporters acknowledge that the margin of victory for either candidate in the state is unlikely to be more than 1 per cent. They have been encouraged, however, by robust early voting among Hispanic, who overwhelmingly back her over Mr Trump.
His campaign equally focused on Florida, Mr Trump made an early morning stop in Tampa to push back against a wave of support for his opponent from Puerto Ricans, whose numbers have quickly grown in the centre of the state. He accused Ms Clinton of lacking "stamina".
"Look, I'm here I'm doing five or six of these a day, and Hillary goes home, she goes to sleep. If she wanted to do it, which she doesn't, she doesn't have the energy to do it, believe me," Mr Trump said in Tampa, on a day that would also see him campaigning in places as far afield as North Carolina, Nevada and Colorado.
That Mr Trump is spreading himself all over the map in the waning days of the race is a sign of a campaign uncertain of how it will be able to muster the 270 electoral college votes to win and concluding it may as well try and find at least one state, somewhere and anywhere, where the Clinton fortifications might possibly be breached.
Mr Trump told the Tampa crowd that he would also be dropping in to Minnesota before the weekend was out, although there was nothing on his official schedule to confirm it. Minnesota has not voted for a Republican for president since 1984.
For her part, Ms Clinton was flying from Florida to Philadelphia in Pennsylvania, another important swing state but one where her lead appears to be staying solid.
Join our new commenting forum
Join thought-provoking conversations, follow other Independent readers and see their replies