How a 28-year-old with no political experience found herself in Trump's inner circle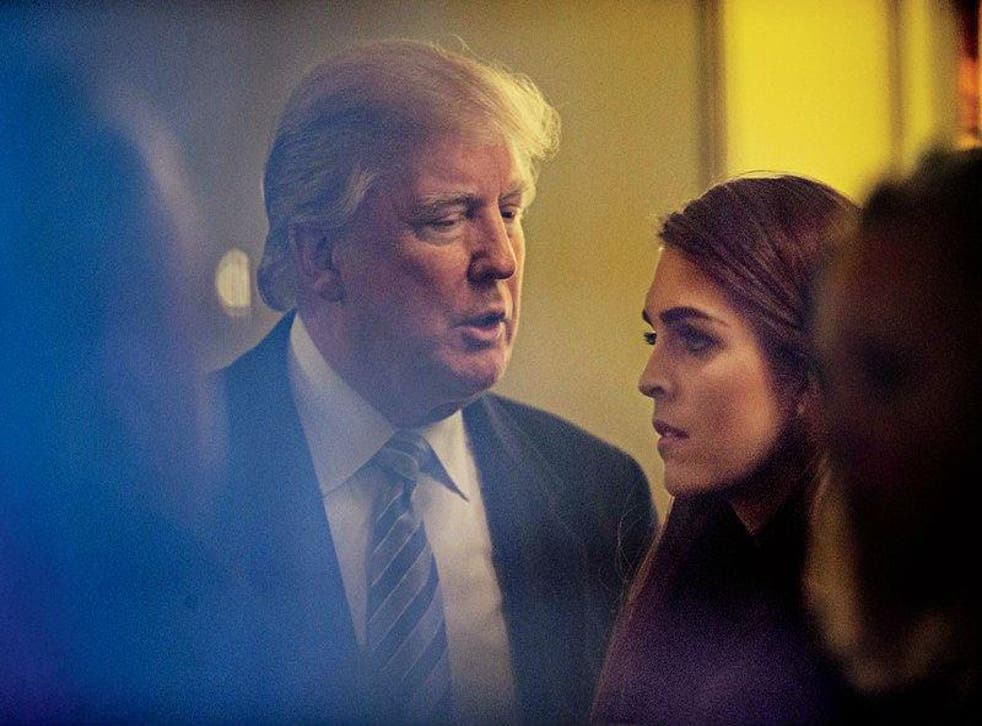 Hope Hicks, 28, was born in Greenwich, a town of 60,000 on the southwest tip of Connecticut that's a favourite spot for hedge fund headquarters.
She was a model, actress, and lacrosse player as a child, before getting her English degree at Southern Methodist University.
Hicks didn't intend on playing such a large role in a presidential campaign, instead falling into the gig through a job at the Trump Organisation.
But she now finds herself as one of President Donald Trump's youngest advisers, serving as assistant to the president and director of strategic communications in the White House.
And Hicks has been with Trump — to use his words — "from the beginning." She stuck on his campaign through multiple staff revamps, including two high-profile changes at the campaign-chair position.
Here's what we know about Hicks.
Hicks and her sister, Mary Grace, were successful teen models. Hicks posed for Ralph Lauren and appeared on the cover of "It Girl," a spin-off of the best-selling "Gossip Girl" book and TV series.
Hicks' first brush with the Trumps came in 2012 when she was at the public-relations firm Hiltzik Strategies working on Ivanka Trump's fashion line. Trump's eldest daughter hired Hicks away in 2014, and she became an employee of the Trump Organisation.
Hicks met patriarch Donald Trump and quickly "earned his trust," Ivanka Trump told the New York Times for a June 2016 profile on the spokeswoman.
In January 2015, Trump called Hicks into his office on the 26th floor of Trump Tower, and told her she was joining his presidential campaign. "I think it's 'the year of the outsider.' It helps to have people with outsider perspective," Hicks said Trump told her.
Hicks didn't have any political experience, but her public-relations roots run deep. Both grandfathers worked in PR and her father, Paul, was the NFL's executive vice president for communications and public relations. He was also a town selectman from 1987 to '91. Greenwich proclaimed April 23, 2016, as Paul B. Hicks III Day.
Hicks started working on what would become Trump's campaign five months before Trump announced his presidency after famously riding a golden escalator down to the lobby of his tower on June 16, 2015.
That makes Hicks the campaign staffer who has persisted in Trump's inner circle the longest. She outlasted his first campaign manager, Corey Lewandowski, and several senior advisers.
People close to her describe Hicks as a friendly, loyal fighter. Trump has called her a "natural" and "outstanding."
While reporters who have worked with Hicks say she's polite, they have expressed frustration that she was often unreachable on the campaign trail, not responding to requests for comment, or denying access to the candidate.
She said her mom, Caye, told her to write a book about her experience with Trump, like "Primary Colours," the fictional novel depicting President Bill Clinton's first presidential campaign. "You don't even know," she said she told her mother.
During the campaign, Hicks spent most of her days fielding reporters' endless requests and questions — even reportedly taking dictation from Trump to post his tweets.
During the campaign, Hicks stayed in a free apartment in a Trump building, though she'd often go home to her parents' house in Connecticut when she could.
These days, she's in DC. Trump named her his assistant to the president and director of strategic communications in December.
She still flies below the radar, directing the spotlight back on Trump. The then president-elect called her up to the microphone to speak at a "Thank You" rally in December.
It's been said she can act as a sort of Trump whisperer, understanding his many moods and professionally executing what needs to be done. She still only calls him "Sir" or "Mr. Trump."
"If the acting thing doesn't work out, I could really see myself in politics," Hicks told Greenwich Magazine when she was 13. "Who knows."
Some family members and friends have expressed concern that Hicks is so closely tied to a president whose policies and statements are unpopular with a significant number of Americans, but are confident that she'll come through unscathed.
"There is just no way that a camera or an episode or a documentary could capture what has gone on. There is nothing like it," Hicks told Marie Claire in June 2016. "It is the most unbelievable, awe-inspiring thing."
• 18 life-saving facts that everyone should know
• 28 crazy pictures of micro-apartments around the world
• The 19 cheapest holiday destinations on earth in 2017
Read the original article on Business Insider UK. © 2016. Follow Business Insider UK on Twitter.
Join our new commenting forum
Join thought-provoking conversations, follow other Independent readers and see their replies