As Hope Hicks departs, the White House faces a difficult time replacing a key member of Trump's inner circle
The communication director's exit deprives the president of a confidante who had been there from the start of his political career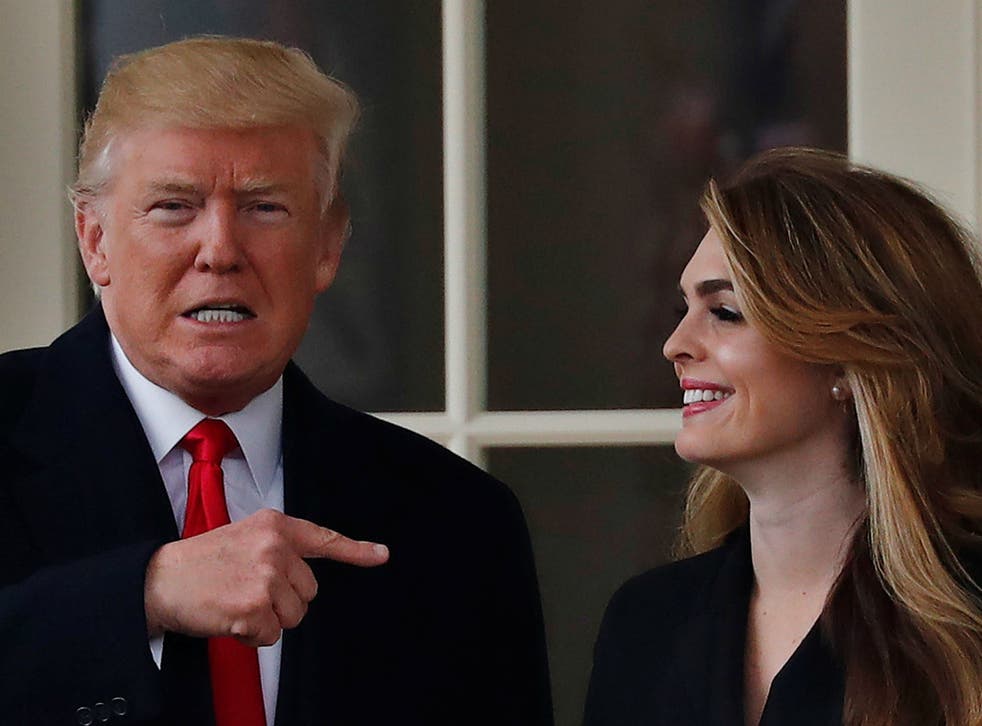 As the Trump administration continues to churn through staff, the White House is contemplating the post-Hope Hicks era, and how difficult the former communications director will be to replace.
Until recently, 29-year-old Ms Hicks was one of the longest-serving members of Mr Trump's inner circle and one of his closest confidantes.
She signed on during the presidential campaign, at a time when much of the Republican establishment remained wary of Mr Trump's insurgent candidacy, and remained in a pivotal role through the first tumultuous year of Mr Trump's tenure.
In a White House marked by internal feuds and overseen by a mercurial president, Ms Hicks was seen as a stabilising influence – someone who had earned Mr Trump's trust and could help navigate his shifting moods.
"Her ability to anticipate what he wants and also execute can't be replicated," spokesman Hogan Gidley told The New York Times. "At least not immediately."
But now Ms Hicks has joined a long list of administration departures. She announced her resignation in late February, shortly after she was interviewed by the House Intelligence Committee about Russian interference in the 2016 election.
Donald Trump's first year: in pictures

Show all 29
In hours of testimony, Ms Hicks reportedly admitted to having told "white lies" on behalf of Mr Trump, an admission of the president's sometimes flexible relationship with facts that also amounted to a profession of her loyalty.
The president prizes loyalty in his aides, and Ms Hicks's longstanding role supporting Mr Trump helped earn his trust. The president and various surrogates referenced that history in marking her departure.
"She's someone who has been with the president since the early days. She was part of a team that was very small during the campaign," White House spokesman Lindsay Walters said of Ms Hicks.
Bill Maher: Hope Hicks has been voted off the island... she was Trump's work-wife, his emotional companion animal
Now, with Ms Hicks joining an exodus that in recent months has also included staff secretary Rob Porter, top economic adviser Gary Cohn and National Security Adviser HR McMaster, people within the White House are wondering who might fill the Hope Hicks-sized void.
The White House has so far been publicly quiet on a potential replacement. In her last remarks to reporters on the topic, press secretary Sarah Huckabee Sanders said Mr Trump had not decided whether to promote someone from within the administration, or hire outside help.
But the president has openly mused about who could take on Ms Hicks's duties, according to CNN.
One person who has earned a comparable level of trust from Mr Trump is Daniel Scavino, an aide who has a role in crafting the tweets that represent the president's most frequent and visible public proclamations.
Like Ms Hicks, Mr Scavino has been with Mr Trump since before he entered the White House. He relationship with the president extends "beyond loyalty", an administration source told CNN, as evidenced by Mr Scavino reportedly being the sole remaining aide with access to Mr Trump's Twitter account.
He has also used his own Twitter account to rally support for Mr Trump, sharing the president's tweets and projecting enthusiasm for sometimes controversial decisions, such as Mr Trump's recent appointment of the hawkish former ambassador John Bolton to serve as national security adviser.
"Great news," Mr Scavino tweeted recently in response to a story about Mr Bolton planning to pursue leakers, a frequent target of Mr Trump's ire. "Look out leakers!! Here comes Bolton…"
Internal options to formally take on Ms Hicks's role reportedly include White House Director of Strategic Communications Mercedes Schlapp and Treasury Department spokesman Tony Sayegh.
Join our new commenting forum
Join thought-provoking conversations, follow other Independent readers and see their replies