Hope Hicks: White House 'tells Trump's former communications director not to cooperate with subpoena'
Democrat Jerry Nadler has threatened to hold the two women in contempt if they listen to White House and ignore congressional requests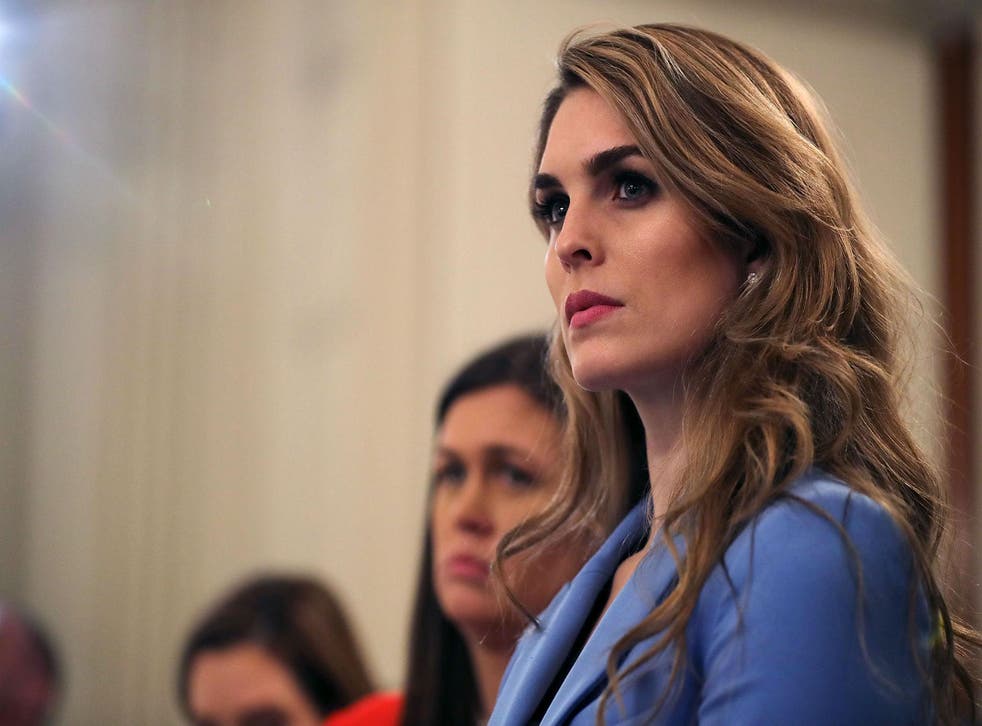 The White House has reportedly instructed former officials Hope Hicks and Annie Donaldson not to give the House Judiciary Committee documents related to their time working for the president, in the latest conflict between congressional investigators and the West Wing following the release of the Mueller report.
Ms Hicks, a former Donald Trump campaign aide who later served as the White House communications director, could still hand over documents to the committee related to her work on the campaign, reportedly because that period of work does not fall under executive privilege designations. She has already testified at least once in front of a congressional regarding issues related to the campaign. That was in 2018, and the 9-hour closed door testimony came just before she resigned from her post in the White House.
The White House has reportedly asserted executive privilege over Ms Hicks testifying about her work for Mr Trump as president, with the chief of staff Mick Mulvaney reportedly reportedly telling her and Ms Donaldson not to testify before the committee. Letters were sent to the congressional committee that had issued subpoenas to Ms Hicks and Ms Donaldson.
Ms Donaldson was served as chief of staff for former White House counsel Don McGahn, and provided former special counsel Robert Mueller's investigation with detailed notes indicating Mr Trump attempted to get Mr Mueller fired.
Ms Donaldson and Ms Hicks are both scheduled to testify before the committees later this month, and House Judiciary Committee chairman Jerry Nadler said in response to the White House's executive privilege assertion that he expects both women to be held in contempt of Congress if they refuse to honour the subpoenas.
Mueller investigation: The key figures

Show all 12
Asked if the two would be held in contempt if they do not comply with their investigation into Mr Trump's potential obstruction of the Russia investigation, Mr Nadler told reporters: "I would assume so."
The decision to instruct the two women not to hand over documents to the congressional committee comes just a day after Democrats in Congress moved forward on two notable fronts. On Monday, House committees announced that they were planning public hearings related to the Mueller probe, including related to Mr Trump's potential obstruction of the Mueller probe. Other Democrats also announced that they would proceed with contempt charges for attorney general William Barr, who has refused to hand over the fully un-redacted Mueller report and all of its underlying evidence to Congress.
Support free-thinking journalism and attend Independent events
That contempt hearing is scheduled for next week, and would be one of the first steps for Democrats to take the Justice Department and White House to court over those documents.
Join our new commenting forum
Join thought-provoking conversations, follow other Independent readers and see their replies