Howard Schultz: Former Starbucks CEO 'seriously considering' running for president as centrist independent
Democrats raise concerns that his run could split their vote and ultimately hand Donald Trump another four years in office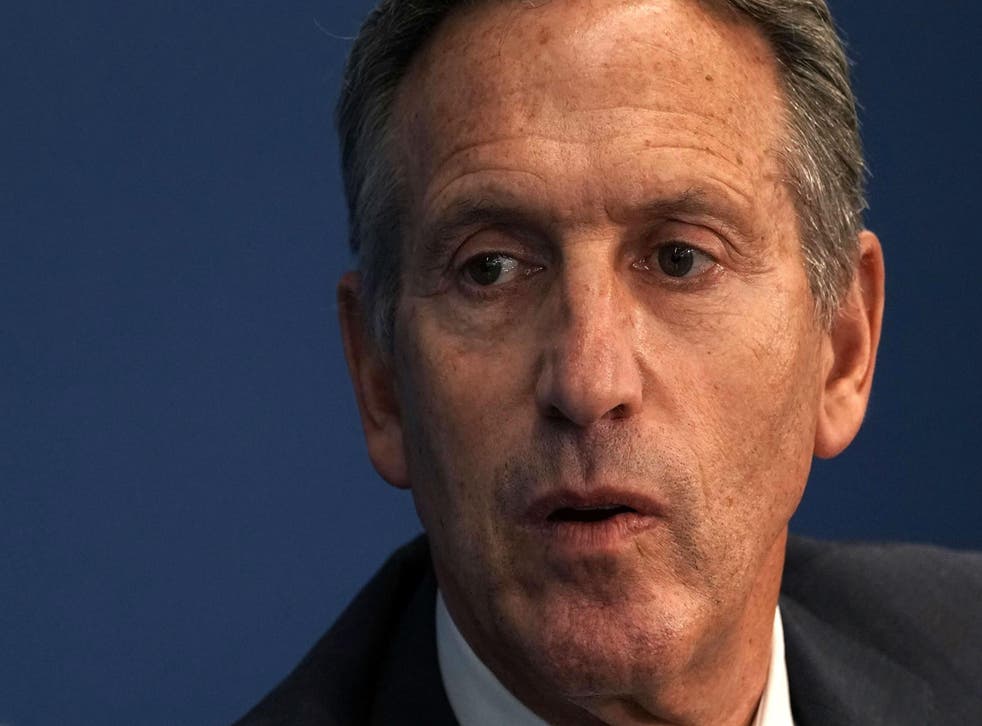 The former CEO of Starbucks has said he is considering running for the US presidency as a "centrist independent" in 2020.
Howard Schultz, who has an estimated net worth of $3.3bn, stepped down as head of the coffee giant last year and is believed to be exploring his options.
The 65-year-old had previously donated to Democratic campaigns, describing himself as a life-long supporter of the party, but has since criticised both the Democrats and the Repuublicans.
"We're living at a most fragile time," Mr Schultz told CBS's 60 Minutes on Sunday.
"Not only the fact that this president is not qualified to be the president, but the fact that both parties are consistently not doing what's necessary on behalf of the American people and are engaged every single day in revenge politics."
Who could be running against Trump in 2020?

Show all 23
Mr Schultz has previously donated $150,000 (£113,000) to Democratic campaigns but he has been greeted with significant pushback from the party at his intentions of running as an independent.
There are fears that his run could draw support from an eventual Democratic nominee and ultimately hand Donald Trump another four years in office.
Among those urging him not to run as an independent are David Axelrod, the former adviser to Barack Obama and Tina Podlodowski, the Democratic Party chairwoman in Washington state, where Mr Schultz has lived for decades.
"For somebody who is professing to be a lifelong Democrat, I think to be running as in independent in this particular cycle is not a wise thing to do," Ms Podlodowski said.
She also called on Mr Schultz to either run as a Democrat or invest in the party infrastructure.
Mr Schultz has been mentioned as a potential candidate many times before and has done little to quell speculation about his presidential ambitions since he retired from Starbucks last June.
If he were to enter the race he would be the most high-profile candidate without prior elected experience.
Although his office did not respond when asked for comment, he has posted on Twitter.
Mr Schultz grew up in public housing in Brooklyn, New York, and became the first person in his family to graduate from college.
He took over Starbucks when it sold only coffee beans, not cups – it had 11 stores and fewer than 100 employees at the time.
Mr Schultz grew it into a global brand that now has close to 30,000 stores in 78 countries.
Along the way he adopted an ethos of corporate responsibility, making Starbucks one of the earliest US companies to offer stock options and health insurance even to part-time employees, and more recently partnering with Arizona State University to cover tuition for workers who want to earn their bachelor's degree online.
Support free-thinking journalism and attend Independent events
Mr Schutlz has also criticised Mr Trump, telling employees that the president was creating "chaos" and hurting business; calling his tax cuts for corporations unnecessary and reckless; and vowing to hire 10,000 refugees after Mr Trump issued an executive order banning travel from seven mostly Muslim nations.
He has been critical of the Democratic Party and criticised many of their proposals as being unrealistic and instead emphasised expanding the economy and curbing entitlements to get the national debt under control.
"It concerns me that so many voices within the Democratic Party are going so far to the left," Mr Schultz told CNBC last June.
"I ask myself, 'How are we going to pay for all these things?' in terms of things like single-payer or people espousing the fact that the government is going to give everyone a job. I don't think that's realistic."
Additional reporting from agencies
Join our new commenting forum
Join thought-provoking conversations, follow other Independent readers and see their replies