Republican congressman who opposed Harvey relief funding now in charge of recovery effort
'Texans will not leave one another behind,' Representative Joe Barton says
Emily Shugerman
New York
Saturday 16 September 2017 17:41 Comments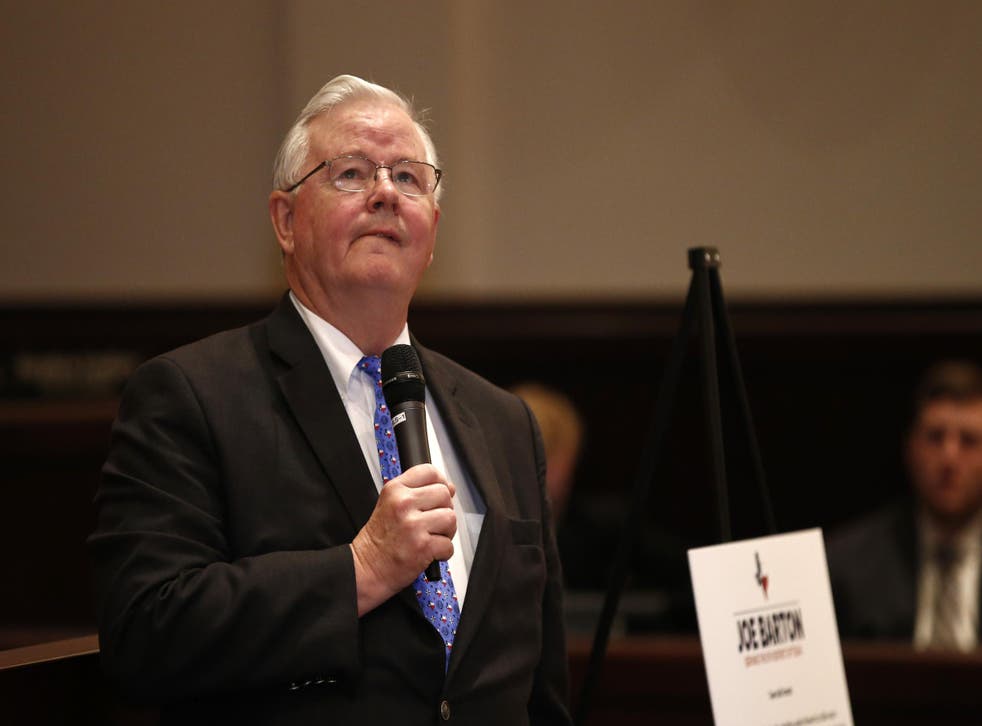 A Republican politician who opposed funding for Hurricane Harvey relief is now in charge of Congressional efforts to help Texas recover from the storm.
Texas Representative Joe Barton voted against the $15.25bn federal relief package that Congress offered to help rebuild Texas after the hurricane hit. Mr Barton was one of only 90 Republicans, and four Texas legislators, who voted against the deal. Both Republican senators from the state voted yes.
Now, Mr Barton has partnered with Democratic Representative Henry Cuellar to lead a bipartisan task force on the relief efforts. According to the legislators' joint statement, the task force will focus on "cutting bureaucratic red tape" that can hamper recovery efforts, and will serve as a liaison between federal government agencies and those in Texas. It will also make recommendations for future relief efforts and disaster planning.
"In the wake of this terrible disaster, I am pleased that the Republican and Democratic members of the Texas Congressional Delegation have come together to form a bipartisan task force aimed at helping those most in need," Mr Barton said in a statement.
He added: "Texans will not leave one another behind."
The aftermath of Hurricane Harvey

Show all 19
The longtime Republican Representative, considered by many to be the leader of Texas delegation, voted against the Harvey relief package because it was tied to an increase in the federal debt ceiling.
"I am not against voting for relief programmes to help hurricane victims," Mr Barton said in a statement at the time. "But I am against raising the public debt ceiling without a plan to reduce deficits in the short term, and eliminate them in the long term."
Indeed, Mr Barton did support an earlier plan to provide $7.9bn in relief funding, without raising the debt ceiling. That plan was squashed, however, when President Donald Trump made a deal with the Democrats to temporarily raise the ceiling in exchange for Harvey relief funding.
At the time, Mr Barton praised the President's' bipartisanship, but said he did "the right thing at the wrong time".
"We'd been asking for bipartisanship so the President took everyone at his word, so give him credit for that," he said.
Register for free to continue reading
Registration is a free and easy way to support our truly independent journalism
By registering, you will also enjoy limited access to Premium articles, exclusive newsletters, commenting, and virtual events with our leading journalists
Already have an account? sign in
Join our new commenting forum
Join thought-provoking conversations, follow other Independent readers and see their replies