Indiana workers championed by Donald Trump in outsourcing crisis turn their backs on him
Mr Trump has raised the situation of the Carrier air-conditioner factory in West Indianapolis during his campaign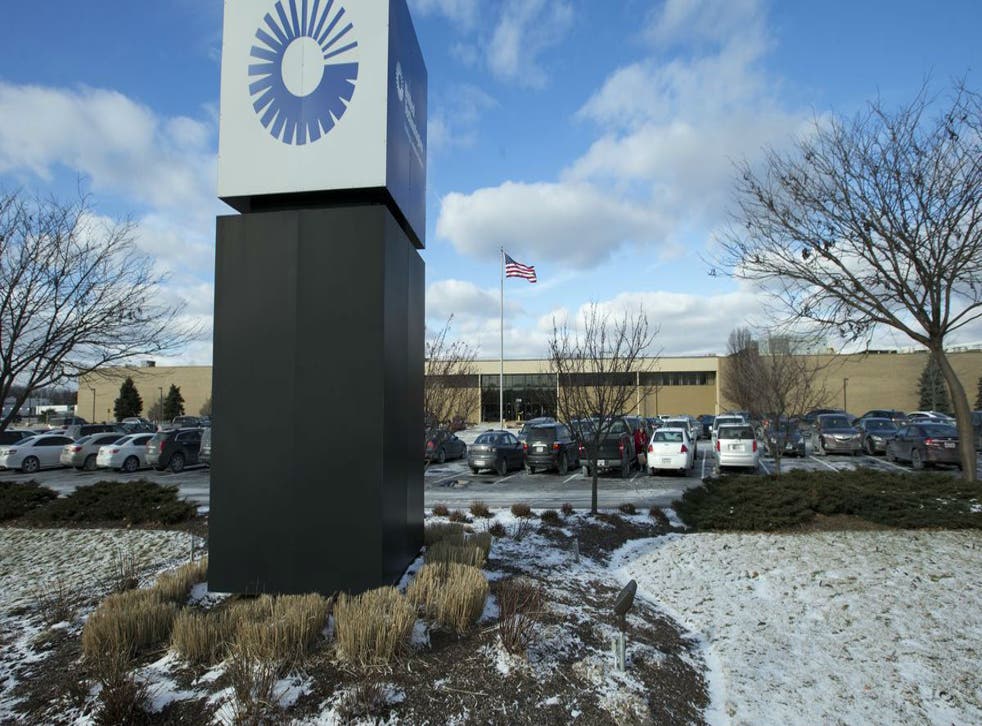 The cut-out wolves prowling the grounds of the Carrier air-conditioner factory in West Indianapolis are not a statement of devotion to a sports team but are there to scare things off; geese primarily but perhaps also politicians trying to exploit the labour turmoil inside (and reporters trying to learn more about it).
This is the same plant that has been a staple of Donald Trump's speeches on the campaign trail since February when its owners announced that all 1,400 blue-collar jobs on the lines were to be outsourced to Mexico beginning in 2017. Everywhere, Mr Trump has held it up as a symbol of the fecklessness of American businesses when it comes to their workers while vowing that only he would stop it happening.
Sometimes in politics there is no gratitude. This week, the main union at the plant, United Steelworkers 1999, revealed whom among the candidates for the White House its membership had voted to endorse. And the winner was….Bernie Sanders. He is a Democrat, of course, who like Mr Trump has railed against America's liberal approach to the cross-border movement of goods and jobs.
It was nonetheless not what most people expected, including some among Carrier's own management. "I am a little bit surprised," said Tom, an IT executive with the company, who spoke among the wolves but preferred to withhold his full name because of the sensitivity of the topic. "I'm really not sure why they would not back Trump, given how much he made this an issue in the press."
The discussion (interrupted by company security ordering The Independent to leave) revealed that while he might vote for Mr Trump in Indiana's crucial primary on 3 May, Tom did not altogether believe the candidate's contention that he can force companies like Carrier to reconsider outsourcing jobs by threatening to apply high tariffs on goods they make abroad. "I am not sure how he'd do that, honestly."
That scepticism may have filtered down to the union membership too. "There are some Trump supporters out there in the membership," Kelly Hugunin, a representative for the union told the Huffington Post.
"We're grateful that he's making an issue of Carrier and talking about trade, but he's got a mixed message. He says he's gonna tax Carrier on their product coming back into the state; we don't see how that's even possible to do that (without persuading Congress to change trade law).
Mr Trump was in Indiana for first rally on Wednesday night. Of the union vote he made no mention. Of the disaster the outsourcing is for its workers, he surely did. And he reiterated his promise to hit it with those tariffs.
"When Carrier leaves here and goes to Mexico and they want to sell their products across the border with no tax, no noting, we are going to say 'sorry folks', you aren't going to bring it across the border and we are going to charge a 35 per cent tax after what you did. It's no good., it's no good."
That Mr Trump found himself competing with Mr Sanders for the affection of the Carrier workforce might also seem surprising but for the fact that there is in fact considerable overlap between them as insurgent candidates in their respective parties, who have expressed similarly robust positions on protecting workers and radically re-setting America's attachment to free trade.
"Bernie Sanders is the only candidate running for president who will do something to stop this kind of corporate greed if he is elected - because he's been fighting against it for years," Chuck Jones, president of the local union, said in a statement after the vote endorsing the Democrat was announced this Tuesday. "We will be doing everything we can to help him win the primary here in Indiana on May 3."
The timing for Mr Trump is not helpful. As he strains to ensure that he has a clear majority of delegates to claim his party's nomination at its convention in July, it could be that Indiana emerges as his single most important test. He held his first big rally on Wednesday, in Indianapolis just a few miles from Carrier's factory. He spoke with Mr Jones last week in hopes of eliciting his union's support before yesterday.
Among those protesting Mr Trump at the rally was Louis Burgess. A retired General Motors worker and a United Auto Workers member, he applauded the union at Carrier.
"Trump is a fraud, he talks like he is for the workers, but he is not. He is using a card that he is playing to talk about the Carrier workers just to create hate and division," he offered. "He has been taking advantage of cheap overseas labour for years. Even his ties and the suits he sells are made in China."
Register for free to continue reading
Registration is a free and easy way to support our truly independent journalism
By registering, you will also enjoy limited access to Premium articles, exclusive newsletters, commenting, and virtual events with our leading journalists
Already have an account? sign in
Register for free to continue reading
Registration is a free and easy way to support our truly independent journalism
By registering, you will also enjoy limited access to Premium articles, exclusive newsletters, commenting, and virtual events with our leading journalists
Already have an account? sign in
Join our new commenting forum
Join thought-provoking conversations, follow other Independent readers and see their replies