Breakthrough for Biden as Democrats unite to pass $1trn infrastructure bill and agree deal for social plans
Vote gives president his first major legislative victory since March – with hopes of resolving his social spending plans before the end of the month
Eric Garcia
Washington DC
,
Andrew Feinberg
Saturday 06 November 2021 14:31 Comments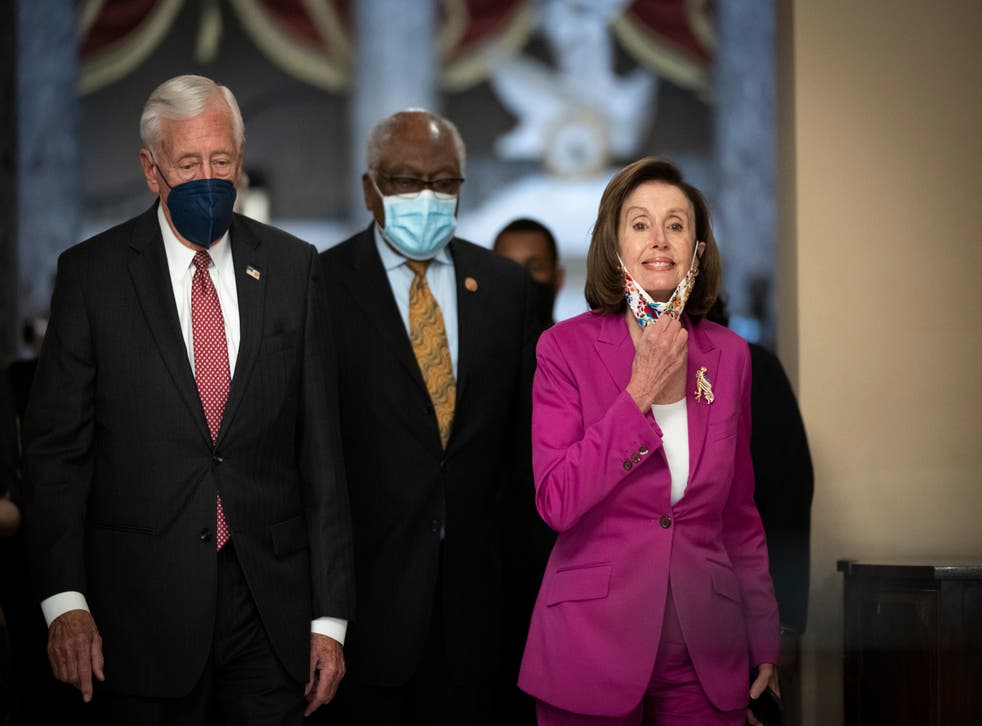 The House of Representatives on Friday voted to approve President Joe Biden's $1.2 trillion infrastructure plan as well as rules for debate on his signature Build Back Better Act social spending bill.
Thirteen Republicans joined the vast majority of House Democrats in approving the infrastructure package, with most of the Congressional Progressive Caucus dropping their opposition to advancing the bill separately from the $1.75 trillion social programs package after a group of moderate Democrats pledged to vote for it later this month.
Mr Biden celebrated the House vote on Saturday at the White House with a zinger directed at his predecessor.
"Finally, infrastructure week. I'm happy to say that," Mr Biden said with a chuckle. During Donald Trump's chaotic presidency, reporters and political pundits alike often joked that the long-awaited "infrastructure week" was just around the corner.
The late-night vote on Friday gives Mr Biden his first major legislative victory since he signed the American Rescue Plan Act coronavirus relief bill into law 236 days ago, and sets him up for yet another major win before Congress departs Washington for its Thanksgiving recess.
"It's an important victory for the American people," said House Democratic Caucus Chair Hakeem Jeffries. "It is a victory that Joe Biden promised from the standpoint of fixing our crumbling bridges, roads, tunnels, airports and a mass transit system and doing it in a bipartisan way".
The bipartisan infrastructure bill, which provides more than $1 trillion in funding for improvements to roads, bridges, passenger rail, and other so-called "hard Infrastructure," will be the largest such investment made by the federal government in decades, while the Build Back Better Act — a collection of programs to support progressive priorities such as childcare, home health care, early childhood education, and expanded health insurance programs — would be the largest investment in social welfare since President Lyndon Johnson's "Great Society" programs in the mid-1960s.
The two votes capped a marathon day of negotiations between House leadership and moderate Democrats who have been pushing for a vote on the infrastructure bill since it passed the Senate 69-30 in August, and Progressive Caucus members who have insisted that the two bills be paired together.
Representative Jim Himes, a Connecticut Democrat, said it was "a great thing" that the Democratic caucus was able to reach an agreement on both bills.
"The Democratic caucus is a massively diverse group of people with different interests and different concerns, and the fact that we were able to come together to get something like this done ... is a really good step in the right direction," Mr Himes said. "I think this is gonna do a lot to to increase trust inside the caucus, which was really fraying there for a while".
Asked if he trusts the five moderate Democrats — Representatives Ed Case, Josh Gottheimer, Stephanie Murphy, Kathleen Rice, and Kurt Schrader — who sealed the deal with progressives by pledging support for the Build Back Better Act to follow through on their promise to vote for its passage by 15 November, Mr Himes replied: "They'd better."
That fraying trust between House progressives and their more moderate brethren was on display almost as soon as the House convened at 8am on Friday.
After House Freedom Caucus Chair Andy Biggs offered a motion to adjourn for the day, what would have normally been a straightforward procedural vote stretched on for nearly eight hours as House Speaker Nancy Pelosi and her leadership team worked to bring the different factions of her caucus together on a plan to pass both the bipartisan infrastructure deal and the Build Back Better Act.
The first breakthrough in negotiations occurred in the early afternoon, when Democratic Whip James Clyburn approached Congressional Black Caucus Chair Joyce Beatty with a proposal to have the House send Mr Biden the bipartisan infrastructure bill and advance a rule to govern floor debate on the social package, which is generally the last step taken before a vote on final passage.
"Jim Clyburn came to me this morning, and we sat down, and we thought [it] might be good to say, let's vote on the rule to Build Back Better ... is it the best solution? I don't know, but to me it's a great start — do that and vote on the BIF, and then we'll take it from there," she explained.
But almost as soon as the agreement was announced, it began to look as if it would fall apart and once again leave Ms Pelosi empty-handed after having promised action.
Once again, the speaker kept a vote on another GOP procedural motion open for hours as Progressive Caucus members, led by chair Pramilla Jayapal of Washington, met in the Longworth House Office Building to determine whether they'd vote to continue debate on the Build Back Better rule or join with Republicans to scuttle leadership's plans.
Speaking to reporters waiting outside the CPC's meeting, Ms Beatty said CPC members were "sharing their fears inside the room".
As progressives huddled together to find a way forward, Mr Biden began pushing Ms Jayapal to come up with enough CPC support to move both bills forward that evening.
In a statement, the president said he was "urging all members to vote for both the rule for consideration of the Build Back Better Act and final passage of the Bipartisan Infrastructure bill tonight," adding that he was "confident" that the House would pass his Build Back Better Act the week of 15 November.
In the end, six members of the so-called progressive "squad" — Representatives Alexandria Ocasio-Cortez, Ayanna Pressley, Cori Bush, Jamaal Bowman, Ilhan Omar and Rashida Tlaib still withheld support for the infrastructure bill.
In a statement posted to her Twitter account, Ms Omar said the decision to move the infrastructure bill before final passage of the Build Back Better Act "risks leaving behind childcare, paid leave, health care, climate action, housing, education, and a roadmap to citizenship".
"My community cannot wait any longer for these much-needed investments that will be delivered through the Build Back Better Act. I cannot in good conscience support the infrastructure bill without voting on the President's transformative agenda first," she said.
Ms Omar's comments reflect the strained relationship between the Democratic Caucus' more moderate members, many of whom represent key swing districts, and urban progressives who are unlikely to face any sort of competitive challenge from a Republican in next year's midterms.
The moderates, wary of being pegged as fiscally irresponsible in GOP attack ads, pushed for a delay in voting on the Build Back Better Act to allow the nonpartisan Congressional Budget Office to "score" the bill's long-term fiscal impact. But the progressives have feared that voting to approve the bipartisan bill would give the moderates all they want and leave them with no reason to vote for Mr Biden's signature legislation.
But another Progressive Caucus member, Maryland Representative Jamie Raskin, said he "absolutely" trusts his colleagues to keep their word and advance their party's legislative agenda.
Mr Raskin told reporters he voted for the bipartisan bill because the country needs a "massive investment in America's ailing infrastructure".
Asked by The Independent why he believes his moderate colleagues will vote for Mr Biden's social spending package, he replied that there was "no alternative to making this investment in America" and predicted that the entire Democratic Party would unify behind it.
The unity Mr Raskin spoke of was foreshadowed just after it became clear that the Democratic moderate and progressive factions had reached an agreement both camps could count on.
The final accord came about after direct talks between Ms Jayapal and New Jersey Representative Josh Gottheimer, the co-chair of the bipartisan Problem Solvers Caucus and an avatar for CPC members' anger over the scaled-down nature of the Build Back Better Act compared with the multi-trillion-dollar bill members had envisioned.
After the two caucus chairs released statements on behalf of their respective members pledging support for both bills, Ms Jayapal and Mr Gottheimer — who hail both from opposite ends of the country and their party's political spectrum — walked onto the House floor together to cast their votes.
Spotting a group of reporters nearby, the New Jersey moderate's mood was celebratory.
"We are definitely drinking champagne," he said.
Register for free to continue reading
Registration is a free and easy way to support our truly independent journalism
By registering, you will also enjoy limited access to Premium articles, exclusive newsletters, commenting, and virtual events with our leading journalists
Already have an account? sign in
Join our new commenting forum
Join thought-provoking conversations, follow other Independent readers and see their replies