Iowa's Republican House speaker refuses to issue a mask mandate, but says representatives can't wear jeans
'There is no way to enforce a mask mandate short of having state patrol remove a duly-elected representative from the floor,' says Pat Grassley's spokesperson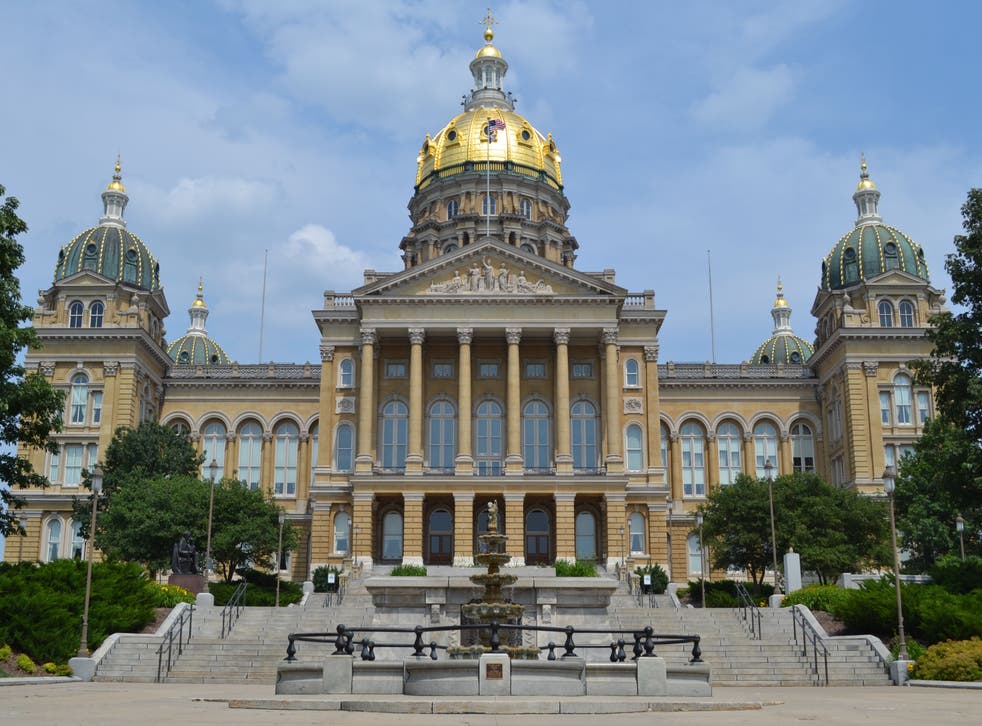 Leer en Español
Iowa House Speaker Pat Grassley, a Republican, has repeatedly pushed back on implementing a mask mandate inside the state legislature for representatives, claiming it's unenforceable. 
To test this claim, Representative Beth Wessel-Kroeschell, a Democrat, told her colleagues on Sunday that she would break the House dress code all week by wearing jeans. 
When she rose to debate on Tuesday in the House chamber, Mr Grassley quickly shut her down, the Des Moines Register reports. 
"You will not be recognized to speak for debate," he said. "You can continue to vote from the floor."
House rules adopted last month state that "no member of the general assembly or legislative employee or intern shall be admitted to the floor of the House if attired in jeans of any color without leave of the speaker." These rules have been in place for years before Mr Grassley became speaker, the newspaper reports. 
Ms Wessel-Kroeschell said her entire purpose of wearing jeans to work this week was to prove the absurdity of the speaker's logic to not enforce a mask mandate for members. 
"Not wearing a mask can kill people, and we have had people here – we have a member who was exposed to it and is now Covid positive at home," she said. "And there are five or six of their members who are never wearing masks. This is dangerous and they're putting all of us in danger. So if they can enforce a denim dress code they can also enforce a mask mandate."
The Independent has contacted Mr Grassley, who is the grandson of Republican Senator Chuck Grassley, for a comment on the situation. 
In a statement to the Associated Press, a spokesperson for the speaker said that he held the right to dictate if and how he requires members to follow rules. 
"There is no way to enforce a mask mandate short of having state patrol remove a duly-elected representative from the floor, which is not something he is willing to do, for masks or for jeans," Melissa Deatsch said in the statement. "Representative Wessel-Kroeschell was in violation of House rules and it is within the speaker of the House's discretion to handle such violations as he sees fit."
Republicans hold the majority in both the state's House and Senate chambers, giving them the power to set Capitol safety protocols. House Democrats attempted to enforce a mask mandate and other Covid-19 protocols, but Republicans voted those measures down. 
While mask wearing was encouraged, there were no mandates that requires the face shield on the floor or elsewhere through the Capitol building. 
The issue of wearing a mask amid the coronavirus pandemic in Iowa's state Capitol has been seen in other parts of the United States. 
Despite more than 450,000 Americans dying from the novel virus and health experts recommending for months for people to wear the face shield when interacting with others, there were still people across the country who refuse to wear a mask. Some have claimed it infringes on their personal freedoms while others believe it does nothing to prevent the spread of Covid-19. 
These beliefs largely fell along party lines, with Republicans more likely to challenge mask mandates compared to Democrats. President Donald Trump was one key leader who refused to issue a mask mandate. 
On the first day of office, President Joe Biden issued a national mask mandate that would apply to federal land and interstate travel. But he holds no power to enforce the rules outside of areas controlled by the federal government. 
In Republican-led states like Arkansas, Missouri, and Mississippi, there have been Covid-19 outbreaks in legislatures among state leaders. None of the legislatures require members to wear masks. 
Join our new commenting forum
Join thought-provoking conversations, follow other Independent readers and see their replies