Trump warns US may strike back in 'disproportionate manner' if Iran attacks American people or targets
Legal scholars say threat — which Mr Trump said was a 'legal notice to Congress' — may violate US law
Clark Mindock
New York
Sunday 05 January 2020 21:46 Comments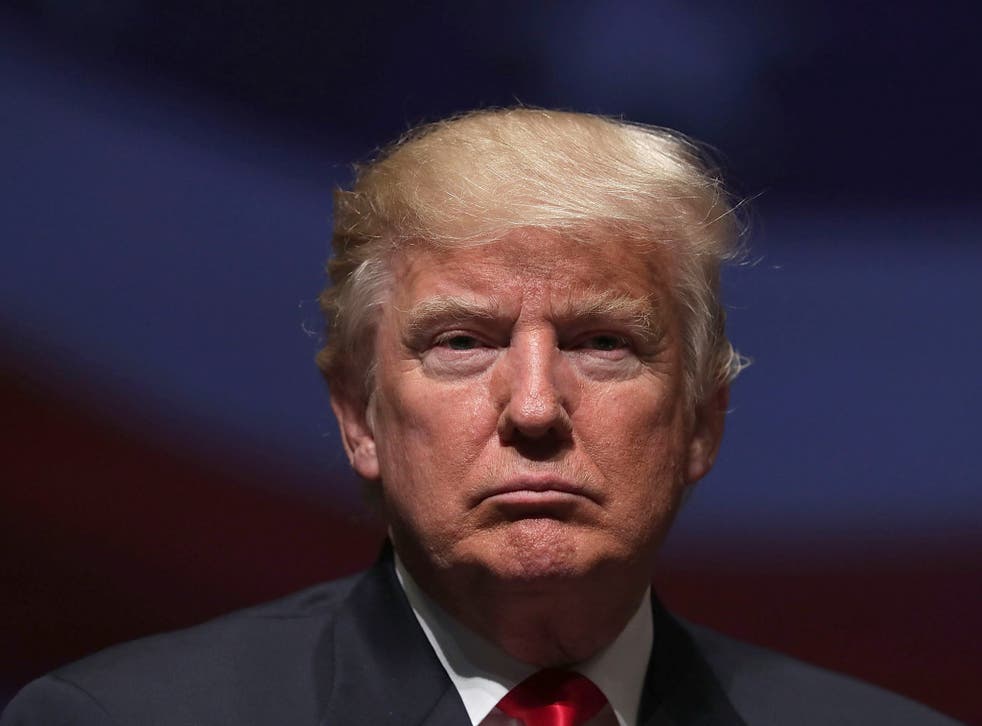 Donald Trump has threatened to "quickly and fully strike back" if Iran attacks any American citizens or targets, and says any American response could be "in a disproportionate manner".
The threat comes as the world waits to see how Iran will respond to the recent killing of Quds Force leader Qassem Soleimani at a Baghdad airport, sparking major anti-US protests across Iran.
On Twitter, Mr Trump suggested that the threat was a "legal notice" to Congress that he might green light such an attack, and suggested that such notice "is not required". Legal scholars have contradicted that notion, though, saying that the War Powers Resolution regulating the launching of wars does not allow Mr Trump to notify Congress through tweet, and noting that the US Constitution does require congressional approval before the country can be taken to war.
"These Media Posts will serve as notification to the United States Congress that should Iran strike any US person or target, the United States will quickly & fully strike back, & perhaps in a disproportionate manner," Mr Trump wrote.
He continued: "Such legal notice is not required, but is given nevertheless!"
US airstrike kills Iran's Qassem Soleimani: Fallout in pictures

Show all 35
The threat comes just days after Soleimani was killed in a targeted airstrike at an airport in Baghdad. Following his death, Iran leaders have threatened to avenge his death, but it is not clear when or how that revenge may come. The US has justified the attack by saying that an "imminent" attack on Americans was coming, and that killing Soleimani was seen as a way to thwart that effort.
Even so, Mr Trump has been criticised in the days following the attack for not consulting Congress before the attack, with Democrats questioning the wisdom behind such a drastic measure since previous presidents Barack Obama and George W Bush had likewise had the ability to kill the leader but determined not to because of the risk that it would spark unrest in the Middle East.
"They believed ultimately that would get more Americans killed, and you can already see the consequence to us security in the region," Democratic senator Chris Murphy said on Sunday, referring to those past presidents and a Sunday vote in Iraq to expel US troops following the air strikes.
"We do not generally execute high-level political figures of sovereign nations, in part because we know that that opens a Pandora's box that may expose American officials to assassination, but also because we know that ultimately that may get more Americans killed, as it likely will," he continued, referring to the attack as a "dramatic step".
Shortly after Mr Trump's threat was posted, the president's legal assertions were challenged by legal scholars. That group includes Oona Hathaway, the founder and director of the Centre for Global Legal Challenges at Yale University.
"This tweet threatens to break several laws. First, the President cannot notify Congress under the War Powers Resolution by tweet," she wrote on Twitter in response. "Second, he claims "[s]uch legal notice is not required." That's not true. Any time the president involves the armed forces into 'hostilities,' he must--at a minimum--notify Congress within 48 hours."
She continued: "Third, he is also obligated to 'in every possible instance . . . consult with Congress before introducing United States Armed Forces into hostilities or into situation where imminent involvement in hostilities is clearly indicated by the circumstances . . .' under the" War Powers Resolution. "Fourth, he is promising a 'perhaps ... disproportionate' strike in response--that's another promise of an international law violation. Any action taken in self defence (the apparent justification for the strikes) must be necessary and proportionate to the threat posed."
And she concluded: ​"That any of this has to be said suggests just how insane this situation has become. Where are the White House, [Department of Justice, Department of Defence and] State [Department] lawyers?​"
Register for free to continue reading
Registration is a free and easy way to support our truly independent journalism
By registering, you will also enjoy limited access to Premium articles, exclusive newsletters, commenting, and virtual events with our leading journalists
Already have an account? sign in
Join our new commenting forum
Join thought-provoking conversations, follow other Independent readers and see their replies