'I don't want my kids to accept this': Iranian-Americans questioned at US border fear impacts of Trump's Middle East tactics
Some 200 Iranian-Americans have reportedly detained at the US-Canada border, sparking outrage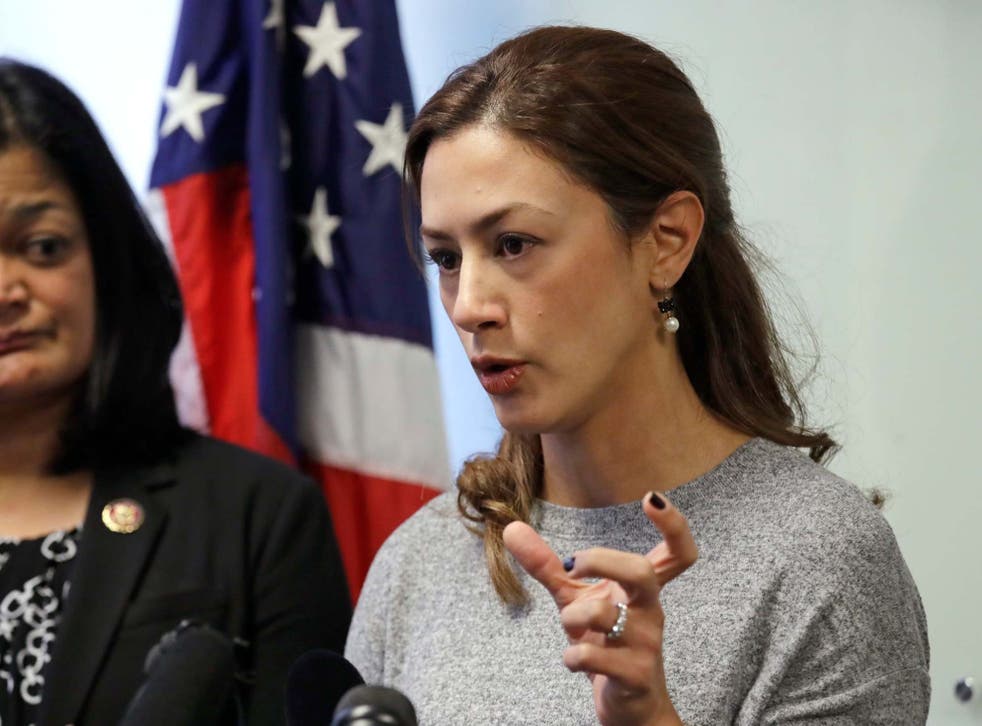 When Negah Hekmati and her family, who are American citizens, arrived at the US-Canada border early on Sunday, skis strapped to the rack on top of their car, she figured they would be waved through and quickly be on their way.
With Nexus cards in hand — a pre-screening service for expedited travel over the border — Ms Hekmati, 38, was expecting little more than the two more hours of driving that remained before she and her husband could put their five-year-old daughter and eight-year-old son to bed in their suburban Seattle home.
But the shock waves of Donald Trump's decision to kill an Iranian general just days earlier appeared to have already reached their far northwestern corner of the contiguous United States: Even after several no-hassle trips between their home and Vancouver over the holidays, the family of American citizens found themselves ushered into a room where they waited for roughly five hours alongside as many as 200 others of Iranian descent, some of whom claimed they were held much longer than that.
As those hours wore on, Ms Hekmati said the 12-year-old daughter of friends travelling with them couldn't sleep for fear she would wake up with her parents in jail. And Ms Hekmati's own daughter, born in the US, suggested that they all avoid speaking Persian — a temporary abandonment of heritage by a citizen of a country that prides itself on cultural diversity.
"The problem is I don't want my kids to be OK with such things," Ms Hekmati told The Independent. "I'm a proud Iranian-American. My kids can speak Farsi fluently, both of them. And I want them to be proud of their ancestors, their heritage. I don't want them to be scared."
US airstrike kills Iran's Qassem Soleimani: Fallout in pictures

Show all 35
Those stopped and questioned at the US-Canada border over the weekend included up to 200 Iranian-Americans, all of whom were ushered into a room at the Blaine Border Checkpoint and asked to wait, told only that new procedure had necessitated the extended delay.
The delays have caught the attention of several prominent politicians, pundits and civil rights groups, including congresswoman Pramila Jayapal and congressman Ro Khanna, both of whom say their offices are monitoring the situation. The governor of Washington, Jay Inslee, has also spoken out on the issue to condemn the US government's actions.
For some, the reports of these detentions has evoked a sordid American history dating back to the Second World War, when the US opened internment camps for Japanese Americans fearing internal uprisings from descendants of a foreign power it was at war with.
"From a policy standpoint, detaining and questioning, without charge, innocent Americans because of their ethnicity and then releasing them is not that far removed from the even more insidious kind of permanent detention without charge we saw imposed on Japanese Americans in World War II," said Patrick Eddington, a policy analyst in national security and civil liberties at the Cato Institute, noting that US Supreme Court has as recently as 2018 in its decision on the Trump v Hawaii case — which undercut Mr Trump's attempt to implement a travel ban on predominantly Muslim countries — determined that it is unconstitutional for the executive branch to forcibly relocate US citizens based on race.
Mr Eddington told The Independent: "Congress needs to investigate whether the Administration has, in violation of the Supreme Court ruling in Trump v Hawaii, actively developed plans for the identification and detention of Iranian Americans or any other American ethnic group in the event of another American war in the Arab and Muslim ."
The group of travellers in northwest Washington included concert-goers who had travelled to Vancouver for an Iranian pop concert, alongside several families like the Hekmatis who had visited friends or family in Canada. Many of those families included children born in the United States to parents who had become naturalized American citizens after moving to the western hemisphere decades ago. On the other side of the US, at New York's JFK airport, at least one other American citizen — a professor at the University of Pennsylvania who is of Iranian descent — was also questioned briefly, showing that the reportedly new policies may not be isolated to one point of entry.
The rising tensions between the US and Iran explained
In many cases, according to interviews with individuals who were stopped or whose family was stopped, the agents were civil, and provided snacks and drinks as they worked through what was described as a new policy. They were asked for personal details like parent names, the names and locations of their high schools or colleges, and in some instances for the handles of social media accounts. Some were asked for their thoughts on the unfolding situation in Iraq and Iran where mourners have demonstrators have protested against the US after the targeted killing of Quds Force leader Qassem Soleimani.
In a statement, a spokesperson for US Customs and Border Protection (CBP) said that, "Social media posts that CBP is detaining Iranian-Americans and refusing their entry into the US because of their country of origin are false," and that further reports that the US government had issued a "related directive are false."
Mr Inslee and the Council on American-Islamic Relations (CAIR) have both countered those claims, with CAIR claiming they have received information from a source with CBP notifying agents to report or detain anyone of Iranian heritage entering the US and deemed "potentially suspicious or 'adversarial'".
"Customs and Border Protection denials of these reports are simply not credible," Mr Inslee said on Monday. "There are multiple firsthand accounts of CBP agents seizing people's passports while they waited for up to 12 hours for re-entry into the United States. By all accounts, this is detention, regardless of whether the waiting area has bars on the windows."
Further information provided to The Independent by CBP indicates the agency is operating under an enhanced threat environment as the US awaits a potential response from Iran, and that average wait times at the Blaine port of entry only briefly increased to an average of two hours late Saturday and early Sunday, in spite of accounts of people waiting between four and 12 hours.
But as reports have surfaced of the apparent detentions at the border, many have noted that the targeting of Iranian Americans is nothing new under the administration, which has frequently described the government in Tehran as one of the biggest threats to the US.
Jamal Abdi, the president of the National Iranian American Council in Washington, DC, said that the administration has been targeting Iranian Americans for three years, and that escalating tensions are likely to make things worse.
"Iranian Americans have lived in uncertainty over the 3 years since the chaos of Trump's Muslim ban," Mr Abdi told The Independent. "If Trump was willing to put us through that when the US and Iran had a diplomatic agreement and were on a positive track, many of us fear now that he has put the two countries on war footing."
Among those to be stopped were a woman named Mercedes, and her two children. Mercedes, whose husband Mike spoke to The Independent but asked that their last name not be published out of concern for retribution from the Iranian or American governments, is an American citizen of Iranian descent who has lived in the Seattle area for 10 years.
Mike said that it is outrageous that the US government would stop a family of American citizens, including two kids born in the country they were returning to. His kids don't need to be treated like that, he said, and he does not see how stopping Americans who trace their heritage to Iran, will make the United States any safer.
"My wife and two little children are not a danger," he said. "Let alone that they are citizens and they should not be treated differently…. They should not discriminate — if somebody is a US citizen they're a US citizen. They should respect that, they're like any other citizen."
Register for free to continue reading
Registration is a free and easy way to support our truly independent journalism
By registering, you will also enjoy limited access to Premium articles, exclusive newsletters, commenting, and virtual events with our leading journalists
Already have an account? sign in
Register for free to continue reading
Registration is a free and easy way to support our truly independent journalism
By registering, you will also enjoy limited access to Premium articles, exclusive newsletters, commenting, and virtual events with our leading journalists
Already have an account? sign in
Join our new commenting forum
Join thought-provoking conversations, follow other Independent readers and see their replies