Isis were defeated in Mosul because of Barack Obama's training strategies, says Pentagon official
Coalition advisors have trained the Iraqi military since 2015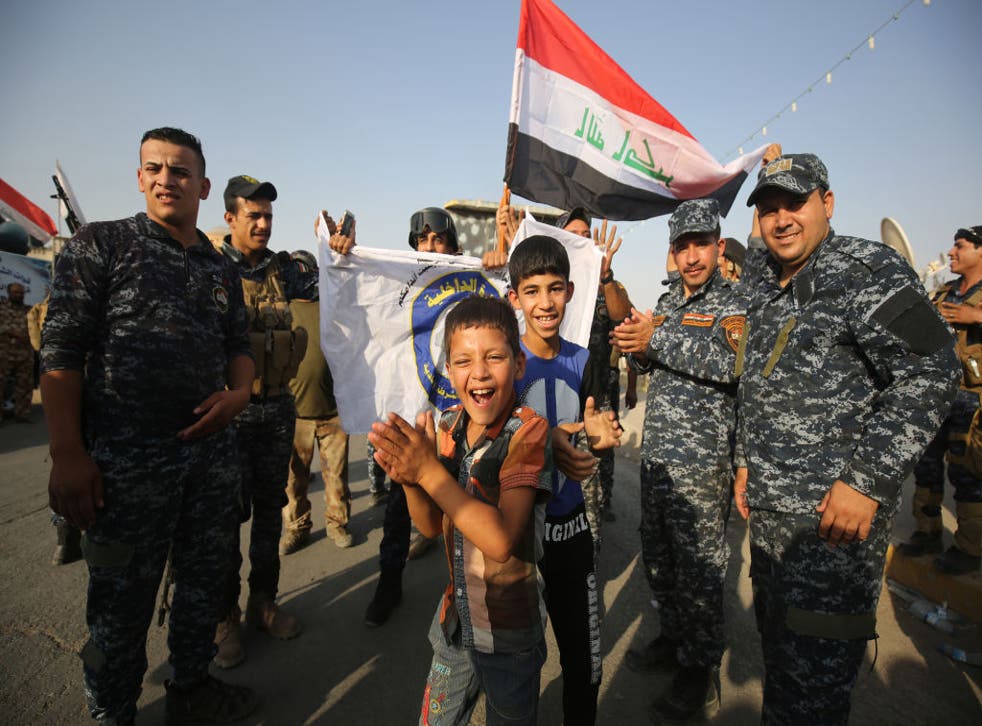 Pictures of the Iraqi soldiers celebrating their defeat of Isis in Mosul marked a milestone in the fight against the Islamist group but it was also a victory for Barack Obama's strategy in the region, a senior Pentagon official has said.
While the Iraqi armed forces staged an exhausting nine-month siege around the city of Mosul, the US-led air campaign in Iraq and Syria initiated by the former president appears to have proved successful in weakening Isis forces.
The US and its allies, including but not limited to the UK, Canada, France, Germany, the Netherlands and Turkey, also provided continual training and advised proxy local forces without sending their own troops into action.
Pentagon officials told the AFP news agency that the outcome in Mosul was clear and that the Iraqi military had become a battle-hardened army which eventually prevailed.
One senior US military official who was deployed to Iraq from 2015 said the "training worked".
"It has enabled the Iraqis to take back their country," he said.
In 2014, when Isis invaded Iraq, security forces in the country were weak and seemed unable to cope with the Isis threat.
Before the coalition came in to provide training, an officer speaking to the AFP said Iraqi troops would often run without a fight, abandoning US-provided weaponry "surprising even Isis".
"We needed an army that could fight conventionally," the officer said.
Last week, Donald Trump reportedly rejected the US military's plan for tackling Isis because it was too similar to Barack Obama's. Reports said the White House had asked officials to come up with new proposals in order to show Mr Trump's different approach to his predecessor.
This came as Iraqi forces were confident they were driving out Isis from its Mosul stronghold and opposition forces also surrounded an Isis bastion in the city of Raqqa in Syria.
Fifty Isis leaders are reported to have been killed by US special forces since Mr Trump took office in January, fewer than the 80 assassinated in the last six months of Mr Obama's presidency.
Iraq PM Haider al-Abadi hails 'big victory' in Mosul
In 2014, public opinion, influenced by the 2003 Iraq invasion, was against the US sending combat troops into Iraq or Syria.
Instead, Mr Obama ordered advisors to train local forces in a strategy known in the Pentagon as "by, with and through".
Coalition advisers were sent to Iraq to train the military on conventional warfare including fighting in small units, setting up defences and breeching minefields.
By the end of 2015, Iraqi forces began striking back at Isis with Shia militiamen and Iraqi government forces recapturing the city of Ramadi in December.
As of July this year, the US-led coalition had trained about 106,000 Iraqi security forces, including 40,000 Iraqi troops, 15,000 police, 6,000 border guards, 21,000 Kurdish peshmerga, 14,000 from the elite Counter Terrorism Service and another 9,500 "tribal mobilisation forces", according to the AFP.
The nine-month siege to recapture Mosul started in October last year and Brian McKeon, a senior Pentagon policy official, said the Obama strategy worked but not as quickly as had been hoped.
In recent months, air strikes against Isis have increased from an average of 440 a month in the second half of 2016 to just under 800 a month now.
The strategy rolled out by Mr Obama has so far seen few changes under the Trump administration although the US President repeatedly said he would publish a new comprehensive plan for defeating Isis.
During his campaign, he said he had an "absolute way of defeating Isis" but never gave further details.
In 2015, he said there was "a method for defeating them quickly and effectively and having total victory". In September last year, he had a different approach and said he planned to give his top generals 30 days to come up with a proposal for "soundly and quickly defeating Isis".
World news in pictures

Show all 50
As the US shies away from full-deployments of troops on the ground, the strategy carried out in Iraq could become increasingly important for the US.
Reports suggest Mr Trump delayed revealing his plan to tackle Isis in order to ensure they were different enough from Mr Obama's.
So far, changes to the strategy have included delegating responsibility for authorising air strikes and special forces mission whereas Mr Obama had been directly involved in signing off operations. Mr Trump has also ramped up operations against Isis and its affiliates in Afghanistan, Yemen and Somalia.
Similar tactics to the ones set-out in Iraq under the Obama administration were already being employed in Syria, where coalition officials have trained a Kurdish-Arab alliance called the Syrian Democratic Forces to fight against Isis.
Register for free to continue reading
Registration is a free and easy way to support our truly independent journalism
By registering, you will also enjoy limited access to Premium articles, exclusive newsletters, commenting, and virtual events with our leading journalists
Already have an account? sign in
Register for free to continue reading
Registration is a free and easy way to support our truly independent journalism
By registering, you will also enjoy limited access to Premium articles, exclusive newsletters, commenting, and virtual events with our leading journalists
Already have an account? sign in
Join our new commenting forum
Join thought-provoking conversations, follow other Independent readers and see their replies