'Isis hunting permits' sold for $10 by Republican candidate in Missouri
Eric Greitens wants to be the governor of Missouri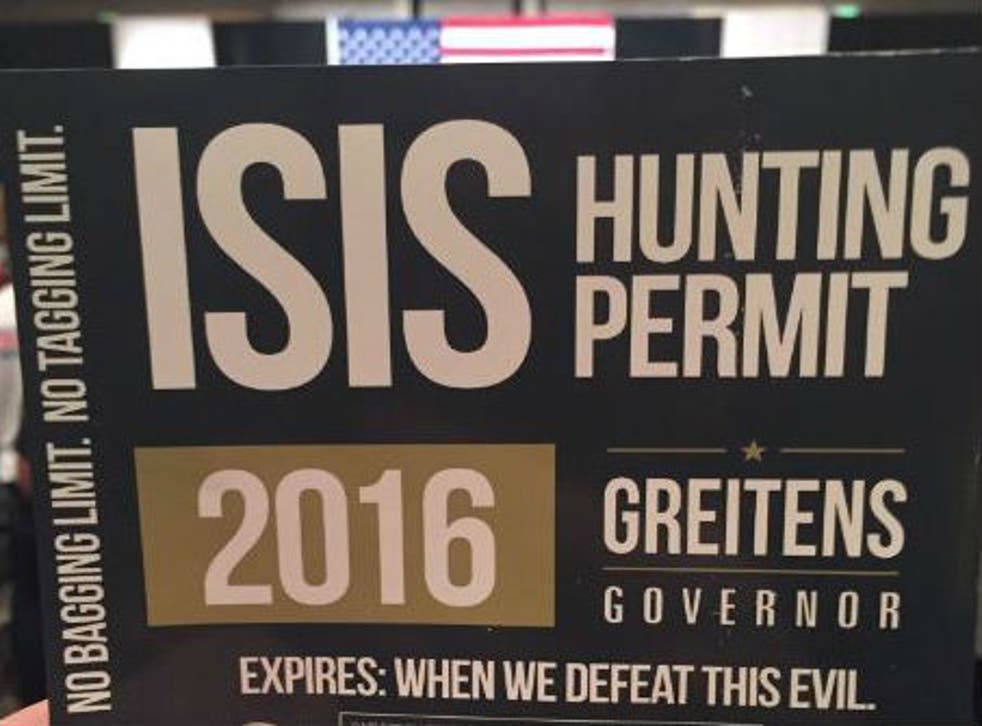 Running for office is not a cheap business. And an imaginative idea can be a a godsend.
Eric Greitens, a Missouri Republican who is running for governor, is hoping he will turn on the cash-flow tap with his latest gimmick - a so-called ISIS hunting permit.
For $10, donors get a bumper sticker proclaiming: "No bagging limit. No tagging limit."
For $100, donors can get a sticker signed by a former Navy SEAL who claimed he killed Osama bin Laden, according to the Kansas City Star.
The Greitens campaign has made much of the candidate's links to the military, including his own time serving as a Navy SEAL.
The candidate faces a competitive four-way Republican primary on August 2. Also running are suburban St Louis businessman John Brunner, former US Attorney and House Speaker Catherine Hanaway and Lt Gov Peter Kinder.
There has been no reaction yet from Mr Greitens opponents. But the campaign is apparently expecting some.
In a statement, the campaign said: "Liberals will go crazy when they see these, but remember, this isn't an official government issued hunting tag."
Register for free to continue reading
Registration is a free and easy way to support our truly independent journalism
By registering, you will also enjoy limited access to Premium articles, exclusive newsletters, commenting, and virtual events with our leading journalists
Already have an account? sign in
Register for free to continue reading
Registration is a free and easy way to support our truly independent journalism
By registering, you will also enjoy limited access to Premium articles, exclusive newsletters, commenting, and virtual events with our leading journalists
Already have an account? sign in
Join our new commenting forum
Join thought-provoking conversations, follow other Independent readers and see their replies