'This is some 'Robocop' s***': New York lawmaker hits out at 'Black Mirror' robot dog
'That's what you do when you have too much money,' Jamaal Bowman says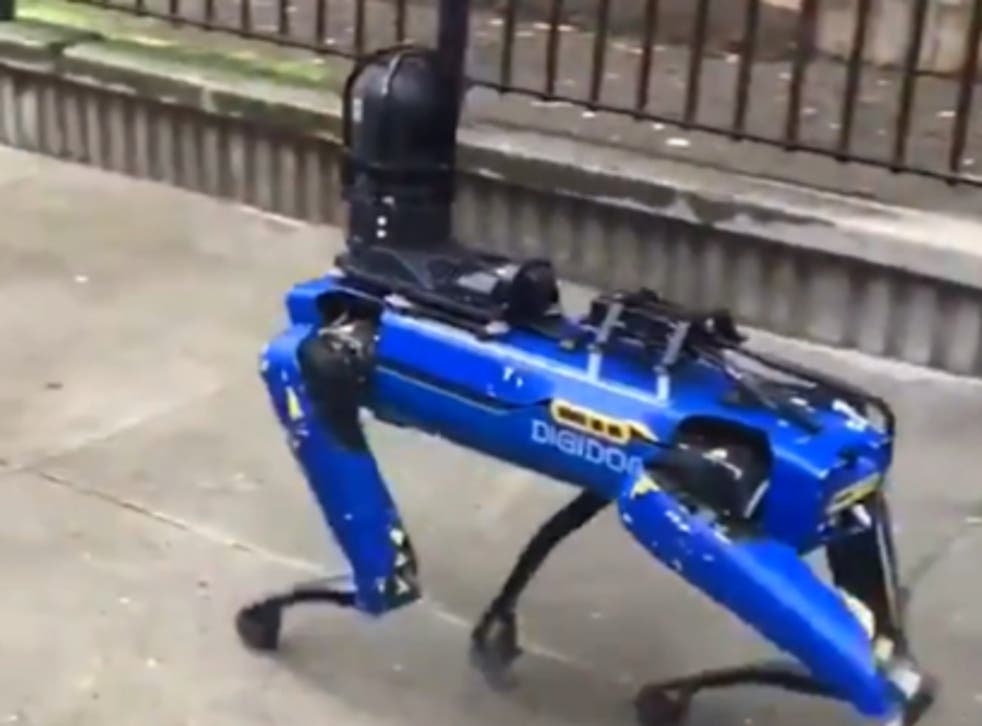 A New York lawmaker has called the use of robot dogs a "crazy" waste of taxpayer money while some people are "struggling to put food on the table."
A video of one of the uncanny creatures went viral this week on social media, with the robot dog unit "Digidog" seen prowling past the crowd across a pavement.
Contributing to the discussion on Wednesday, representative Jamaal Bowman condemned the use of taxpayers' money to fund the futuristic equipment.
"They got ROBOT police dogs in the streets of New York. This is ridiculous y'all. I gotta speak on it," he said in the tweet caption.
"People are living in poverty, struggling to put food on the table, keep a roof over their heads, take care of their kids, afford childcare — but now we got damn robot police dogs walking down the street," Mr Bowman said in the video.
"What the hell do we need robot police dogs?", he asked, adding: "This is some 'Robocop' s***. This is crazy."
Referring to the Black Lives Matter protests in the city last year, the lawmaker said: "Now, not only do I feel physically occupied in my community by too many police, now y'all bringing robot police to occupy my community?"
He added: "So you can't give me a living wage, you can't raise the minimum wage, you can't give me affordable housing… instead we got money, taxpayer money, going towards robot police dogs."
The Democratic representative insisted that "taxpayers need to stand up and say enough is enough" saying: "That's what you do when you have too much money."
A video of the Digidog, which the police department first revealed back in December 2020, caused a stir after a video of it in action was posted online on Monday.
The technology, which was built by Boston Dynamics and is named "Spot" bears a resemblance to a dystopian killer robotic dog featured in the 2017 Black Mirror episode Metalhead.
Social media users and other lawmakers were quick to criticise the police department's investment in the dog, at a cost of $75,000.
Brooklyn state senator Julia Salazar called the canine both "an appalling manifestation of the surveillance of our communities by law enforcement" and "an insult to actual dogs."
Police forces argue that the use of robots in policing dates back decades when bomb diffusing units were first introduced.
In February, New York Police Department (NYPD) said: "The NYPD has been using robots since the 1970s to save lives in hostage situations & hazmat incidents.
"This model of robot is being tested to evaluate its capabilities against other models in use by our Emergency Service Unit and Bomb Squad."
Join our new commenting forum
Join thought-provoking conversations, follow other Independent readers and see their replies