FBI director admits 'we've got some work to do' after critical report on predecessor James Comey
But Christopher Wray defended the FBI, which has been repeatedly attacked by Donald Trump, saying 'nothing in this report impugns the integrity of our workforce'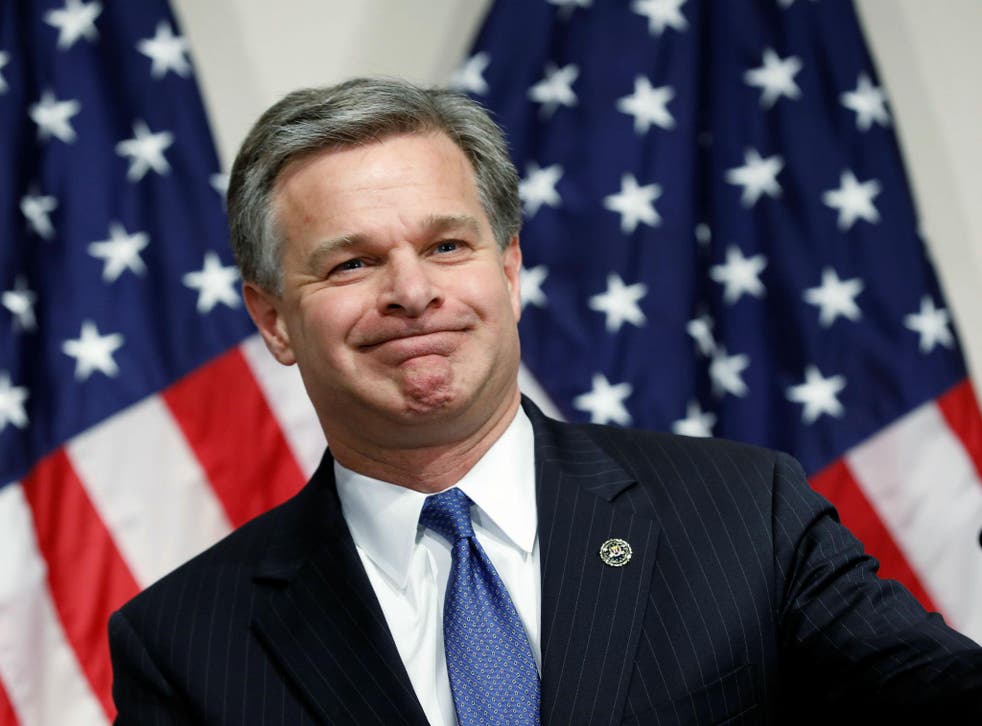 Federal Bureau of Investigation chief Christopher Wray responded to a report faulting former director James Comey's conduct by vowing a sweeping review but defending an institution that has come under sustained attack from Donald Trump.
"We've got some work to do", Mr Comey said during a press conference, but "nothing - nothing - in this report impugns the integrity of our workforce as a whole or of the FBI as an institution".
The long-awaited Office of the Inspector General report found that former FBI director James Comey was "insubordinate" in his much-dissected decision to announce that Hillary Clinton had not broken the law by maintaining a private email server without first notifying the Department of Justice. He later informed Congress, days before the presidential election, that the FBI had reopened the probe in light of newly discovered emails from Ms Clinton. The report faulted the FBI for waiting until late October to act, despite knowing enough to seek a search warrant by the end of September, and said Mr Comey made a "serious error of judgment".
But the report said that there was no evidence of political bias in the decision not to prosecute Ms Clinton, contradicting frequent accusations by Mr Trump and his allies that the probe was compromised. The president has depicted law enforcement agencies as having been hijacked by partisan officials, excoriating an FBI investigation of linkages between the Trump campaign and a Russian election interference operation.
"This report did not find any evidence of political bias or improper considerations actually impacting the investigation", Mr Wray said, noting that the inquiry focused on "a specific set of events back in 2016 and a small number of FBI employees".
Still, the FBI director noted that the report did illustrate "errors of judgement, and violations or even disregard for policy and decisions that, at the very least, with the benefit of hindsight, were not the best choices". He said some FBI personnel had been referred to the agency's internal Office of Personnel Management and that investigators would "not hesitate to hold people accountable".
The biggest names involved in the Trump-Russia investigation

Show all 17
He promised to take a number of steps that include reviewing policies on media contacts and sensitive investigations and said he would convene senior officials for training "focused on learning the lessons we should learn from this report".
"We're going to train every single FBI employee, both new hires and veterans alike, on what went wrong so these mistakes will never be repeated", he said.
The report revisits anti-Trump messages exchanged between agent Peter Strzok and FBI attorney Lisa Page, including a previously undisclosed missive in which Mr Strzok said "we'll stop" Mr Trump from being elected. While the report said those views did not affect " investigative decisions that we reviewed", it noted that they cast a cloud" over the investigation's credibility.
Rudy Giuliani says Donald Trump fired James Comey because he wouldn't assure him FBI was not targeting him in Russia probe
One of the FBI's internal responses, Mr Wray said, would be "drilling home the importance of objectivity, of avoiding even the appearance of personal conflict or political bias in our work".
Mr Comey's handling of the investigation into Ms Clinton, and of a simultaneous probe of Russia's efforts to interfere in the 2016 election, has come to be seen as a decisive factor in the razor-thin 2016 presidential election. Attacks have poured in from both ends of the ideological spectrum.
Democratic have accused Mr Comey of buoying Mr Trump by thrusting Ms Clinton's legal woes into headlines days before the election and have questioned why he did not make similar public pronouncements about the still-unfolding probe of Russian influence.
For Mr Trump and his Republican allies, the focus has been on Mr Comey's decision to not charge Ms Clinton and on the federal officials investigating Trump campaign aides for potential links to Russia. Mr Trump has denounced both as partisan and illegitimate, and since he fired Mr Comey the former FBI head has become one of Mr Trump's principle antagonists.
But the report questioned both of those lines of argument. In addition to declaring there was no evidence that bias infected the decision not to prosecute Ms Clinton, it concluded that it was unclear if Mr Comey had affected the elections outcome.
Nevertheless, the report left Mr Trump feeling vindicated in his views of Mr Comey, the White House suggested. Press secretary Sarah Huckabee Sanders said the report "creates a great deal of concern".
"There are a lot of things in this report that not only worry us in the administration but should worry a lot of Americans that people played this political bias and injected that into a department that shouldn't have any of that", she said.
Join our new commenting forum
Join thought-provoking conversations, follow other Independent readers and see their replies