Jared Kushner reveals assets worth at least $10.6m in previously undisclosed financial holdings
They include an art collection worth between $5 million and $25 million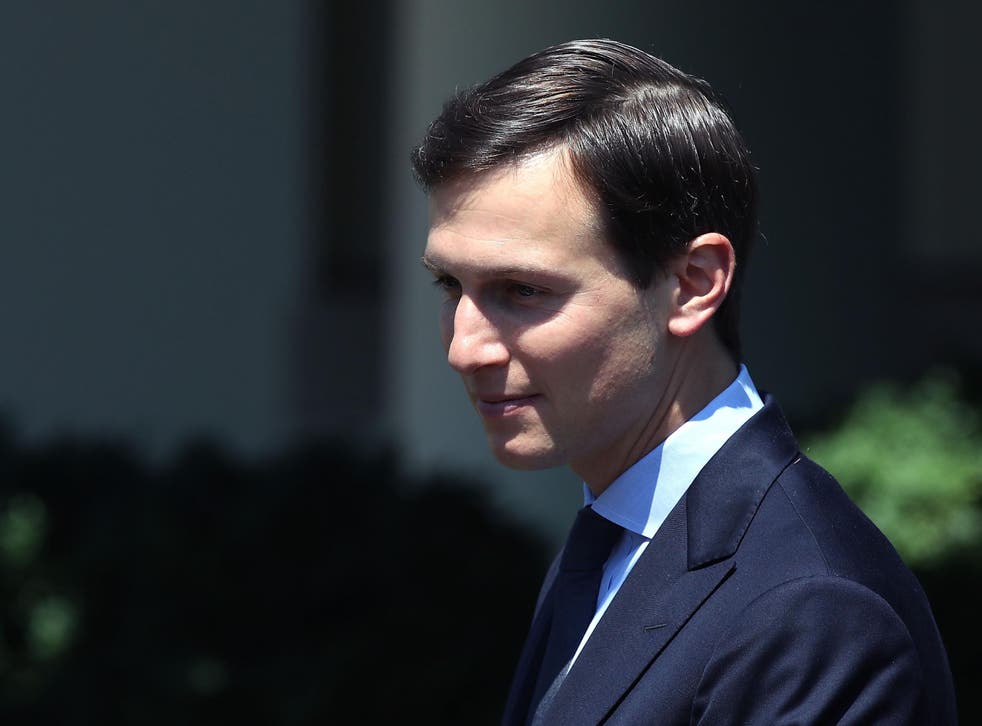 Donald Trump's son-in-law and top adviser Jared Kushner has revealed as much as $51 million in previously undisclosed assets in a filing after a review of his finances.
Mr Kushner's new filings "inadvertently omitted" an art collection valued between $5 million and $25 million, and also clarified holdings in his tech real estate start up Cadre — which he owns stake in for between $5 million and $25 million.
The disclosures were filed with the US Office of Government Ethics as a part of the "ordinary review process" involved with those filings. Because of the nature of financial firings with the office, the exact amount of undisclosed assets could also be as low as $10.6 million.
Mr Kushner and his wife, Ivanka Trump, have combined assets worth as much as $205 million, according to analysis of both of their financial filings.
The president's son-in-law has faced renewed interest in his financial holdings in light of recent revelations that he had met with a Russian lawyer during the 2016 campaign in order to dig up dirt on Hillary Clinton. Mr Trump has said that Mr Kushner — and others in the meeting, including Donald Trump Jr, who facilitated the meeting — did nothing wrong in taking the meeting, and has said that any campaign would do the same thing to try and win an election.
Critics worry, however, about what impact Mr Kushner's business ties might have on his ability to serve in the White House — a public office not intended for the enrichment of specific individuals.
The biggest names involved in the Trump-Russia investigation

Show all 17
A lawyer advising Mr Kushner said that individuals are allowed to amend their financial filings before they are certified. He also said that Mr Kushner's finances are particularly complicated.
"Jared and Ivanka have followed each of the required steps in their transition from private citizens to federal officials. The Office of Government Ethics has certified Jared's financial disclosure, reflecting its determination that his approach complies with federal ethics laws," Jamie Gorelick, Mr Kushner's lawyer, told the Associated Press. "Ivanka's financial disclosure form is still in the pre-certification stage, as she began the process later."
But the changes came as a surprise for some veteran White House officials, including Clay Johnson. Mr Johnson served as former President George W Bush's director of presidential personnel.
"The way we ran it ... is that the general direction to all nominees is tell us what we ask for now. We will then stand behind you whatever may come in. But there are to be no surprises," Mr Johnson said.
In addition to complicated finances, the filings of both Ms Trump and Mr Kushner show that they both stepped down from corporate positions before taking their positions. Mr Kushner resigned from 266 such posts, while Ms Trump resigned from 292.
Register for free to continue reading
Registration is a free and easy way to support our truly independent journalism
By registering, you will also enjoy limited access to Premium articles, exclusive newsletters, commenting, and virtual events with our leading journalists
Already have an account? sign in
Register for free to continue reading
Registration is a free and easy way to support our truly independent journalism
By registering, you will also enjoy limited access to Premium articles, exclusive newsletters, commenting, and virtual events with our leading journalists
Already have an account? sign in
Join our new commenting forum
Join thought-provoking conversations, follow other Independent readers and see their replies