Jeff Sessions: I do not regret calling Hawaii 'an island in the Pacific'
'I don't know that I said anything I would want to phrase differently,' the Attorney General says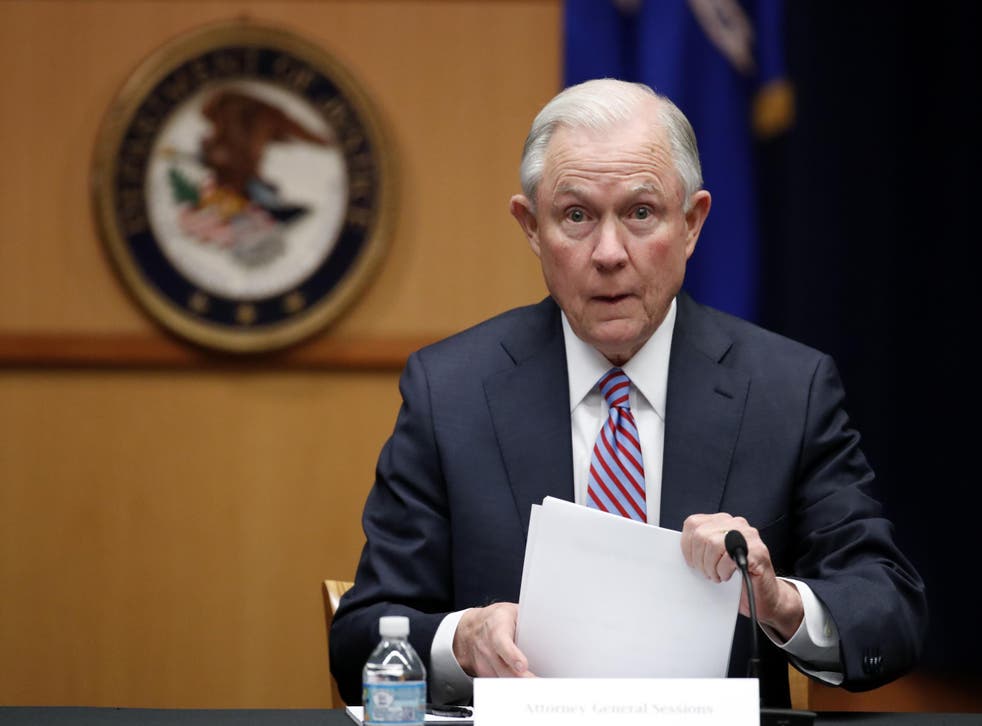 Attorney General Jeff Sessions says he does not regret criticising the attorney general of Hawaii for blocking President Donald Trump's travel ban.
Mr Sessions and Hawaii Attorney General Douglas Chin engaged in a war of words after Mr Sessions criticised Mr Chin for his temporary restraining order that blocked Mr Trump's revised travel ban.
"I really am amazed that a judge sitting on an island in the Pacific can issue an order that stops the President of the United States from what appears to be clearly his statutory and Constitutional power," Mr Sessions told conservative talk show host Mark Levin.
Mr Chin bristled at the characterisation of Hawaii as simply "an island in the Pacific," and hit back in a statement about the importance of a strong, independent judiciary.
"Our Constitution created a separation of powers in the United States for a reason. Our federal courts, established under article III of the Constitution, are co-equal partners with Congress and the President,' he said. "It is disappointing AG Sessions does not acknowledge that."
The Department of Justice attempted to walk back Mr Sessions' comments on Thursday, calling Hawaii a "beautiful island" and focusing on what they called a "flawed opinion" by a "single judge."
Mr Sessions, however, declined to apologise for his statement.
"I don't know that I said anything I would want to phrase differently," he told CNN's Kate Bolduan. "...It is a point worth making that a single sitting district judge – out of 600, 700 district judges – can issue an order stopping a presidential executive order that I believe is fully constitutional; designed to protect America from a terrorist attack."
World news in pictures

Show all 50
The concept of judicial review, or the ability of the courts to check the power of the president, was established in the landmark Supreme Court case Marbury v Madison and affirmed in multiple cases thereafter.
Congress members from Hawaii jumped to Mr Chin's defence, tweeting their disdain for Mr Sessions' comments.
"Mr. Attorney General: You voted for that judge. And that island is called Oahu. It's my home. Have some respect," wrote Senator Brian Schatz.
Mr Chin's office did not respond to requests for comment.
Register for free to continue reading
Registration is a free and easy way to support our truly independent journalism
By registering, you will also enjoy limited access to Premium articles, exclusive newsletters, commenting, and virtual events with our leading journalists
Already have an account? sign in
Register for free to continue reading
Registration is a free and easy way to support our truly independent journalism
By registering, you will also enjoy limited access to Premium articles, exclusive newsletters, commenting, and virtual events with our leading journalists
Already have an account? sign in
Join our new commenting forum
Join thought-provoking conversations, follow other Independent readers and see their replies