Jeff Sessions had third undisclosed meeting with Russian officials, Comey reportedly says
The information was revealed in a private hearing with senators
Emily Shugerman
New York
Friday 09 June 2017 15:34 Comments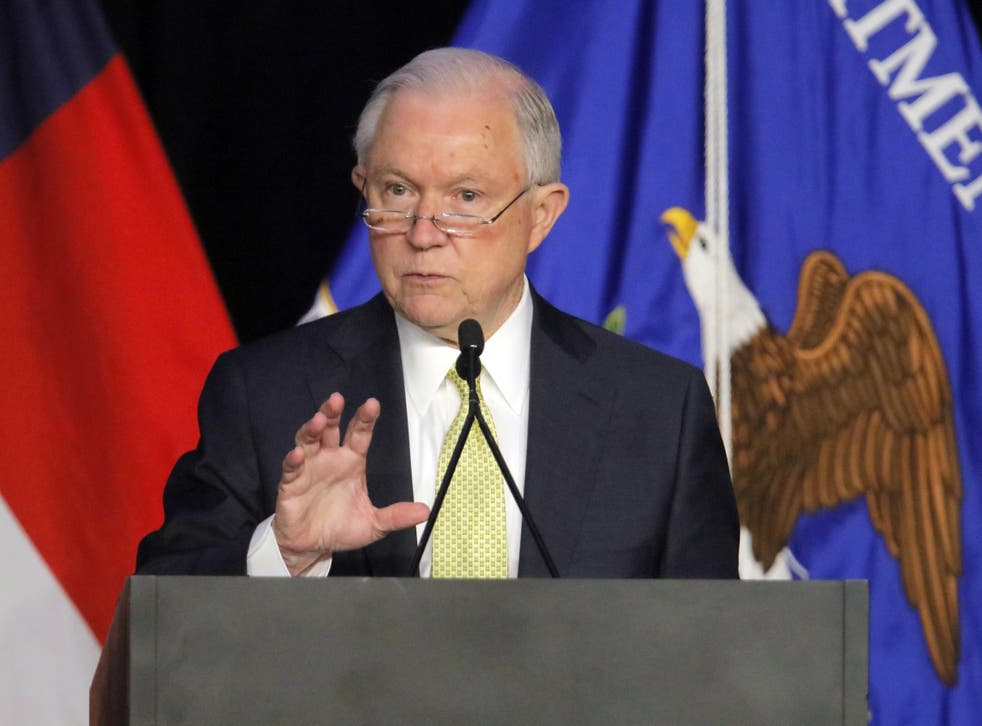 Attorney General Jeff Sessions may have had a third, undisclosed interaction with Russian officials, former FBI Director James Comey has reportedly told senators.
In a closed hearing, Mr Comey told senators it is possible the Attorney General spoke with Russian officials three times over the course of the Trump campaign – interactions Mr Sessions neglected to mention when asked about his contact with Russians in a Senate confirmation hearing.
Mr Comey did not want to discuss the possibility during his public Senate testimony, a source familiar with the briefing told CNN.
Mr Sessions has previously come under fire for failing to disclose his meetings with Russian ambassador Sergey Kislyak. The Attorney General had two publicly reported meetings with Mr Kislyak in 2016: once at the Republican National Convention, and once at his office in Washington.
In his confirmation hearing, however, Mr Sessions said, "I have been called a surrogate at a time or two in [the Trump] campaign, and I did not have communications with the Russians."
Now, Mr Comey – who was investigating the Trump campaign's possible ties to Russia before Mr Trump fired him – has raised the possibility of an additional meeting.
The biggest names involved in the Trump-Russia investigation

Show all 17
Congressional investigators are already on the case, according to CNN. They are looking into a possible meeting on 27 April, 2016 at the Mayflower Hotel in Washington, DC. Mr Sessions and Mr Kislyak both attended a VIP reception at the hotel that day.
Justice Department spokeswoman Sarah Isgur Flores denied any private interactions between Mr Sessions and the Russian ambassador at the hotel.
"The facts haven't changed; the then-Senator did not have any private or side conversations with any Russian officials at the Mayflower Hotel," she said.
Mr Comey hinted at the meeting in his public testimony on Thursday, saying the FBI had purposely kept information regarding the Russian investigation from the attorney general.
"We ... were aware of facts that I can't discuss in an open setting that would make his continued engagement in a Russia-related investigation problematic," Mr Comey said.
Mr Sessions recused himself from the Justice Department's Russia investigation in March.
The Attorney General will testify in front of the a Senate appropriations subcommittee next week, where he is expected to face questions on his role in Mr Comey's firing.
"I am deeply concerned about the Attorney General's role in firing Director Comey in light of his recusal from the Russia investigation," senior Appropriations Committee Democrat Patrick Leahy said in a statement. "...As Vice Chairman of the Appropriations Committee, I have many important questions for him to answer."
Register for free to continue reading
Registration is a free and easy way to support our truly independent journalism
By registering, you will also enjoy limited access to Premium articles, exclusive newsletters, commenting, and virtual events with our leading journalists
Already have an account? sign in
Join our new commenting forum
Join thought-provoking conversations, follow other Independent readers and see their replies