Jeff Sessions could face trouble now George Papadopoulos has pleaded guilty
The Attorney General was at a meeting where an aide pitched a Russia meeting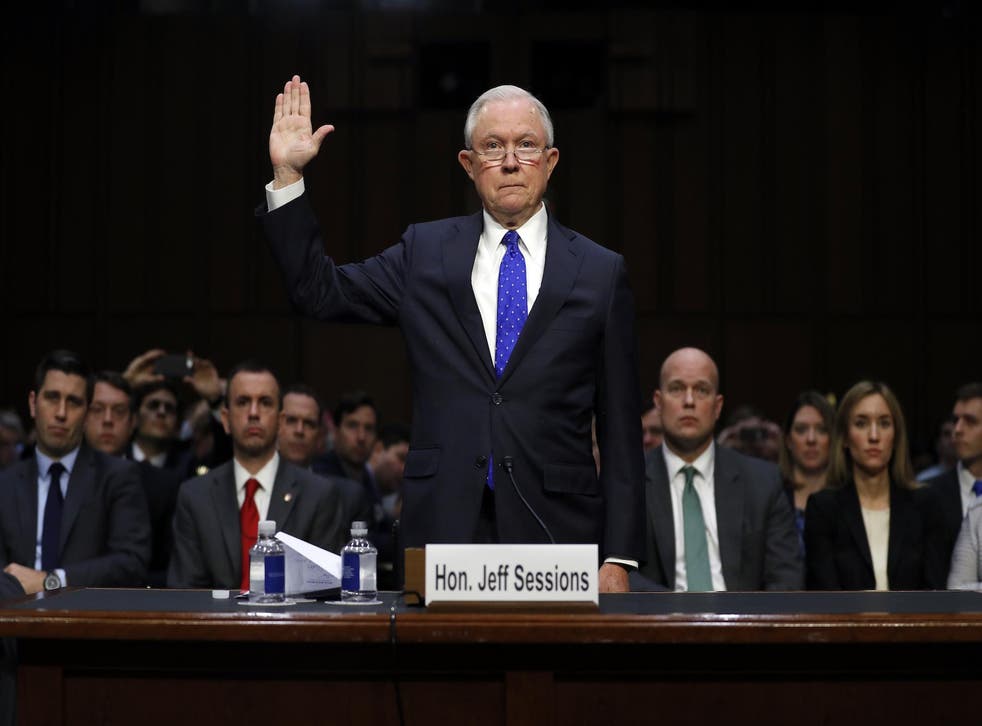 A former Trump campaign adviser's admission that he had interactions with alleged government-connected Russians is leaving Attorney General Jeff Sessions facing renewed questions about how much he knew about Russian election interference.
Special counsel Robert Mueller's investigation of ties between the Trump campaign and Russia was triggered in part by Mr Sessions' prior contact with the Russian government.
The top law enforcement official recused himself from an examination of Russia's role in the 2016 presidential election after it was revealed he had not disclosed meeting with Russian Ambassador Sergei Kislyak during the presidential campaign - a move that infuriated Donald Trump and set in motion a chain of events that would eventually lead the appointment of Mr Mueller.
Now Democrats are again asking questions about Mr Sessions' testimony in January that he wasn't aware of any campaign contacts with Russia, after a court document revealed how campaign officials were presented with the option of talking to Russia.
According to a document laying out the case against Trump foreign policy adviser George Papadopoulos, who has pleaded guilty to lying to the FBI, Mr Papadopoulos repeatedly floated the idea of a possible meeting between the campaign and officials in Moscow. He pitched helping to arrange a meeting between Mr Trump to Russian President Vladimir Putin at a March 31 gathering with "Trump and other foreign policy advisors", the document says.
A post from Mr Trump's Instagram account that day shows Mr Papadopoulos seated around a table with both Mr Trump and Mr Sessions. CNN reports that Mr Sessions rebuffed the prospective meeting.
The biggest names involved in the Trump-Russia investigation

Show all 17
But the fact that Mr Sessions was privy to the offer has fueled questions from legislators who say the Attorney General did not disclose the meeting when he spoke to the Senate Judiciary Committee. New Mexico Democrat told CNN that it called into question whether "whether [Mr Sessions] is being honest and forthright with the committee" and Texas Republican John Cornyn called the meeting a "legitimate area of inquiry", CNN reported.
"Jeff Sessions concealed his meetings with the Russians and he had an obligation to be more forthcoming about meetings that involved Papadopoulos," Senator Richard Blumenthal, a Connecticut Democrat, told CNN.
Donald Trump 'disappointed' in attorney general Jeff Sessions
In public testimony before the Senate Intelligence Committee in June, Mr Sessions said he had not held other undisclosed conversations with Russian nationals or businessmen. During a Senate Judiciary Hearing last month, South Carolina Republican Lindsey Graham asked Mr Sessions if he ever overheard "a conversation between you and anybody on the campaign who talked about meeting with the Russians". Mr Sessions sidestepped the query.
"I have not seen anything that would indicate a collusion with Russians to impact the campaign", Mr Sessions replied.
The President has denied any collusion between his campaign and Russia, a position he reiterated after Mr Papadopoulos' plea was revealed and former campaign chairman Paul Manafort was arrested on money laundering charges. He has said "few people knew" Mr Papadopoulos, whom he derided as a "low level volunteer" and a "liar".
Similarly, White House Press Secretary Sarah Huckabee Sanders said Mr Papadopoulos had an "extremely limited" role in the campaign.
Register for free to continue reading
Registration is a free and easy way to support our truly independent journalism
By registering, you will also enjoy limited access to Premium articles, exclusive newsletters, commenting, and virtual events with our leading journalists
Already have an account? sign in
Register for free to continue reading
Registration is a free and easy way to support our truly independent journalism
By registering, you will also enjoy limited access to Premium articles, exclusive newsletters, commenting, and virtual events with our leading journalists
Already have an account? sign in
Join our new commenting forum
Join thought-provoking conversations, follow other Independent readers and see their replies