Trump-supporting evangelist claims his wife's ex-lover tried to blackmail their family
'It was like living on a roller coaster,' Jerry Falwell Jr says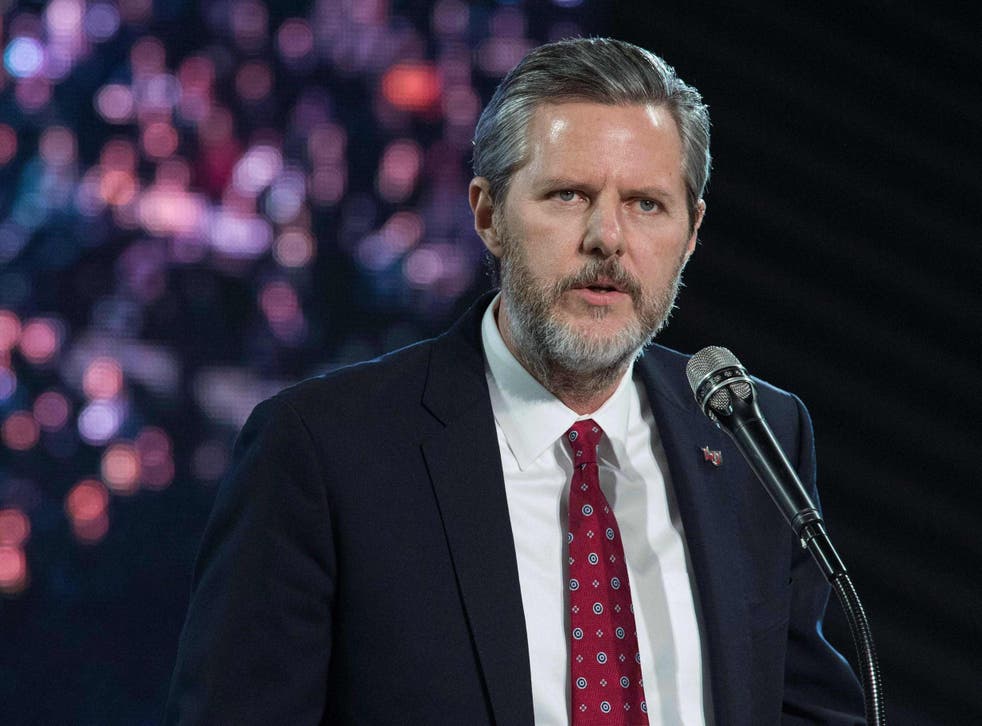 Jerry Falwell Jr, one of the country's highest-profile evangelical Christians, has claimed that a man who had an affair with his wife tried to blackmail his family.
Mr Falwell, who is currently on a leave of absence as the president of evangelical Liberty University, released a lengthy statement in The Washington Examiner saying he was recovering from the "trauma" of the experience.
The vocal Donald Trump supporter said he and his wife, Becki Falwell, met a man with whom she later had an affair with during a vacation over eight years ago, he said.
Mr Falwell said that he and his wife met the "ambitious young man who was working at [their] hotel" and tried to help him advance his career.
"Shortly thereafter, Ms Falwell had an inappropriate personal relationship with this person, something in which I was not involved – it was nonetheless very upsetting to learn about," Mr Falwell said.
He added: "Over the course of the last few months this person's behaviour has reached a level that we have decided the only way to stop this predatory behaviour is to go public."
Mr Falwell accused the man of continuing to threaten to reveal the relationship "to deliberately embarrass my wife, family, and Liberty University unless we agreed to pay him substantial monies."
While the statement did not name his wife's former lover, The Examiner identified the man involved as Giancarlo Granda, who has been tied to the family over several years by numerous media outlets.
Mr Granda told The Examiner "any allegation of extortion is falsely, defamatory and belied by clear documentary evidence."
"The Falwell's attempt to sandbag me, and The Examiner, with a last-minute story without providing The Examiner clear evidence that this was not simply an 'affair' with concocted allegations of extortion reeks desperation," he told the newspaper.
He went even further, telling Reuters that Mr Falwell would watch his wife having sex with Mr Granda.
Following his discovery of the affair and alleged blackmail, Mr Falwell said he was seeking mental health counselling to help him cope with the experiences. "It was like living on a roller coaster," Mr Falwell said.
The attorney said he forgave his wife for the "short lived" affair and that he remains "fully devoted" to his wife.
"Ms Falwell and I forgave each other because while her indiscretion may have been more obvious and apparent, I realised that there were important smaller things I needed to do better too," he said.
The accusations come not long after Mr Falwell agreed to take an indefinite leave of absence from his position at Liberty University after he was forced to apologise for a photograph he posted on social media with his trousers unzipped and his shirt pulled up over his stomach.
At the time Mr Falwell, who has held positions at Liberty University since 2007, told WLNI that the photograph was taken during a costume party and was just "good fun".
Liberty's board has said that the decision on whether or not to retain Mr Falwell had not yet been made.
Additional reporting by the Associated Press