Trump 'currying favour' with white supremacists, says Biden at Iowa state fair
'Everything he does, he speaks to them,' says 2020 frontrunner as he attacks president's response to Charlottesville riot
Clark Mindock
Des Moines, Iowa
Friday 09 August 2019 06:21 Comments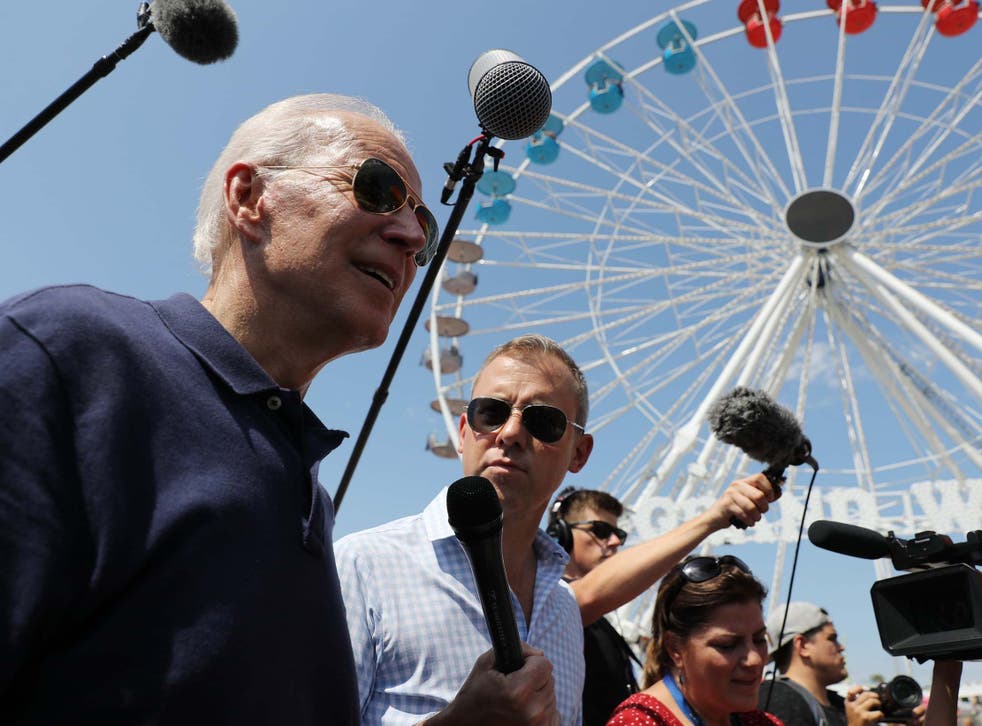 Joe Biden set the tone for Democrats at the Iowa State Fair on Thursday with an attack on Donald Trump for currying "the favour of white supremacists", and a lecture to Breitbart worker who attempted to tell the former vice president he was misquoting the Republican's "very fine people" comments after the deadly Charlottesville riot.
"I believe that everything the president says and has done encourages white supremacists, and I'm not sure there's much of a distinction," Mr Biden told reporters at the event when asked about Mr Trump's perceived racism.
"As a matter of fact, it may be even worse. In fact, he'll be out there trying to ... curry the favour of white supremacists or any group that … is anathema to everything we believe in. So, whether he is or is not a white supremacist, he encourages them. Everything he does, he speaks to them. He's afraid to take them on."
Mr Biden, who is leading in the field of Democratic presidential candidates by a healthy margin, made his comments just after he spoke to some 100 Iowa caucus-goers in the hot prairie sun at the Des Moines Register "Political Soapbox" – an annual tradition that has become a nearly unavoidable presidential campaign stop, providing a relatively unpretentious opportunity for candidates to speak directly to voters amid the excitement of carnival rides and fried food.
During his speech to voters, the former vice president wore his trademark aviator sunglasses and attacked Mr Trump, promising with a Biden presidency to restore "the soul of this country".
Trump protests: President visits Texas and Ohio after mass shootings

Show all 31
Mr Biden said, referring to Mr Trump's words in the aftermath of 2017 demonstrations in Virginia in which a peaceful counter-protester to a neo-Nazi rally was killed by a white supremacist, said: "He said there were very fine people in both groups. Very fine people. No president, sitting president, has ever said something like that. And the only thing that's happened is it's gotten worse."
Later, when Mr Biden was confronted by a representative of the right-wing Breitbart site, who said that Mr Trump had specifically condemned white supremacists, the former vice president forcefully shot back: "No, he did not. He said, he walked out, and he said – let's get this straight. He said there were 'very fine people' in both groups. They're chanting anti-semitic slogans, carrying flags."
But while tensions flared over the issue of racism in the White House, the caucus goers in Iowa responded far less to those talking points than they did issues related to the economy and the dignity of work. And they said their top issue was seeing someone who could take down the president.
"I want to restore the backbone of this country. The backbone of this country is the middle class. The middle class built this country, Wall Street did not build this country," Mr Biden said, receiving his first considerable applause of the afternoon. "And the middle class made it possible."
Promising to raise the corporate tax rate in America, Mr Biden said that the United States of 2019 was set up to reward stockholders, not the workers who contributed to companies and helped drive up those stock prices.
"Folks, the idea that we don't reward work as much as wealth is bizarre," he said, before saying that the wealthy knew they did not need more tax breaks. "If you're making $10m – man, I'm not your guy. You don't need a tax cut. And you know it."
Jolene Pfaff, 66, of Des Moines, told The Independent that she was still deciding who to support in 2020, but that she liked Mr Biden's ability to excite a crowd. That kind of energy is what she was looking for, as her main concern was beating Mr Trump, she added.
"I really liked the fact that he can get the crowd going, you know, and I like his idea on insurance, that we don't have to recreate the wheel but build on what we've got," Ms Pfaff said. "Insurance for everyone, by going with the Obama plan and building on it."
When asked what would get her supporting a candidate, she said: "If I think they can beat Trump."
Marla Rausch, 69, of Indianola, said she was impressed by Mr Biden and that she was leaning strongly towards supporting the former vice president.
There were plenty of candidates to choose from, with lots of good ideas, Ms Rausch said, but Mr Trump was in the crosshairs.
"I think he's probably our best bet to get Trump out of the presidency and get a Democrat in there," she said.
Darla Connell, 73, of Clearlake, said she was also undecided, but that she had narrowed her choices down to include Mr Biden, Pete Buttigieg, Steve Bullock – who spoke earlier in the day in Iowa – and Amy Klobuchar.
Support free-thinking journalism and attend Independent events
"They're all straight shooters, which I like. They've got good plans. Age is not an issue for me," Ms Connell said, referring to the fact that Mr Biden and Mr Buttigieg were the oldest and youngest candidates in the field, respectively.
But she said she would vote for any Democrat against Mr Trump in 2020, if it came to it: "I would vote for my worst dog. My worst pet. I don't have pets, I don't care for dogs. I would vote for the worst dog walking around before I vote for Donald Trump. He is on an advanced path to ruin this country."
Register for free to continue reading
Registration is a free and easy way to support our truly independent journalism
By registering, you will also enjoy limited access to Premium articles, exclusive newsletters, commenting, and virtual events with our leading journalists
Already have an account? sign in
Join our new commenting forum
Join thought-provoking conversations, follow other Independent readers and see their replies