John Bolton: Trump fires superhawk after repeated clashes on US foreign policy
Analysis: The president may have learned to tolerate the moustache, but would not tolerate someone who regularly challenged his world view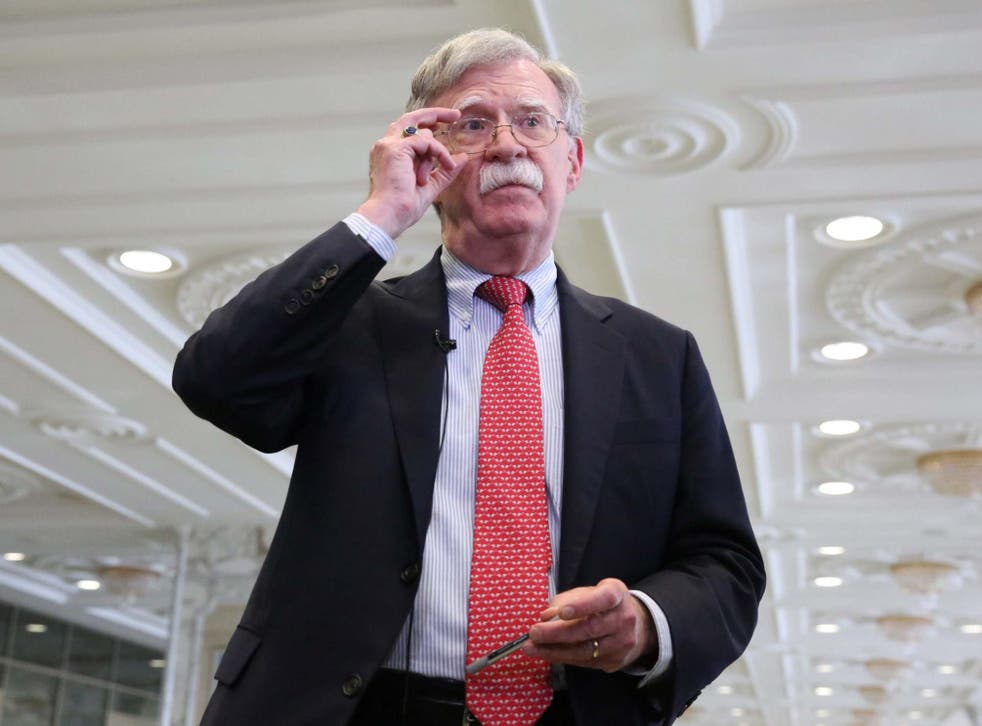 John Bolton, who had served for 519 days as Donald Trump's third national security adviser, left with a resignation letter just 26 words long but opened another chapter in the tales of bitter acrimony and divisions which had been the mark of this US administration.
There were immediate accusations and recriminations over the parting. Trump said in tweets "I informed John Bolton last night that his services are no longer needed at the White House. I disagreed strongly with many of his suggestions, as did others in the Administration, and therefore ... I asked John for his resignation, which was given to me this morning."
Bolton however insisted he had resigned, saying in a counter-tweet: "I offered to resign last night and President Trump said, 'Let's talk about it tomorrow". He then sent a flurry of texts to media outlets including Fox News and The Washington Post maintaining that he had left of his own accord.
Bolton's fall is being viewed as a victory for Mike Pompeo. The two men had differed vocally and increasingly on a number of issues including talks being held with the Taliban and the attempted detente with Kim Jong-un of North Korea.
Just after the national security adviser's departure, Pompeo was happy to acknowledge: "There were definitely places that Ambassador Bolton and I had different views about how we should proceed". Later a smiling secretary of state told journalists: "I'll leave it to the president to talk about the reasons he made the decision but I but I would say this, the president's entitled to the staff that he wants.
World news in pictures

Show all 50
"At any moment, this is a staff person who works directly for the president of the United States and he should have people that he trusts and values and whose efforts and judgements benefit him in delivering American foreign policy."
Trump and Bolton will give their versions of what happened in the next hours and days. But the president and his national security adviser were always going to be a difficult fit.
Both were Vietnam draft dodgers, but Bolton was a superhawk, one of the orchestrators of the Iraq invasion, calling for regime change in a swathe of countries he deemed to be America's enemies. Trump, however, is not a war president and many of his supporters are isolationists who blamed the sending of US forces into Iraq and Afghanistan on the Washington establishment.
Bolton had advocated overthrowing the governments of Iraq, Iran, North Korea, Syria, Venezuela, Yemen and Cuba. But, crucially he has, at the same time, been sceptical about what Trump declares to be his great foreign policy triumph, his supposed detente with Kim Jong-un.
Bolton, one can argue, was right in saying that Trump had got little out of the North Korean regime after his two summits with Kim, but that is not what the president wanted to hear and Pompeo, who had carried out much of the shuttle diplomacy with Pyongyang, also felt aggrieved.
He was also unconvinced by the negotiations being held by the US with the Taliban in Qatar, holding that the Talibs could not be trusted and the talks would go nowhere. Trump, however, wanted a peace deal he would declare as a victory and one that would enable him to bring the troops home. Pompeo, for his part, had backed the talks, even though he was said to have disagreed with the proposed draft settlement which emerged at Doha from US envoy Zalmay Khalilzad.
For Trump, the centrepiece of his Afghan success was going to be a Camp David meeting between the Afghan president Ashraf Ghani and Taliban leaders. Bolton had opposed the summit and had reportedly argued forcefully about it with the president.
At the end Trump declared that he was abandoning the peace talks after a Taliban car bombing in Kabul which killed an American soldier and 11 other people. But, according to White House officials, the president remained angry at what he saw as his national security adviser undermining one of his flagship initiatives.
Iran was one arena on which the two men could be expected to be in sync. Trump had pulled the US out of the nuclear pact of international states with Tehran: an agreement with which the other signatories – Britain, France, Germany, Russia and China – as well the United Nations and western intelligence agencies stressed was working.
However, despite the instigation of Israel and a Saudi-led Sunni bloc to militarily confront Iran, Trump had pulled back from the point which could lead to an armed clash with Iran. He has also been talking increasingly of the possibility of a face-to-face meeting with the country's president, Hassan Rouhani.
Bolton, who had once declared he would celebrate regime change in Tehran in 2019, was for continuing to ratchet up pressure on Iran. Israel has been urging the US administration not to negotiate with the Iranians at this stage and Benjamin Netanyahu flew to London last week to lobby Vice President Mike Pence and defence secretary Mark Esper, who were on a visit to the UK, not to hold talks.
Esper, however, told a journalists in London that he favoured dialogue with Iran and backed an initiative towards this by Emmanuel Macron. Pompeo subsequently stated that he could foresee a meeting between Rouhani and Trump at the UN general assembly later this month.
Support free-thinking journalism and attend Independent events
Bolton had been recommended for the job of UN ambassador to Trump at the beginning of his presidency particularly because of his empathy with the Israeli right, according to Michael Wolff in his book Fire and Fury.
Roger Ailes, the former Fox News chairman and longtime Trump adviser, is said to have told the president: "He is a bomb thrower and a strange little f***er. But you need him, who else is good on Israel?"
Trump, however, decided that the face did not fit. He did not like Bolton's walrus moustache. Steve Bannon, his former chief strategist recalled: "The moustache is a major problem. Trump doesn't think he looked the part."
Ailes had acknowledged while pressing for his candidate that "Bolton had got in trouble in the past because he got in a fight in a hotel one night and chased some woman" in Moscow in 1994. Bannon apparently quipped: "If I told Trump that, he might have got the UN job."
The UN job went to Nikki Haley, who has also since left the Trump team. Bolton eventually got his job in the White House after Trump's second national security adviser, Lieutenant General HR McMaster, resigned.
Bolton has now gone, having found out that the president may have learned to tolerate the moustache, but would not tolerate someone who regularly challenged his world view. The churn continues in one of the most unstable administrations in recent American history.
Join our new commenting forum
Join thought-provoking conversations, follow other Independent readers and see their replies