John Fetterman, lieutenant governor of Pennsylvania and Democratic Senate candidate, hospitalised with stroke
'The good news is I'm feeling much better, and the doctors tell me I didn't suffer any cognitive damage. I'm well on my way to a full recovery. So I have a lot to be thankful for'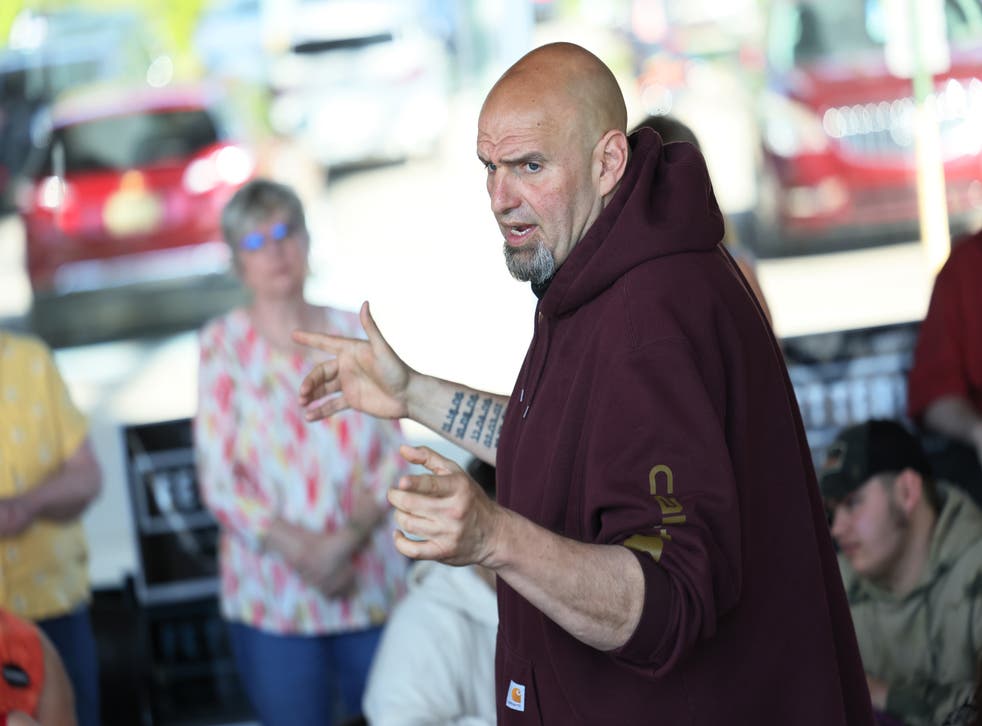 Leer en Español
John Fetterman, the lieutenant governor of Pennsylvania and a Democratic candidate for the US Senate, has been hospitalised after suffering a stroke, he has confirmed.
The 52-year-old was being treated at Penn Medicine Lancaster General Hospital.
In a statement released on Twitter, Mr Fetterman said: "On Friday, I wasn't feeling well, so I went to the hospital to get checked out. I didn't want to go – I didn't think I had to – but Gisele insisted, and as usual, she was right. I hadn't been feeling well, but was so focused on the campaign that I ignored the signs and just kept going. On Friday it finally caught up with me. I had a stroke that was caused by a clot from my heart being in an A-fib rhythm for too long. Fortunately, Gisele spotted the symptoms and got me to the hospital within minutes. The amazing doctors here were able to quickly and completely remove the clot, reversing the stroke, they got my heart under control as well. It's a good reminder to listen to your body and be aware of the signs. The good news is I'm feeling much better, and the doctors tell me I didn't suffer any cognitive damage. I'm well on my way to a full recovery.
"So I have a lot to be thankful for," added the US Senate candidate, who according to polling looks poised to capture his party's nomination on Tuesday.
"There's so much at stake in this race, and I'm going to be ready for the hard fight ahead. But our campaign isn't slowing down one bit, and we are still on track to win this primary on Tuesday, and flip this Senate seat in November. Thanks for all the support, and please get out there and vote," said Mr Fetterman.
The statement is unlikely to shake up the race too much given the massive lead Mr Fetterman holds over two opponents, Conor Lamb and Malcolm Kenyatta, in the Pennsylvania primary. Mr Lamb saw his campaign fall further behind Mr Fetterman after a super PAC backing the two-term congressman went increasingly negative against the frontrunner, and Mr Kenyatta's campaign has remained in last place as the progressive state legislator has failed to win endorsements from any prominent left-leaning politicians nationally.
The winner of Tuesday's primary will face a GOP candidate in November. Currently, the Republican field is split between Donald Trump-endorsed Dr Mehmet Oz, David McCormick, and Kathy Barnette.
The seat is especially important for Democrats because it represents a chance to pick up a spot previously held by a Republican and assist in the party's efforts to stave off a GOP takeover of the upper chamber. The Republican Party still holds an advantage in most generic ballot polling for November, meaning that Democrats have a tough road ahead as they try to protect majorities in the House and Senate.
Register for free to continue reading
Registration is a free and easy way to support our truly independent journalism
By registering, you will also enjoy limited access to Premium articles, exclusive newsletters, commenting, and virtual events with our leading journalists
Already have an account? sign in
Register for free to continue reading
Registration is a free and easy way to support our truly independent journalism
By registering, you will also enjoy limited access to Premium articles, exclusive newsletters, commenting, and virtual events with our leading journalists
Already have an account? sign in
Join our new commenting forum
Join thought-provoking conversations, follow other Independent readers and see their replies