Republican Senator suggests John McCain's healthcare vote was affected by recent cancer diagnosis
A spokesman for Mr McCain called the comments 'bizarre and deepy unfortunate'
Clark Mindock
New York
Wednesday 09 August 2017 22:40 Comments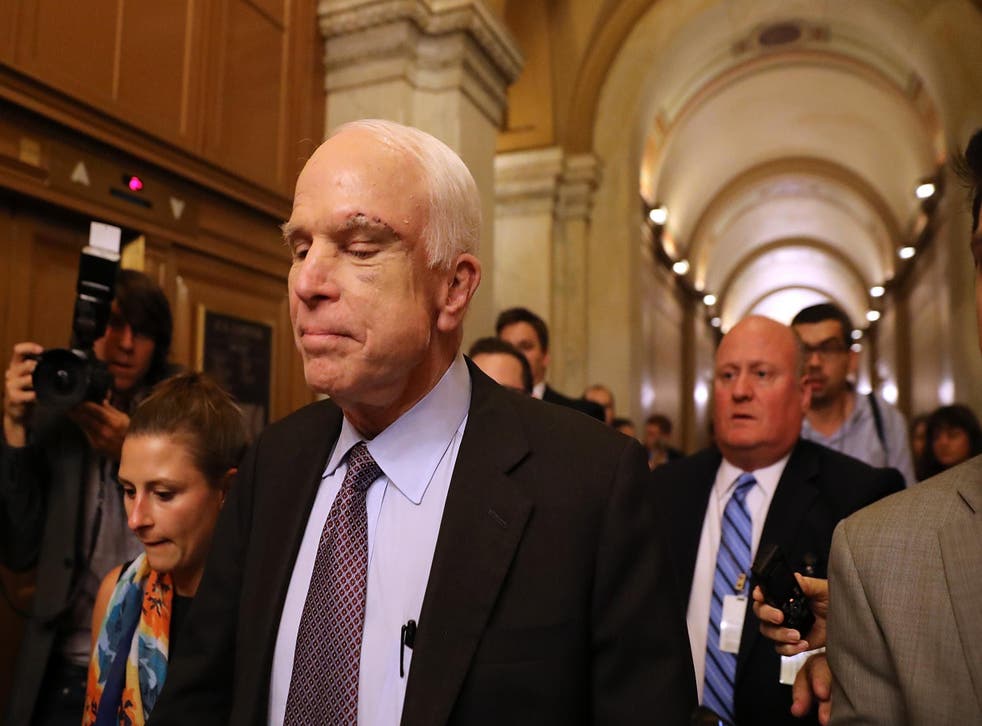 A Republican colleague of John McCain has suggested that the Arizona firebrand's late night vote against repealing Obamacare may have been influenced by the man's recent brain cancer diagnosis.
Wisconsin Senator Ron Johnson, who voted in favour of repealing and replacing the Affordable Care Act, made the comments during an appearance on a morning radio program in Chicago.
"I'm not going to speak for John McCain, you know, he has a brain tumour right now, that vote occurred at 1:30 in the morning, some of that might have factored in," Mr Johnson said.
The statement caught the radio show host off guard, who followed up by asking: "Really?"
"Again… I don't know exactly what – we really thought – and again I don't want speak for any senator," Mr Johnson continued. "I really thought John was going to vote yes to send that to conference at 10:30 at night. By about 1, 1:30, he voted no. So you have talk to John in terms what was on his mind."
Mr McCain's vote came just days after he returned to Washington from his home state, where he had recently been diagnosed with an aggressive type of brain cancer.
World news in pictures

Show all 50
The Arizona senator had already explained his reasoning for voting against his party's healthcare bill after seven years of the GOP vowing that they would do just that. After the vote, he said that he had voted the way he did because he didn't think that it would "actually reform our health care system."
"While the amendment would have repealed some of ObamaCare's most burdensome regulations, it offered no replacement to actually reform our health care system and deliver affordable, quality health care to our citizens," he said.
A spokesman for Mr McCain later said that Mr Johnson's comments were "bizarre and deeply unfortunate."
Mr McCain's vote on that healthcare repeal vote proved decisive in the GOP's effort to repeal Obamacare, and was the latest blow to party leadership that had promised for years to end Obamacare.
Register for free to continue reading
Registration is a free and easy way to support our truly independent journalism
By registering, you will also enjoy limited access to Premium articles, exclusive newsletters, commenting, and virtual events with our leading journalists
Already have an account? sign in
Join our new commenting forum
Join thought-provoking conversations, follow other Independent readers and see their replies