John McCain's cancer diagnosis leads to outpouring of tributes: 'He'll scare the cancer out of his head'
The disease also killed Ted Kennedy and Beau Biden
Clark Mindock
New York, London
,
Katie Forster
Thursday 20 July 2017 16:19 Comments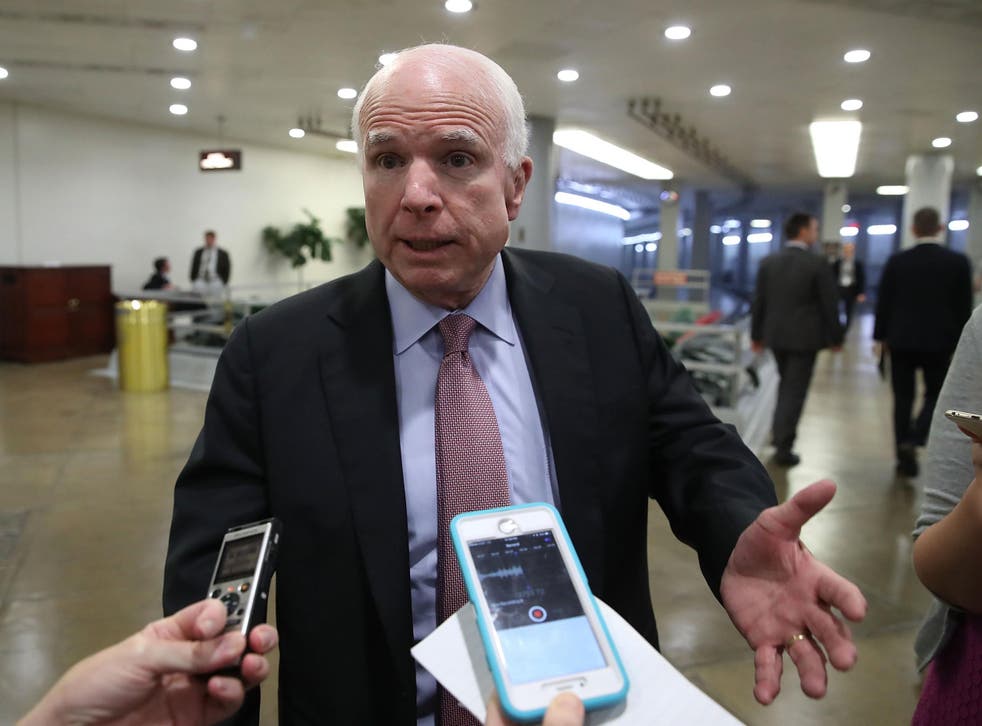 Arizona Senator John McCain's particular form of brain cancer has a low survival rate, is considered aggressive, and has taken the lives of other prominent politicians in the US before.
But, even though the prognosis for his particular form of brain cancer is bleak, friends and colleagues of Mr McCain say that the disease has a fight ahead of it. Mr McCain, a US navy veteran who is celebrated for his unflappability when he was a prisoner of war in Vietnam, isn't the kind of guy to wave a white flag, they say.
"My friend @SenJohnMcCain is a dogged ole SOB," former Representative John Dingell tweeted after hearing of the senator's diagnosis. "Sharp as hell and tougher than a $2 steak. I look forward to catching up with him soon."
News of Mr McCain's diagnosis triggered a wave of supportive messages from across the political spectrum. Allies and opponents alike came together in a rare nonpartisan moment to express concern for the senator, and to note his resilient nature.
"McCain's the hardest man I've ever met. He'll scare the cancer out of his head. Thoughts and prayers to this Ford-tough American hero," John Noonan, a conservative national security commentator and analyst, tweeted.
Even the man who denied him the White House added tribute.
World news in pictures

Show all 50
"John McCain is an American hero & one of the bravest fighters I've ever known," former President Barack Obama tweeted of his former rival on the 2008 campaign trail. "Cancer doesn't know what it's up against. Give it hell, John."
Senator John McCain has responded to the outpouring of good wishes, tweeting: "I greatly appreciate the outpouring of support – unfortunately for my sparring partners in Congress, I'll be back soon, so stand-by!"
Shortly before his diagnosis was revealed, Mr McCain had issued a statement urging his fellow Republicans to delay their long-awaited vote on Obamacare.
The Senator has also been an outspoken critic of the President, pushing for a thorough investigation of Mr Trump's ties to Russia.
The President in a statement on Wednesday called Mr McCain a "fighter".
"Melania and I send our thoughts and prayers to Senator McCain, Cindy, and their entire family," he said. "Get well soon."
Mr McCain's specific diagnosis, according to physicians at the Mayo Clinic in Phoenix, is glioblastoma. The disease is the most common type of cancerous brain tumour, with about 2,200 cases diagnosed in the UK each year, and around 12,400 new cases in the United States. Fifty-five percent of malignant brain tumours are glioblastoma, according to Public Health England. Sixty per cent of new cases occur among males.
The 80-year-old senator's diagnosis came after a surgery to remove a blood clot over his left eye. Tissue analysis after that surgery found that the tumour had begun growing.
The disease is the same affliction that killed former Vice President Joe Biden's son, Beau Biden, and former Massachusetts Senator Ted Kennedy. Both of those politicians, seen as important figures in the Democratic Party, died fairly quickly after being diagnosed.
Glioblastoma begins in the brain, and is considered to be extremely aggressive.
"Other types of primary brain cancers are lower-grade tumours. They tend to occur in people who are much younger, in their twenties and thirties, although they can get glioblastomas as well," Dr Mulholland, a brain cancer expert who specialises in glioblastoma, told The Independent. Lower-grade tumours are "less aggressive, but they can be much larger as they grow so slowly."
Treatment options are limited, even though the medical community is "starting to understand more" about the disease, Dr Mulholland said. It is often treated with some combination of surgery – which can be difficult depending on where in the brain the tumour is located – alongside chemotherapy or radiation therapy, which Mr McCain's physicians say is a likely next step.
The specifics of Mr McCain's diagnosis aren't publicly available. Long term outlook is often bleak. Although his physicians have said that they removed all of the tumour that can be seen on brain scans, the disease often returns. Among those who respond to initial treatment, the cancer often returns within 12 to 24 months. For individuals older than 55, the American Cancer Society says that the five-year survival rate is about 4 per cent.
Register for free to continue reading
Registration is a free and easy way to support our truly independent journalism
By registering, you will also enjoy limited access to Premium articles, exclusive newsletters, commenting, and virtual events with our leading journalists
Already have an account? sign in
Join our new commenting forum
Join thought-provoking conversations, follow other Independent readers and see their replies