John McCain's wife hits out at White House staffer who mocked her ailing husband
Cindy McCain fires back after Trump administration staffer reportedly says husband is 'dying anyway'
Emily Shugerman
New York Comments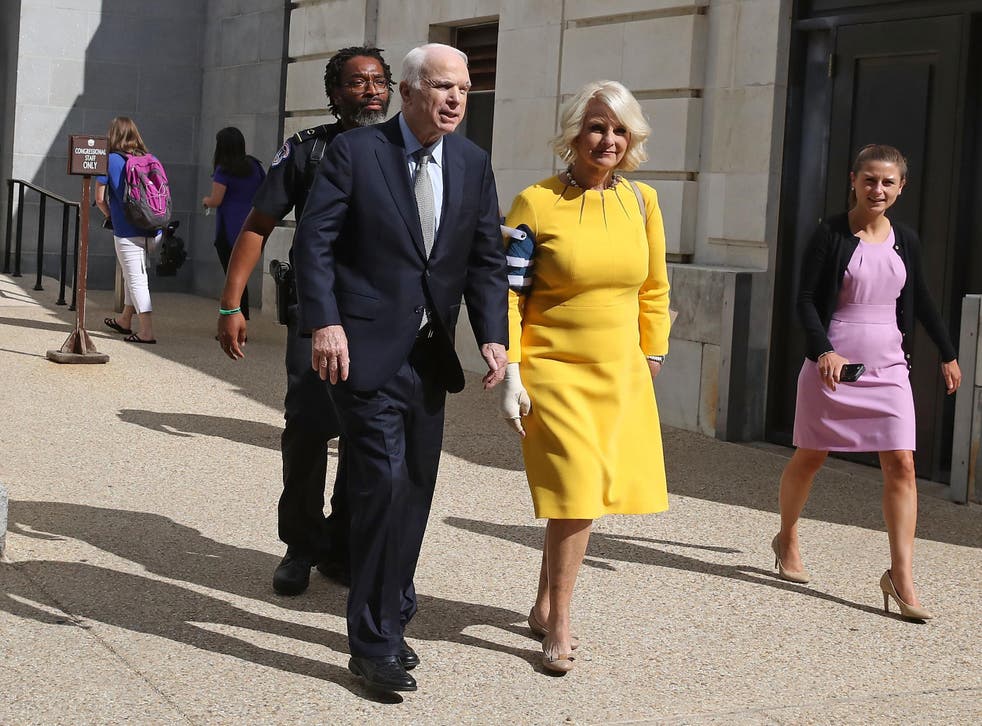 John McCain's wife has hit out at the White House staffer who reportedly mocked her ailing husband by saying the 81-year-old senator didn't matter because he was "dying anyway".
"May I remind you my husband has a family, 7 children and 5 grandchildren," Cindy McCain tweeted at the White House staffer, Kelly Sadler.
Ms Sadler, a special assistant to the president, reportedly mocked Mr McCain in a White House meeting after the senator announced his opposition to Donald Trump's pick for CIA director.
"It doesn't matter, he's dying anyway," Ms Sadler said, according to the Hill. The White House did not deny the statement.
Mr McCain was diagnosed last year with an aggressive form of brain cancer. He is at home in Arizona recovering, and has not returned to the Senate since December. Senator Lindsey Graham, a longtime family friend, recently told reporters that the senator's condition was stabilising.
Ms Sadler reportedly called Mr McCain's daughter, Meghan McCain, to apologise after the alleged comments were publicised. The call did not go well, according to Politico.
Gina Haspel confirmation hearing: Haspel promises not to restart CIA programme
Mr McCain – a career Republican who has sparred repeatedly with the Trump White House – voiced his opposition to Mr Trump's CIA director nominee, Gina Haspel, in a statement after her Senate confirmation hearing on Wednesday. In the hearing, Ms Haspel refused to call previous CIA interrogation methods "torture," or to state unequivocally that torture is immoral.
Mr McCain, a US Navy veteran who was tortured as a prisoner of war in Vietnam, called her statements "disqualifying".
"I believe Gina Haspel is a patriot who loves our country and has devoted her professional life to its service and defence," he said. "However, Ms Haspel's role in overseeing the use of torture by Americans is disturbing. Her refusal to acknowledge torture's immorality is disqualifying."
Donald Trump's least presidential moments so far...

Show all 30
Ms Haspel briefly oversaw an American "black site" prison in Thailand where at least one detainee was waterboarded in 2002. She also wrote a cable ordering the destruction of nearly 100 videotapes of CIA waterboarding sessions, though the CIA maintains her boss was the one to sign and send it.
Her nomination was met with opposition by several senators and a number of human rights groups – many of whom have deemed the CIA's post-9/11 interrogation methods "torture".
More than 100 former US diplomats sent a letter to senators opposing her nomination, saying it would "send a terrible signal to confirm as the next director of the CIA someone who was so intimately involved in this dark chapter of our nation's history".
Ms Haspel's nomination now proceeds to a full Senate vote. Her confirmation requires a simple majority, which Republicans maintain by a slim, 51-49 margin. Only two Republicans – Mr McCain and Kentucky Senator Rand Paul – have voiced their opposition so far.
Register for free to continue reading
Registration is a free and easy way to support our truly independent journalism
By registering, you will also enjoy limited access to Premium articles, exclusive newsletters, commenting, and virtual events with our leading journalists
Already have an account? sign in
Join our new commenting forum
Join thought-provoking conversations, follow other Independent readers and see their replies