Pressure grows on Trump to quit over obscene sexual comments caught on tape
The Arizona senator is the latest Republican – including Condoleezza Rice and Arnold Schwarzenegger – to unendorse the controversial candidate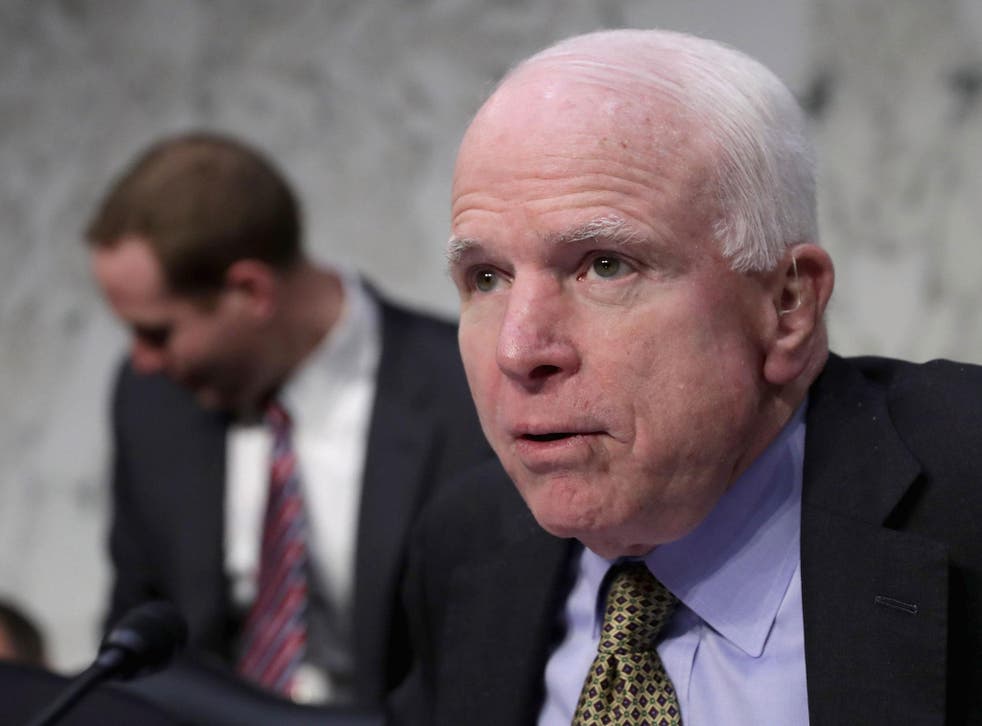 A growing number of senior Republicans have openly condemmed Donald Trump as pressure grows on the Republican presidential nominee to step aside over his obscene remarks about women.
Senator John McCain has become the latest to withdraw his support for Mr Trump amid controversy sparked by comments the candidate made in 2005, bragging about groping and making unwanted advances on women.
It is now thought more than 30 Republican senators have publicly criticised his candidacy, an unprecedented state of affairs.
But Mr Trump has insisted he will "never" abandon his White House bid despite calls for him to step aside after his vulgar descriptions of sexual advances on women were revealed.
Video released by the Washington Post captured Mr Trump making his remarks while taping a segment for Access Hollywood.
"You know I'm automatically attracted to beautiful – I just start kissing them. It's like a magnet. Just kiss. I don't even wait," the Republican presidential nominee said in one portion of the video. "And when you're a star they let you do it. You can do anything … Grab 'em by the p***y."
Mr McCain – the 2008 Republican nominee, long-time senator, and Vietnam veteran – released a lengthy statement explaining why he reached his decision.
"I have wanted to support the candidate our party nominated. He was not my choice, but as a past nominee, I thought it was important I respect the fact that Donald Trump won a majority of the delegates by the rules our party set," Mr McCain said.
"But Donald Trump's behaviour this week, concluding with the disclosure of his demeaning comments about women and his boasts about sexual assaults, make it impossible to continue to offer even conditional support for his candidacy."
Republican leaders backing away from Donald Trump after lewd remarks

Show all 12
Amid the chaos that descended on the Republican Party through Saturday, high profile leaders began denouncing Mr Trump left and right.
Donald Trump caught on tape talking about sexually assaulting women: "Grab 'em by the pussy"
Mike Pence, Mr Trump's running mate, has also distanced himself from the billionaire, declining to appear on his behalff at a party gathering in Wisconsin and saying in a statement: he was "offended" by the comments.
"I do not condone his remarks and cannot defend them," Mr. Pence said, adding, "We pray for his family and look forward to the opportunity he has to show what is in his heart when he goes before the nation tomorrow night."
Former California Gov Arnold Schwarzenegger – and new Apprentice host – issued a statement saying that he would not vote for Mr Trump.
"For the first time since I became a citizen in 1983, I will not vote for the Republican candidate for President," Schwarzenegger said. "I still haven't made up my mind about how exactly I will vote next month. … But as proud as I am to label myself a Republican, there is one label that I hold above all else – American.
"So I want to take a moment today to remind my fellow Republicans that it is not only acceptable to choose your country over your party – it is your duty."
Shortly after, former Secretary of State and National Security Advisor Condoleezza Rice called for Mr Trump to withdraw from the race.
"Enough! Donald Trump should not be President. He should withdraw," she wrote on Facebook. "As a Republican, I hope to support someone who has the dignity and stature to run for the highest office in the greatest democracy on Earth."
And even Mr trump's own wife, Melania, released a statement saying his comments were unacceptable and offensive.