John McCain's surgery may be more serious than thought, sparking fears among Republicans over fate of Trumpcare
Senate Republican leadership delays vote on healthcare bill as McCain recovers from surgery 
Alexandra Wilts
Washinton DC
Monday 17 July 2017 17:28 Comments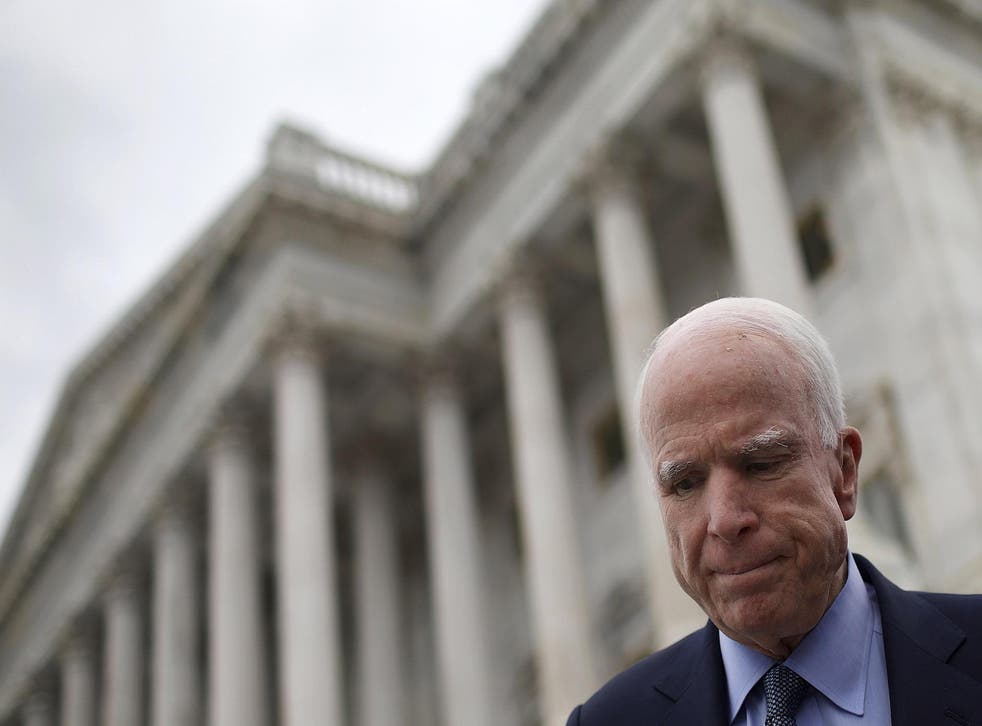 Senator John McCain's medical condition may be more serious than previously thought, experts have said, raising concerns his absence from Washington could further jeopardise the fate of the Republican healthcare bill for which his vote is vital.
The Senate's Republican leadership had been hoping to hold a vote on the measure that would repeal and replace the Affordable Care Act, better known as Obamacare, this week, but Mr McCain's surgery to remove a blood clot above his left eye has thrown some uncertainty around the new bill.
With a majority of 52 senators, Majority Leader Mitch McConnell can only afford to lose two votes on the bill. Republicans Rand Paul and Susan Collins, for different reasons, have already publicly announced that they would vote against beginning debate on the bill, meaning that Mr McConnell needs Mr McCain's support to move the legislation forward.
But it is uncertain how quickly the 80-year-old Republican and Vietnam War veteran will recover. While a statement released by Mr McCain's office suggested that he would be in Arizona recovering for just this week, neurosurgeons interviewed by The New York Times said the typical recovery period could be longer.
Mr McCain's office said that "following a routine annual physical", Mr McCain underwent surgery to remove a two-inch blood clot from "above his left eye" during a "minimally invasive craniotomy with an eyebrow incision" at the Mayo Clinic Hospital in Phoenix.
"Usually, a blood clot in this area would be a very concerning issue," Dr Nrupen Baxi told The New York Times. Mr Baxi is an assistant professor of neurosurgery at the Albert Einstein College of Medicine in New York City.
"The recovery time from a craniotomy is usually a few weeks," the doctor added. "Usually, a blood clot like this is discovered when patients have symptoms, whether it's a seizure or headaches or weakness or speech difficulties. Generally, it's not found on a routine physical because doctors would not know to look for it."
Delays in Mr McCain's recovery do not appear to bode well for the Senate's healthcare bill, as his absence from Capitol Hill gives the forces of opposition – including hordes of healthcare provider organisations and patient advocacy groups – more time to mobilise.
Donald Trump's international Presidential trips

Show all 22
House Speaker Paul Ryan, who has already passed a healthcare bill in the lower chamber, told CBS' Face the Nation that the longer the bill's consideration drags on, the less conservatives will like it.
In an interview with NBC's Meet the Press, Senate Majority Whip John Cornyn said, "As soon as we have a full contingent of senators, we'll have that vote. It's important we do so.
"Healthcare is hard. And we know that," he added. "But we have no choice."
Even if Mr McCain was going to be in Washington this week, there is still a question over whether the Senate Republican leadership would have gained enough support to pass a bill. The Arizona senator had been noncommittal on how he would vote but did express pessimism about Republicans being able to reach a consensus on the issue.
A sticking point on the measure – the latest iteration of which was released last week – has been the proposal to significantly decrease spending on Medicaid, a healthcare programme for the poor. This proposal has worried moderates, as cuts to the programme are likely to leave millions of people without health insurance and will shift the cost of healthcare to the states.
The nonpartisan Congressional Budget Office (CBO) predicted that the previous Senate healthcare bill would increase the number of people without health insurance by 22 million by 2026.
Meanwhile, conservatives are worried that the proposal does not do enough to roll back former President Barack Obama's signature legislation, the Affordable Care Act.
It is estimated that about eight to 10 Republican senators have deep concerns about the bill.
"Time is not the problem in the present healthcare bill," said Senate Democratic Leader Charles Schumer, according to the New York Daily News. "The problem is the substance. It slashes Medicaid, which has become something that helps middle class New Yorkers and millions of Americans."
Register for free to continue reading
Registration is a free and easy way to support our truly independent journalism
By registering, you will also enjoy limited access to Premium articles, exclusive newsletters, commenting, and virtual events with our leading journalists
Already have an account? sign in
Join our new commenting forum
Join thought-provoking conversations, follow other Independent readers and see their replies