Joseph diGenova: The bizarre conspiracy theories peddled by Donald Trump's new lawyer
He told Fox News that the Russia investigation is a 'brazen plot' to frame the President 'with a falsely created crime'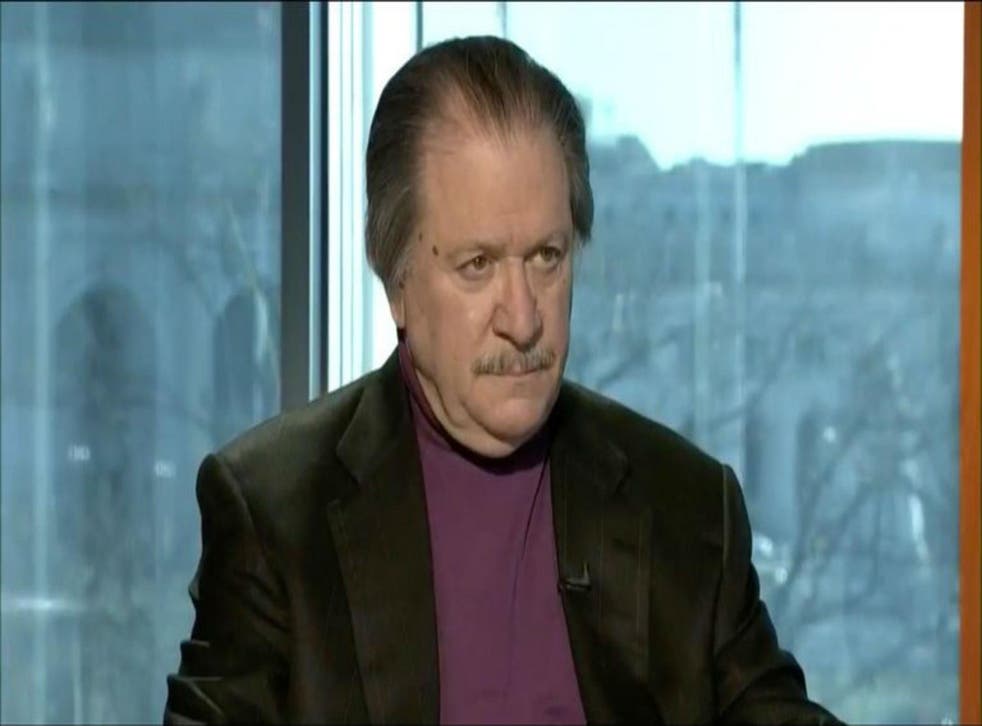 Donald Trump has hired a theory-peddling lawyer who argues the President is being framed by the FBI and Justice Department.
The addition of former federal prosecutor Joseph diGenova to Mr Trump's legal team is another indicator that the President is possibly working to discredit Special Counsel Robert Mueller's probe into Russian meddling in the 2016 presidential election.
Here is a list of theories that Mr diGenova has pushed on right-wing media.
January: He told Fox News that Mr Mueller's investigation into whether Trump campaign advisers colluded with the Kremlin is "a brazen plot to illegally exonerate Hillary Clinton and, if she didn't win the election, to then frame Donald Trump with a falsely created crime."
"Make no mistake about it: A group of FBI and DOJ people were trying to frame Donald Trump of a falsely created crime," Mr diGenova said.
30 January: He said on Lou Dobbs Tonight that Deputy Attorney General Rod Rosenstein's appointment of Mr Mueller to lead the Russia investigation was illegal.
"But Rod did something worse. He created a mandate for Mueller, which had no limitations of time, money, subject matter. He didn't even name a crime that was being investigated, which was a violation of the Department of Justice regulations. I think when all was said and done, Rod Rosenstein's memorandum and the appointment of a special counsel will go down in history as one of the worst decisions ever made by a Justice Department official."
The biggest names involved in the Trump-Russia investigation

Show all 17
1 February: He said in an interview with Tucker Carlson Tonight that FBI Director Christopher Wray planted stories about threatening to resign.
"Chris Wray planted these stories himself. He is trying to show the employees of the FBI and the former agents that he is brave. He is stalwart. He is standing up for them. This is nonsensical. If he offers to resign, the president should accept his resignation. This type of behavior by an FBI director is childish. It's immature."
2 February: He told Fox News host Sean Hannity that the US is headed toward "the largest law enforcement scandal in history".
"We are headed toward a very sad ending for the FBI and senior DOJ officials. ... I believe that several high FBI officials will be charged criminally. And it is conceivable that some DOJ people will also be charged criminally. ... I would consider this the largest law enforcement scandal in history for this reason."
7 March: He said on Lou Dobbs Tonight that a federal grand jury should investigate the Russia investigators
"This is why, Lou, the only way to get these answers, once the Nunes committee is done, is to have a federal grand jury force all of these State Department people, CIA, DNI people, FBI, DOJ senior people under oath in a grand jury. It's the only way we're ever going to get the full story. ... This is the single most important scandal of the last 50 years because senior DOJ and FBI officials engaged in conduct that was designed to corrupt an American presidential election. It wasn't the Russians who corrupted the presidential election; it was the American officials at the Department of Justice and the FBI."
Register for free to continue reading
Registration is a free and easy way to support our truly independent journalism
By registering, you will also enjoy limited access to Premium articles, exclusive newsletters, commenting, and virtual events with our leading journalists
Already have an account? sign in
Register for free to continue reading
Registration is a free and easy way to support our truly independent journalism
By registering, you will also enjoy limited access to Premium articles, exclusive newsletters, commenting, and virtual events with our leading journalists
Already have an account? sign in
Join our new commenting forum
Join thought-provoking conversations, follow other Independent readers and see their replies