'Bulldozing the firewall': How journalists at Voice of America are rebelling against Trump's war on media
Journalism is not a crime: Reporters and Congress clash with president's appointee to lead congressionally funded news outlets, writes Alex Woodward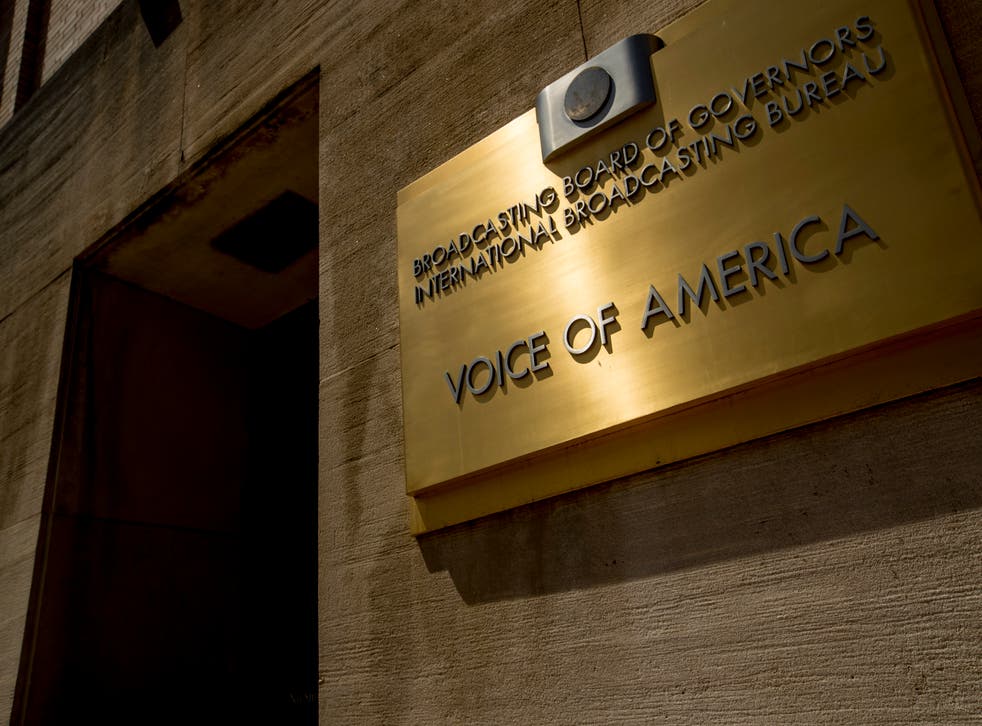 In an August memo as the new chief of the US Agency for Global Media (USAGM), the independent federal agency that oversees government-supported publications and broadcasters abroad, Michael Pack justified a recent staff purge by arguing that the publications he oversees are a national security threat.
Mr Pack has fired the chiefs of several outlets of the US Agency for Global Media, dissolved advisory boards and replaced members with Trump loyalists. He has frozen spending and refused to renew visas for foreign journalists after ordering a "comprehensive investigation of USAGM operations". There were "systemic, severe and fundamental security failures, many of which have persisted for years", he said in a July memo to staff.
His actions prompted staff protests and congressional intervention amid fears that the president – with diminishing support from sycophantic cable news outlets – would use state-run media networks for his own built-in propaganda outlet, converting an agency intended to promote the free flow of information to instead push messaging from the White House.
Mr Pack told The Epoch Times that he intends USAGM to promote "the policies of the US clearly and effectively". Staff fear this signals a deference to the president that closely aligns with administration-wide manoeuvres.
These realignments follow proposed cuts at the 160-year-old military newspaper Stars and Stripes and threats among Republicans and right-wing allies to eliminate funding for public broadcasting.
News organisations under USAGM's umbrella include Radio Free Asia, Radio Free Europe/Radio Liberty, the Office of Cuba Broadcasting, the Middle East Broadcasting Network, and Voice of America, one of its central operations, which produces news in 47 languages and reaches nearly 300 million people, often providing the only reliable source in areas with censored or state-controlled media.
The organisations have endured changing administrations, shifting priorities and oversight issues over the decades but have not, until this year, been at the centre of a partisan battle that staff warn compromises the agency's mission and the idea of a free press.
Mr Pack swiftly fired leadership when he entered office in June, alleging that his predecessors "ignored common national security protocols and essential government human resources practices" that made the agency's outlets vulnerable to espionage.
Without evidence, one memo said the agency's "failures … compromise the agency's ability to fulfill its mission, undermine the efficiency and effectiveness of the federal workforce, and pose a threat to US national security".
In an interview with right-wing news outlet The Federalist, Mr Pack was more direct, claiming that VOA was a "great place to put a foreign spy".
Staff and former employees at the outlet argue that the accusations could endanger reporters abroad covering countries and regimes that have used espionage allegations as justification to jail or murder journalists.
"There are a lot of journalists who are heroically motivated by a desire to get the truth," he told The Federalist. "My job really is to drain the swamp, to root out corruption and to deal with these issues of bias, not to tell journalists what to report."
But Mr Pack's moves have also forced working reporters out of the agency.
In August, at least 15 VOA journalists began returning to their home countries after USAGM refused to renew J-1 visas after leadership began reviewing entry permits. Visas for another 20 VOA journalists are due to expire by the end of the year, according to the news organisation.
"Congress' attempts to seek answers from USAGM on this matter have been met with silence," New York congressman and House foreign affairs committee chair Eliot Engel in a statement. "It's clear that the agency is just trying to run out the clock until these journalists are forced to leave."
Mr Pack is set to appear before the committee on 24 September.
On 31 August, a group of 14 VOA journalists, later joined by more than two dozen others, argued that Mr Pack's actions and his comments to right-wing media outlets "risked crippling programmes and projects for some countries that are considered national security priorities".
"He has ordered the firing of contract journalists, with no valid reason, by cancelling their visas, forcing them back to home countries where the lives of some of them may be in jeopardy," the group wrote in a letter to VOA's acting director Elez Biberaj, obtained by The Independent. "Now the purge appears to be expanding to include US permanent residents and even US citizens, with Mr Pack recklessly expressing that being a journalist is 'a great cover for a spy.'"
The group has demanded "competent and professional oversight" for USAGM outlets.
"Given those concerns we fear the current USAGM leadership is failing not only the news organisations … and our audiences, but also our stakeholders, including the American public," the group said.
In an email, a copy of which was provided to The Independent, Mr Biberaj told staff he had shared the VOA letter with USAGM leadership.
"Please know that I deeply value the work our journalists perform on a daily basis, bringing vital news to our global audiences who often have no access to a free press," he said. "The safety of our reporters at home and abroad is of paramount importance as well as any matter involving the VOA Charter and firewall."
USAGM declined to comment on the letter, calling its publication "improper" and a failure "to follow procedure".
"A direct response to this unconventional and unauthorised approach would be inappropriate and unwarranted," the agency said in a statement. "USAGM and VOA leadership are handling the choice of complaint transmission as an administrative issue."
Shawn Powers, USAGM's former chief strategy officer, was placed on administrative leave "based on specious and misleading grounds and clearly meant to muzzle and harm those of us who are trying to protect the integrity of the agency's operations", he said in a statement. "The proposed allegations are demonstrably false, entirely unrelated to my portfolio, and/or based on reports that predate my time at USAGM."
Mr Pack "has instead focused almost exclusively on pursuing political and personal vendettas", he said.
Steve Capus, a former USAGM adviser, said Mr Pack is "bulldozing the firewall designed to keep political operatives out of independent newsrooms".
"By reducing them to press release printing operations, Pack is toeing the line for the Trump administration but eroding US credibility worldwide," he said in a statement on 2 September.
Robert Litt, former general counsel for the Director of National Intelligence under the Obama administration and a lawyer representing Shawn Powers and a group of former VOA personnel, told The Independent that the group is "exploring options" for continuing their employment, including pursuing legal action, after they were placed on administrative leave or axed from their positions.
The president appointed Mr Pack to the role in 2018, but his approval in the Senate had stagnated until the president renewed his appointment earlier this year. He was approved on partisan lines.
Steve Bannon, the president's former senior adviser, recommended Mr Pack for the job.
Mr Bannon, a former chief at right-wing website Breitbart, had previously collaborated with Mr Pack, a conservative documentary filmmaker.
Citizens for Responsibility and Ethics in Washington, a nonprofit government accountability watchdog, has sought records of VOA resignations as well as Mr Pack's communications with the White House, Breitbart and Mr Bannon, including visitor records and calendar appointments.
"The requested records will show the extent of Trump's political attack on an executive branch news agency that's supposed to have a firewall between political appointees and press coverage," the organisation said. "The public deserves to know whether Trump is allowing white supremacist-tied appointees to shift an agency's priorities and force experienced news professionals to resign."
Before Mr Pack entered the job, the president had accused VOA of publishing Chinese propaganda about the coronavirus pandemic and hit out at unflattering stories about his administration.
The White House published an unsigned statement – "Amid a Pandemic, Voice of America Spends Your Money to Promote Foreign Propaganda" – echoed by the president's aides.
In April, now-former director Amanda Bennett pushed back against the allegations and defended her newsroom from attacks against its reporting.
"Unlike China, VOA has stuck to verifiable facts, including publishing numerous articles in Mandarin, English and other languages that outed China's initial secrecy keeping information of the initial outbreak from the world," she said in a statement. "VOA has thoroughly debunked much of the information coming from the Chinese government and government-controlled media."
On 2 June, she bolstered defence of the organisation from attacks against the media, following the president's repeated attempts to undermine the press.
"Members of the media have become a target of a growing number of verbal and physical threats to their safety – including arrests despite displaying press credentials – simply for covering the events of the day," she said. "VOA laments any individual or institution that limits our nation's cherished press freedom, especially because we know – more than most – what countries look like that have none."
Two weeks later, an internal memo from the Centres for Disease Control and Prevention revealed that the agency was told to refuse media requests from VOA journalists, pointing to guidance from the White House that accused the congressionally funded organisation of publishing Chinese propaganda. Ms Bennett called the accusations "disturbing".
Three days later, on 15 June, Ms Bennett and deputy director Sandy Sugawara resigned.
Following Mr Pack's purging of USAGM staff, a bipartisan group of senators wrote that they were "deeply concerned" with Mr Pack's firings and plan to review the agency's funding "to ensure that United States international broadcasting is not politicised, and the agency is able to fully and effectively carry out its core mission".
The cuts across USAGM outlets echoed in the Pentagon's recently announced plans to shutter its independently operated newspaper Stars and Stripes.
Stars and Stripes, which remains editorially independent but is partially funded through the US Department of Defence, has published for nearly 160 years – from its founding by Union Army soldiers on the brink of the US Civil War through endless wars abroad – often provoking leadership with a "grunt's"-eye view of the military and its brass.
A Pentagon memo to the newspaper's publisher and staff ordered it to "dissolve" and publish its final edition, in print and online, on 30 September. It also demanded a "specific timeline for vacating government owned/leased space worldwide".
But the president, facing intense scrutiny following allegations that he repeatedly disparaged veterans and war dead, reversed course on 4 September, unexpectedly announcing that "the United States of America will NOT be cutting funding" to the newspaper "under my watch".
Stars and Stripes ombudsman Ernie Gates said that shutting down the publication "would be fatal interference and permanent censorship of a unique First Amendment organisation that has served US troops reliably for generations".
It remains unclear why the Pentagon would gut the newspaper, with a $15.5m (£12m) budget that barely makes a dent in the Defence Department's massive $700bn operation, and place it within the administration's crosshairs, as the White House continues to undermine journalists and the media.
"We've had three-plus years of the press being described as the enemy of the people," Mr Gates told The Independent, adding that the president's frequent message likely "emboldens" officials who already consider the press a "nuisance at the Pentagon".
"That's one of the underlying factors, without a question," he said.
Join our new commenting forum
Join thought-provoking conversations, follow other Independent readers and see their replies