Ruth Bader Ginsburg: Tributes flood in from Obama, AOC and Biden
Liberal stalwart's death opens questions about future direction of SCOTUS
Clea Skopeliti
Saturday 19 September 2020 11:37 Comments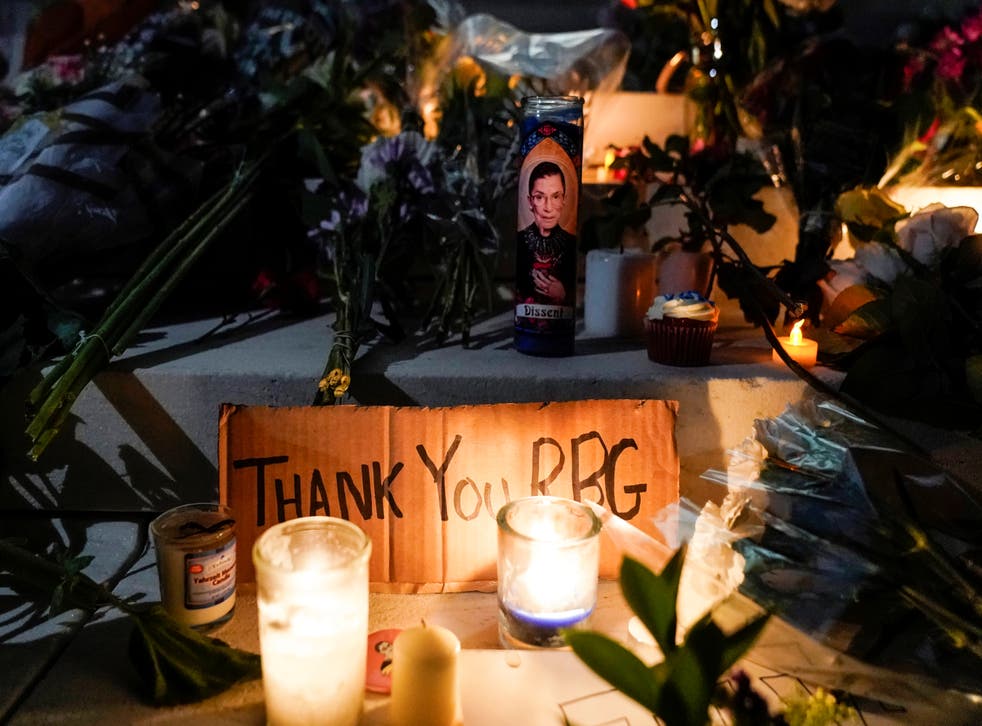 Leer en Español
Following the news of her death, tributes have poured in for Justice Ruth Bader Ginsburg, the US supreme court's second female justice and trailblazing feminist lawyer.
The oldest justice in the court, Ginsburg served for 27 years. She died on Friday, aged 87, from of metastatic pancreatic cancer.
As the battle for her successor intensifies, social media has been flooded with tributes for the liberal stalwart of the American justice system.
Barack Obama tweeted a statement honouring her memory, saying: "Justice Ruth Bader Ginsburg fought to the end, through her cancer, with unwavering faith in our democracy and its ideals. That's how we remember her. But she also left instructions for how she wanted her legacy to be honored." 
The former president underlined Democrats' concerns about Ginsburg's replacement, stressing the need for applying rules with "consistency" and waiting until after the presidential election to fill the justice's seat.
"Four and a half years ago, when Republicans refused to hold a hearing or an up-or-down vote on Merrick Garland, they invented the principle that the Senate shouldn't fill an open seat on the Supreme Court before a new president was sworn in," Mr Obama wrote.
"A basic principle of the law – and of everyday fairness – is that we apply rules with consistency, and not based on what's convenient or advantageous in the moment."
In her final days, Ginsburg dictated a powerful message to her granddaughter – that her "most fervent wish is that [she] will not be replaced until a new president is installed", according to NPR. 
Joe Biden, the Democratic presidential nominee echoed Mr Obama's words. The former vice president lauded Ms Ginsburg as "an American hero" with a forthright message about her successor, tweeting: "Let me be clear: The voters should pick a President, and that President should select a successor to Justice Ginsburg."
Ms Ginsburg's significance in the fight for gender equality was marked by several senior Democrats, including Nancy Pelosi, the Democratic Speaker of the US House of Representatives.
"Tonight, the flags are flying at half staff over the Capitol to honor the patriotism of Justice Ruth Bader Ginsburg. Every woman and girl, and therefore every family, in America has benefitted from her brilliance," Ms Pelosi wrote on Twitter, referring to the justice's legal advocacy for gender equality.
Meanwhile, Democrat congresswoman Alexandria Ocasio-Cortez, a leading voice on the party's left, praised Ms Ginsburg while stressing the importance in avoiding apathy and fighting to choose her successor. 
In a series of tweets, Ms Ocasio-Cortez underlined that it is "not the time for cynicism or hopelessness", saying: "We have lost a giant in the history of our nation with the passing of Ruth Bader Ginsburg. It is heartbreaking that in her final moments she was, as are many others, preoccupied with what would happen after her passing. I want to make one thing clear: we can, and must, fight."
Register for free to continue reading
Registration is a free and easy way to support our truly independent journalism
By registering, you will also enjoy limited access to Premium articles, exclusive newsletters, commenting, and virtual events with our leading journalists
Already have an account? sign in
Join our new commenting forum
Join thought-provoking conversations, follow other Independent readers and see their replies