Kate Steinle latest: Arrest warrant issued for Mexican immigrant acquitted of woman's murder
Not guilty verdict drew denunciations from Trump administration
Jeremy B. White
San Francisco
Saturday 02 December 2017 00:47 Comments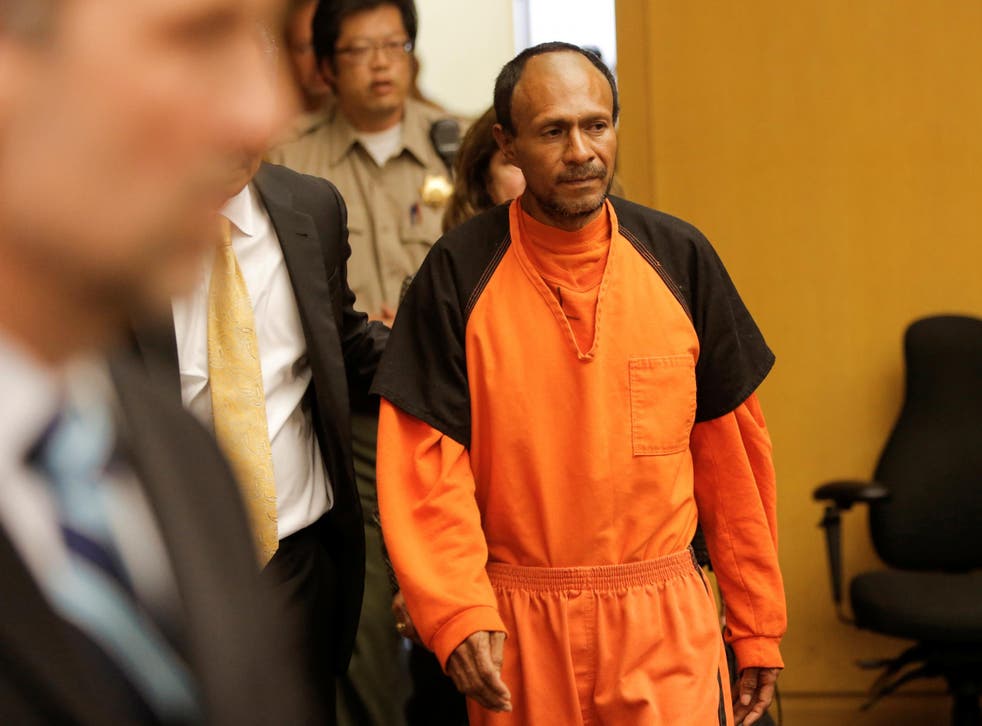 An arrest warrant has been been unsealed regarding the Mexican man who was acquitted of the murder of Kate Steinle in San Francisco.
District Judge Alia Moses of Texas unsealed the warrant for Jose Ines Garcia Zarate, who a day earlier was found not guilty of killing Ms Steinle as she strolled along a pier in San Francisco in 2015.
The warrant is for Mr Zarate violating the terms of his supervised release, a Department of Justice official said.
Read more
Mr Zarate had been released by the San Francisco Sheriff's Department shortly before Ms Steinle's death. An immigrant in the country illegally, he had been deported several times and had served time in federal prison for illegally re-entering the United States.
While jurors cleared Mr Zarate of homicide and manslaughter, vindicating the defense's argument that Ms Steinle was killed by an accidental shot that ricocheted, they found him guilty of being a felon in possession of a firearm.
Mr Zarate said he found the gun that fired the fatal bullet under a bench and picked it up.
World news in pictures

Show all 50
The case became a flashpoint over immigration policy, with critics arguing that San Francisco's status as a "sanctuary city" limiting cooperation with Immigration and Customs Enforcement contributed to Ms Steinle's death.
Donald Trump regularly invoked the case as a rationale for more stringent immigration laws. He blasted the verdict on Twitter as "disgraceful," and the White House excoriated the decision.
Yesterday's verdict in San Francisco underscores the danger to public safety when our Nation fails to enforce its laws. Kate Steinle was killed by an illegal immigrant and convicted felon who had been deported from the United States five times," a White House statement said, adding that "Had San Francisco enforced our Nation's immigration laws, the Steinle family would be celebrating this holiday with all of their loved ones".
US rescinds DACA program for young immigrants
The Department of Justice said it was exploring ways to bring federal charges against Mr Zarate.
"We're looking at every option and we will prosecute this to the fullest extent of the law because these cases are tragic and entirely preventable," Justice Department spokeswoman Sarah Isgur Flores said during an interview on news show Fox & Friends.
Register for free to continue reading
Registration is a free and easy way to support our truly independent journalism
By registering, you will also enjoy limited access to Premium articles, exclusive newsletters, commenting, and virtual events with our leading journalists
Already have an account? sign in
Join our new commenting forum
Join thought-provoking conversations, follow other Independent readers and see their replies