Kathy Griffin holds up Donald Trump's decapitated head in new photo shoot
She was quickly criticised online for holding up the decapitated head
Clark Mindock
New York
Tuesday 30 May 2017 21:58 Comments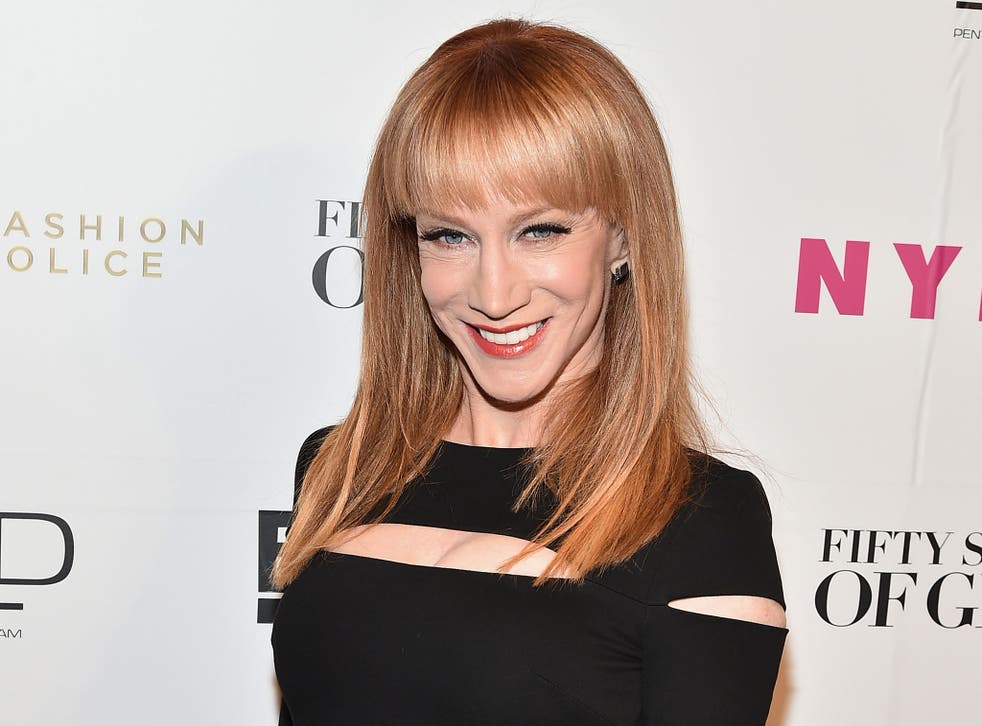 In a picture that evokes the gruesome memory of terrorist beheadings, comedian Kathy Griffin has posed with a bloodied and detached Donald Trump head — and critics have been quick to condemn the attempt at comedy.
Ms Griffin reportedly joked during the photo shoot that her and the photographer, Tyler Shields, would have to move to Mexico once the pictures were released for fear they'd be thrown in prison. Mr Shields is known for taking "edgy, shocking" photos.
"Just don't. Not helpful," Republican political strategist Rick Wilson wrote on Twitter.
Some labeled Ms Griffin as an attention-hungry celebrity looking for a boost to her career. Others called foul, claiming that the US media wasn't covering the photo, but would been unrelenting had a celebrity done something similar when President Barack Obama was in office.
"Leftists, tell me again about Trump's violent language ushering in an era of violence," Ben Shapiro, an American conservative political commentator tweeted.
There wasn't any short of gallows humour while Mr Obama was in office. A quick Google search for "Obama noose," for instance, brings up results for Wisconsin football fans bringing a mask of Mr Obama with a noose around his neck to a game. Those fans generated a considerable amount of criticism for their demonstration, which many noted was explicitly racist.
Ms Griffin later defended herself on Twitter, saying that she does not condone violence, and that she was referencing Mr Trump's infamous comment about former Fox News Host Megyn Kelly during a debate when he said, "You could see there was blood coming out of her eyes. Blood coming out of her wherever."
Donald Trump's first 100 days: in cartoons

Show all 33
Mr Trump was frequently criticised on the 2016 campaign for inciting violence at his raucous rallies. During the 2016 campaign, Trump supporters were frequently rowdy, and Mr Trump appeared to at times encourage the violence. At one rally in Kentucky, Mr Trump repeatedly told supporters to remove protesters, who later alleged that the Trump supporters had assaulted them in the process (a federal judge later wrote that Mr Trump's saying "get 'em out of here" constituted advocating for the use of force).
Register for free to continue reading
Registration is a free and easy way to support our truly independent journalism
By registering, you will also enjoy limited access to Premium articles, exclusive newsletters, commenting, and virtual events with our leading journalists
Already have an account? sign in
Join our new commenting forum
Join thought-provoking conversations, follow other Independent readers and see their replies