Katy for Barack, Kid Rock for Mitt... The stars take sides
Philip Rucker and David Nakamura on the celebrity endorsements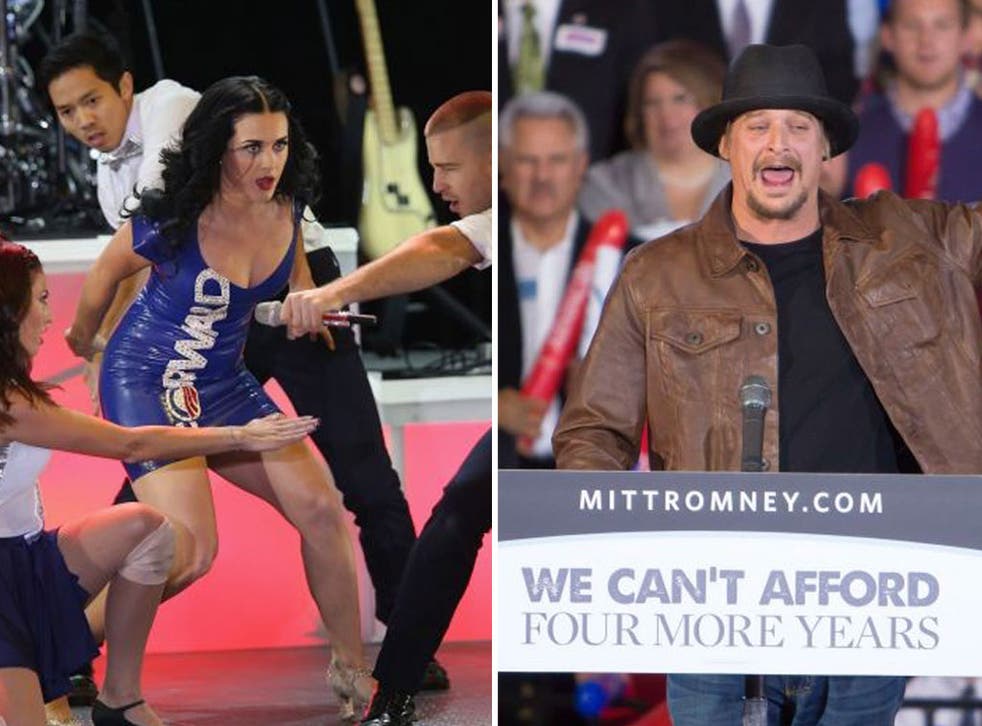 On the final weekend of their deadlocked campaign, Barack Obama and Mitt Romney called forth every supporter they could muster to gain any possible edge they could find.
In a tiny New Hampshire town, four out-of-state surrogates for Mr Romney chatted with the lunchtime crowd at a diner decorated with a pink Cadillac on stilts. In Reno, an Olympic speed skater talked up the Republican nominee. In Virginia, Senators John McCain and Lindsey Graham targeted voters in military communities. Two of Mr Romney's sons campaigned door-to-door in Florida.
Not to be outdone, the Obama campaign sent out its star backers on Saturday. Katy Perry, decked out in a body-hugging blue leather dress with the Obama campaign slogan "Forward" on it, rocked the stage before Mr Obama's speech in Milwaukee. John Mellencamp did an acoustic rendition of his hit "Small Town" in Dubuque, Iowa. At Cleveland State University, about 100 students were treated to an impromptu concert on Saturday morning by Stevie Wonder, who then went to an early voting centre and spoke briefly on Mr Obama's behalf on the steps of a church across the street.
"They are not mega-events, but the kind of things that keep people interested and give them a sense of how important the ground game really is," said Tom Rath, a Romney adviser who shepherded Louisiana Governor Bobby Jindal, Senator John Thune, former senator James Talent and Representative Marsha Blackburn through New Hampshire on Saturday.
Both campaigns tried to assert momentum in other ways too. At Mr Obama's Chicago headquarters, aides trumpeted favourable headlines from the Circleville Herald, a 6,600-circulation Ohio newspaper, and Haaretz, the Israeli newspaper. And at Mr Romney's Boston headquarters, aides tried to whip up a controversy over Mr Obama's remark on Friday that voting against Mr Romney was "the best revenge", producing a new ad overnight and trying to pump outrage across Twitter.
In the Cleveland area, the Obama campaign distributed fliers advising that celebrity backers would be at Cuyahoga County early voting site this weekend, including Vivica Fox, Will.i.am and Sophia Bush on Saturday, and John Legend and Aisha Tyler yesterday.
But it was the former president Bill Clinton whom the campaign was counting on the most. With three rallies on Saturday in Virginia, including one that marked the first time he and Mr Obama had been on the trail together, Mr Clinton clocked up his 29th appearance for Mr Obama since giving a speech at the Democratic National Convention.
And he's set to do eight more, including appearing in Pennsylvania and North Carolina over the next two days – two states Mr Obama has not visited since the convention in Charlotte in early September.
Obama campaign spokeswoman Jen Psaki said: "It doesn't take a poll to tell you that there is almost no one who can deliver a more compelling case about what it takes to manage the country through a challenging economic time and who is better suited to stand up for the middle class than President Clinton." Mr Clinton's appearances in states such as Minnesota and Pennsylvania — which Obama carried easily four years ago — showed that the Obama campaign had taken notice that Mr Romney's side was making a late play in both states. And Mr Obama's appearance in Wisconsin today shows his concern about another state he carried comfortably four years ago. Washington Post
Join our new commenting forum
Join thought-provoking conversations, follow other Independent readers and see their replies