Kellyanne Conway to leave Trump White House ahead of election
Loyal adviser to president announces she will 'transition from' administration at end of this month
Liam James
Monday 24 August 2020 12:00 Comments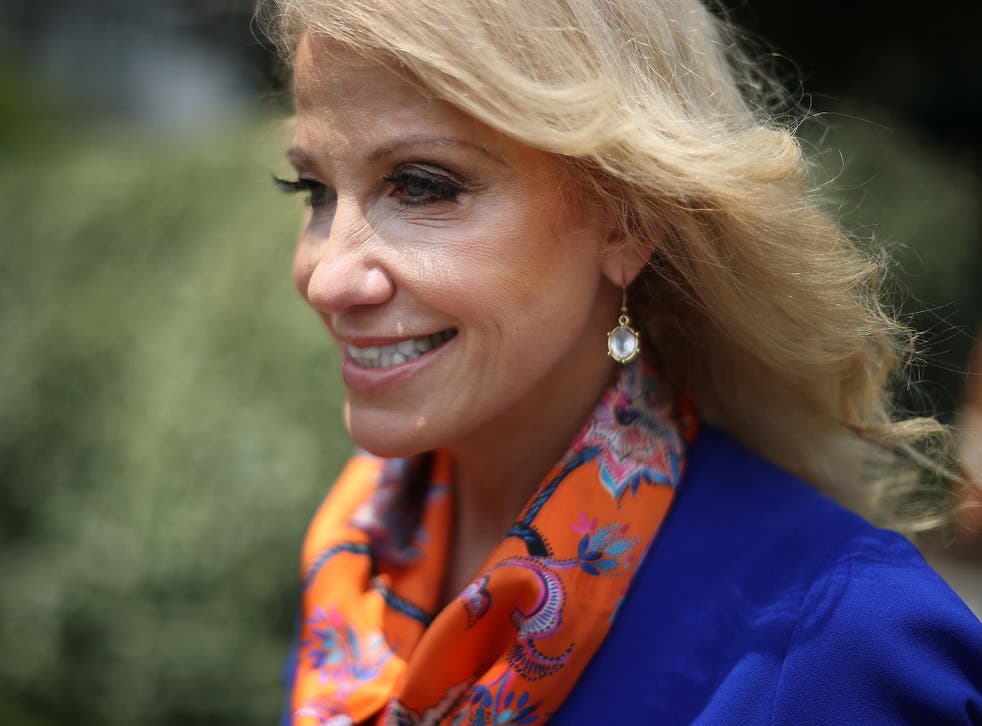 Leer en Español
White House adviser Kellyanne Conway has announced she will be leaving the Trump administration at the end of August, citing the need to focus on her family.
Ms Conway, who served as Mr Trump's campaign manager during the 2016 election and has since been one of the president's most loyal defenders, announced her decision on Sunday.
"I will be transitioning from the White House at the end of this month," she said in a statement.
Ms Conway joined the Trump camp in July 2016 after initially working for rival Ted Cruz's campaign and went on to become the first woman to manage a successful White House bid.
The president appointed her as a close adviser ahead of his inauguration and she has remained in post throughout his term so far, a rare feat in the Trump administration.
She has frequently defended Mr Trump and his inner circle in briefings and on television; perhaps most famously in the first days of his administration when she debuted the term "alternative facts" to defend false claims about the size of the president's inauguration crowd.
More recently, Ms Conway was instrumental in getting Mr Trump to restart regular –albeit shorter – White House coronavirus briefings, a practice that officials have viewed as successful in helping to stop a drop in opinion polls the president had suffered largely because of his handling of the pandemic.
Ms Conway's departure comes two months before Mr Trump seeks reelection, leaving him without one of his most passionate spokespersons at a crucial time.
In a separate statement on Twitter, Ms Conway's husband, George, said he was stepping back from his role in the Lincoln Project, which he co-founded with the stated mission to "defeat Trump and Trumpism at the ballot box".
In a public feud last year, Mr Trump called him a "wack job" and a "husband from hell", prompting Mr Conway to declare the president mentally unfit for office.
The decisions by the Conways come a day after their 15-year-old daughter said on Twitter that she was seeking "emancipation". Their daughter has previously drawn media attention in the US after posting comments about her parents on social media.
On Sunday, Ms Conway described her time in the Trump administration, and previously with the 2016 campaign, as "heady" and "humbling".
Additional reporting by Reuters
Register for free to continue reading
Registration is a free and easy way to support our truly independent journalism
By registering, you will also enjoy limited access to Premium articles, exclusive newsletters, commenting, and virtual events with our leading journalists
Already have an account? sign in
Join our new commenting forum
Join thought-provoking conversations, follow other Independent readers and see their replies