Kellyanne Conway says Democrat are being 'disrespectful to the dead' by demanding gun control after the Texas shooting
She said that it is too soon to discuss political matters like gun control
Clark Mindock
New York
Tuesday 07 November 2017 17:55 Comments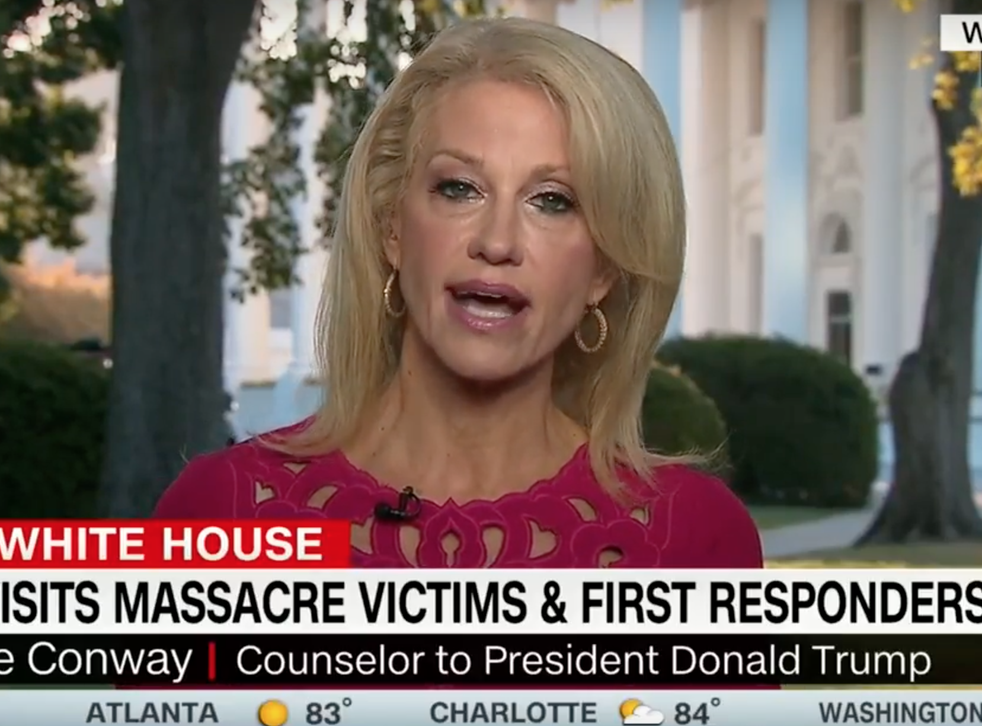 White House counsellor Kellyanne Conway says that the people bringing up gun control in the aftermath of the bloody shooting in Texas Sunday lack tact, and should wait to discuss how to combat the epidemic of gun violence in the United States until there is more distance from the shooting.
"The rush to judgement, particularly by people who just see politics and [Donald] Trump derangement in every single thing they do, it doesn't help the victims, and it's disrespectful to the dead," Ms Conway said during an appearance on "Fox and Friends".
Ms Conway expressed sadness for the deaths of the 26 church-goers in Texas, who were killed after a man dressed in tactical gear entered the building during Sunday prayer service and open fired. The youngest victim was an 18-year-old, and the oldest was 77-years-old. Officials have said that virtually nobody in the church emerged unscathed.
But, when it comes to the Democrats who have spoken out in favour of gun legislation that may have prevented such an attack, Ms Conway says the issue is being raised too quickly.
"It's so beyond any type of reasonable response that anyone should have — why people see politics immediately," she said, mocking liberals for "taking to Twitter in the comfort of their very luxurious lives and pointing fingers."
The mass shooting in Texas over the weekend is the latest incident of its kind, and came just a month after the worst mass shooting in Las Vegas when at least 58 people were killed alongside more than 500 wounded.
Texas church shooting

Show all 9
The Texas shooter was a former member of the Air Force who had been discharged on bad behavior after a conviction for beating his then-wife and her son. He was discharged after spending a year in prison for the offence.
Under US law, individuals convicted of domestic violence are barred from obtaining a firearm, but the shooter was still able to do so. It is possible that his criminal history did not come up in a background check if the records were not sent to the FBI by the military court that tried him.
Register for free to continue reading
Registration is a free and easy way to support our truly independent journalism
By registering, you will also enjoy limited access to Premium articles, exclusive newsletters, commenting, and virtual events with our leading journalists
Already have an account? sign in
Join our new commenting forum
Join thought-provoking conversations, follow other Independent readers and see their replies