US voting rights: 100,000 former felons now able to vote after Kentucky governor lifts lifetime ban
Ban disproportionately affected black Kentuckians, due to disparities in the criminal justice system. Roughly a quarter of black voting age population in the state was kept from voting
Clark Mindock
New York
Thursday 12 December 2019 22:38 Comments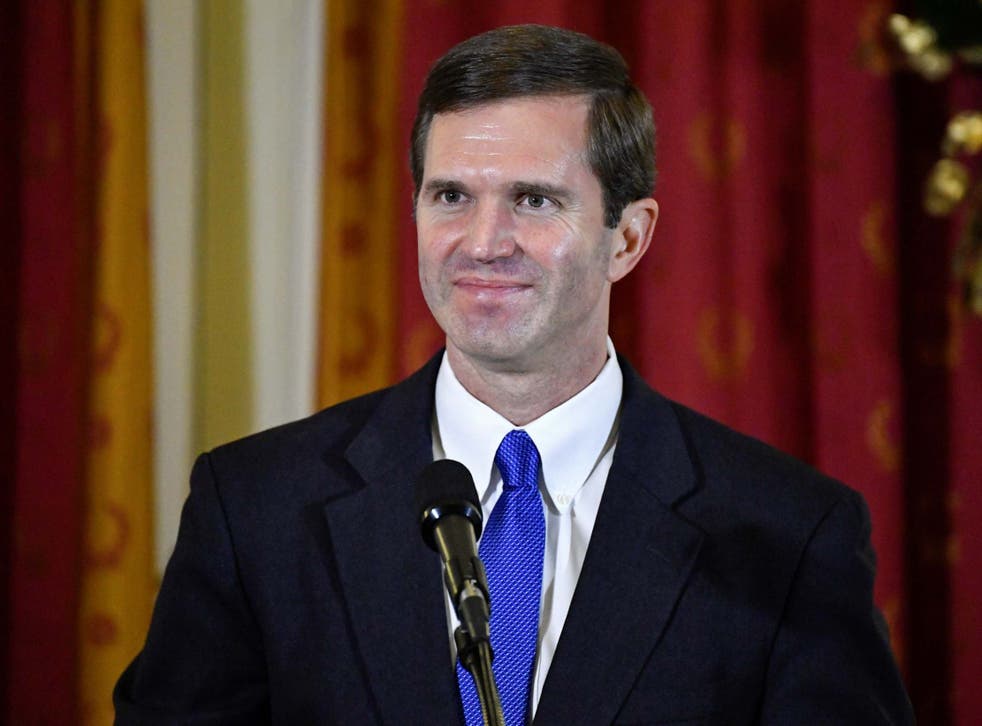 The newly-elected governor of Kentucky has restored voting rights to more than 100,000 people with past criminal convictions, reversing a ban that activists have called an "ugly holdover from our Jim Crow past".
The expansion was made official on Thursday by Democrat Andy Beshear, who narrowly defeated the state's previous governor during an election last month that attracted the intense attention of Donald Trump and the national press. The executive order automatically restores the right to vote to non-violent offenders.
With Mr Beshear's executive order signed, Kentucky has removed itself from a very short list of states with lifetime bans for convicted felons. Now, just Iowa has such a permanent ban on the books.
"I believe it is an injustice that their ability to fully rejoin society by casting a vote on election day is automatically denied regardless of the circumstances of their offence," Mr Beshear said on Thursday.
He continued: "When people vote, they're showing they're invested in our democracy, in our society and in their communities."
Kentucky creates a theme park of biblical proportions

Show all 2
In signing the executive order, Mr Beshear appears to be following in the footsteps of his father, former governor Steve Beshear. The senior Beshear had likewise signed an executive order in November 2015 to restore voting rights to people with certain felonies, and who had served their time.
"Everybody got an early Christmas present today, so it'll be all good," Debra Graner, 69, who was convicted on arson charges in 2012 after falling asleep drunk in her apartment with candles lit, starting a fire, told The Independent when reached after the signing.
Ms Graner said she is not sure if she will be included in the group to have their rights restored by Mr Beshear — she noted that her particular instance of arson did not involve violent circumstances — but said that she and others who have advocated as a part of the grassroots group Kentuckians for the Commonwealth are encouragd by the advancement of rights.
"I am absolutely thrilled," she said.
Republican Matt Bevin, who the current governor defeated last month, had rescinded that executive order at the start of his term. Due to racial imbalances in the criminal justice system, the ban disproportionately affected black voters in the state, with roughly a quarter of the black voting age population there being prohibited from voting. State law has banned former felons from voting since 1891. Before the Thursday signing, former felons were able to petition the governor to have their voting rights restored.
"Today the governor cleared the way to the ballot box for those with past convictions, giving them a second chance to vote and have a voice in the decisions that affect them and their families. Kentuckians overwhelmingly support what the governor has done," said Myrna Pérez, the director of the Brennan Centre's Voting Rights and Election Programme, following the Thursday signing. "Governor Beshear just brought the nation one step closer to eliminating permanent disenfranchisement for people with past convictions. We celebrate Kentucky's freedom from this ugly holdover from our Jim Crow past."
The League of Women Voters has found more than 312,000 people in Kentucky who cannot vote because of felony convictions, a group that has grown from 186,348 in 2006. The population amounts to roughly 10 per cent of the state being disenfranchised, according to a separate count of the total by the Sentencing Project.
Mr Beshear's executive order marks the largest re-enfranchisement for ex felons in the United States since Florida voters passed a state constitutional amendment in 2018 known as Amendment 4, which eliminated a lifetime ban for roughly 1.4 million convicted felons in the sunshine state.
Register for free to continue reading
Registration is a free and easy way to support our truly independent journalism
By registering, you will also enjoy limited access to Premium articles, exclusive newsletters, commenting, and virtual events with our leading journalists
Already have an account? sign in
Join our new commenting forum
Join thought-provoking conversations, follow other Independent readers and see their replies