Kimberly Guilfoyle joins Eric Greitens's Senate campaign as national chair
'I am proud to join this team as the National Chair and look forward to championing Governor Greitens' vision,' former Fox News host announces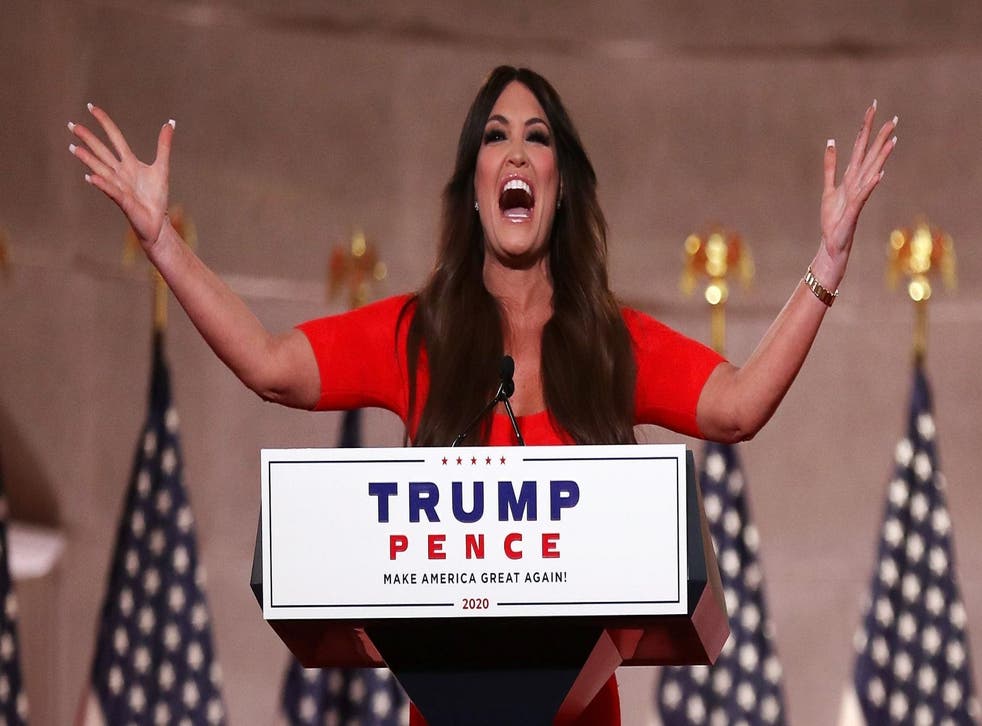 Kimberly Guilfoyle will serve in a key role in former Missouri governor Eric Greitens's run for US Senate, his campaign announced on Monday.
"I am proud to join this team as the National Chair and look forward to championing Governor Greitens' vision throughout Missouri and around the country," the former Fox News host said in a campaign statement.
Former governor Greitens, a Republican, resigned amid multiple scandals in 2018 after only a year and a half in office. He is now running to replace Missouri senator Roy Blunt, who plans to retire next year.
The hiring of Ms Guilfoyle, who is dating Donald Trump Jr, comes as yet another sign that Mr Greitens is courting the elder Mr Trump's far-right base. In the statement, Ms Guilfoyle made sure to tie the candidate closely to the former president.
"Governor Greitens is a fighter who has stood with President Trump and has a proven record of advancing conservative, America First policies," she said.
The former governor made multiple mentions of Mr Trump as well.
"I am honored to have Kimberly's support," Mr Greitens said in the same press release. "Her work on behalf of President Donald J. Trump was unmatched. We know the Democrats will come after this campaign, just like they came after President Trump. With Kimberly Guilfoyle as our National Chair, I know we have a true fighter that will further elevate this campaign and help us win the support of every Missourian."
Mr Greitens was elected governor of Missouri in 2016. A former Navy SEAL and founder of a charity for veterans, he had a political outsider's appeal and was broadly popular in his first year in office.
But in 2018, reports surfaced that Mr Greitens had had an affair with his hairdresser, who accused him of trying to blackmail her with a partially nude photo. The governor admitted to the affair but denied the blackmail allegation. An investigation was launched, and in February 2018 Mr Greitens was charged with felony invasion of privacy.
Separately, an investigation by the state's attorney general found that the governor may have misused a donors list from his charity for political purposes. He was charged with felony tampering with computer data in April – though he again denied any criminal wrongdoing. By May, members of Mr Greitens' own party in Missouri's state legislature were considering impeaching him. On 1 June, 2018, he resigned.
The charges against Mr Greitens were then dropped. On 22 March – almost three years later – he announced he would run for Senate.
Register for free to continue reading
Registration is a free and easy way to support our truly independent journalism
By registering, you will also enjoy limited access to Premium articles, exclusive newsletters, commenting, and virtual events with our leading journalists
Already have an account? sign in
Register for free to continue reading
Registration is a free and easy way to support our truly independent journalism
By registering, you will also enjoy limited access to Premium articles, exclusive newsletters, commenting, and virtual events with our leading journalists
Already have an account? sign in
Join our new commenting forum
Join thought-provoking conversations, follow other Independent readers and see their replies