Kris Kobach: Trump contender for immigration tsar suggests creating 'camps' for asylum seekers
Oxford Dictionary defines internment as 'state of being confined as a prisoner, especially for political or military reasons'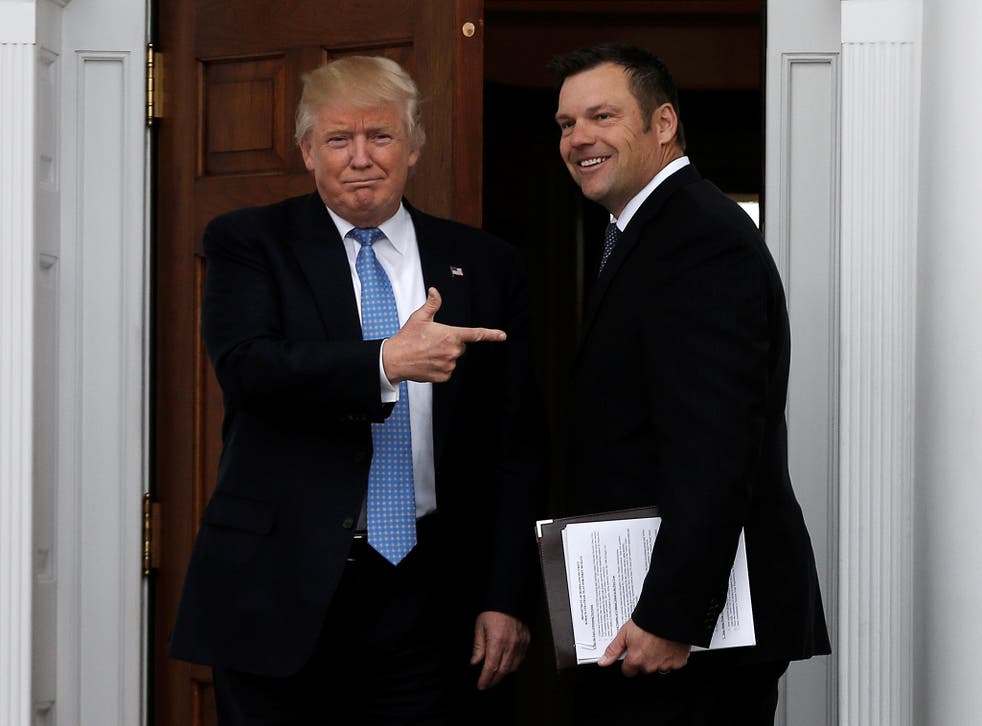 A far-right conservative Donald Trump is considering appointing as his administration's "immigration tsar", has gone on the record suggesting creating "camps" for asylum seekers in the United States.
While appearing on Fox Business' "Lou Dobbs Tonight," Kris Kobach proposed the US detain people who enter the country to claim asylum in camps and station them in confined "processing towns".
"Create processing towns that are confined, and so when someone comes in and falsely claims asylum, we don't release them for six months onto the streets of the United States," Mr Kobach, who is President Trump's top choice for immigration tsar, said on Tuesday.
"We process them right there, in that camp, where they have the three square meals, they're living in a nice mobile home, and then as soon as they're done, as soon as the claim is rejected, they're on the next plane back home," he added in his proposal where asylum seekers are concentrated — or interned — at camps.
Lou Dobbs, the host of the self-titled news programme, praised Mr Kobach's internment camp suggestion for asylum seekers. He chimed in saying that a camp detaining asylum seekers would "bring all of that unused government property to use, effectively and at very little cost, if not no cost, in fact, to the Department of Homeland Security".
'Families belong together' protests over Trump immigration policy

Show all 8
Mr Kobach is known for his draconian views and policy proposals on immigration. He has been a vocal supporter of the Trump administration's zero-tolerance policy towards undocumented migrants and their children, and have repeatedly called for the implementation of a Muslim registry.
From 2011 to 2019, Mr Kobach served as the secretary of state for Kansas. Last year, he ran an unsuccessful bid for governor against Democrat Laura Kelly. While running for governor, Mr Kobach was accused of accepting campaign donations from white supremacist groups.
Register for free to continue reading
Registration is a free and easy way to support our truly independent journalism
By registering, you will also enjoy limited access to Premium articles, exclusive newsletters, commenting, and virtual events with our leading journalists
Already have an account? sign in
Register for free to continue reading
Registration is a free and easy way to support our truly independent journalism
By registering, you will also enjoy limited access to Premium articles, exclusive newsletters, commenting, and virtual events with our leading journalists
Already have an account? sign in
Join our new commenting forum
Join thought-provoking conversations, follow other Independent readers and see their replies