Second QAnon supporter wins Republican Senate primary
Political outsider becomes latest GOP candidate to win despite conspiracy support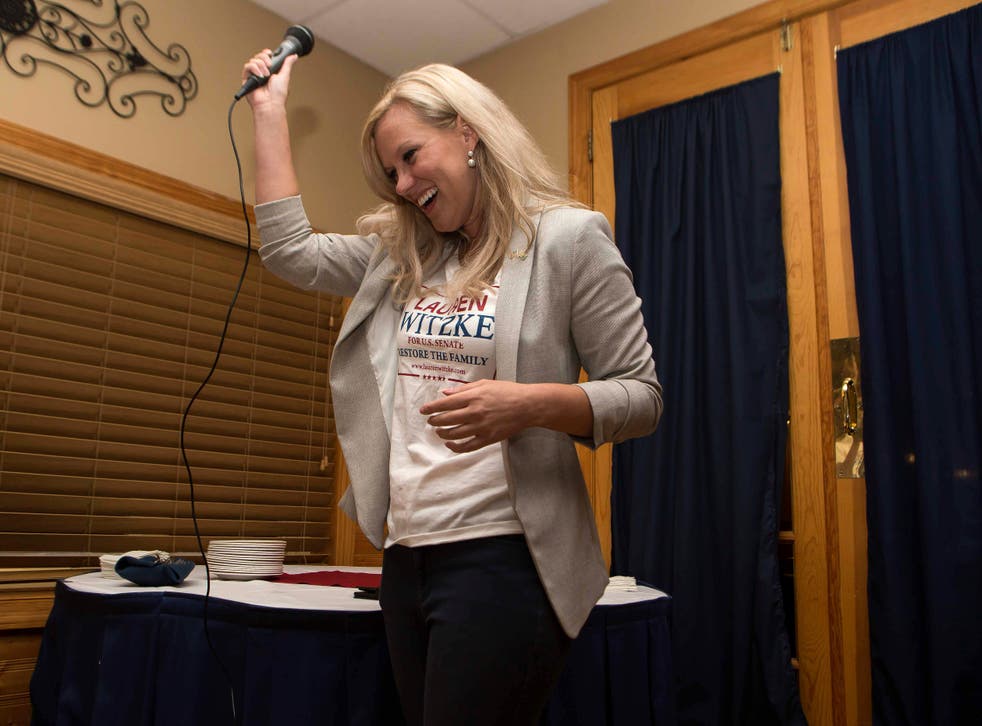 QAnon conspiracy supporter Lauren Witzke has become the second to win a Republican Senate primary this year, after an election win in Delaware.
The Republican candidate defeated her opponent, James DeMartino, who was officially endorsed by the party in Tuesday's primary race.
Mr DeMartino had made two previously unsuccessful bids for the seat held by a Democratic candidate, in what is Joe Biden's home state.
Ms Witzke, who was pictured wearing QAnon t-shirts and tweeting with the QAnon hashtag, has tried to distance herself from the far-right conspiracy theory, saying it was "hype".
QAnon supporters are said to believe in the existence of "deep state" enemies of Donald Trump, some of whom have engaged in paedophilia, with information leaked by an inside figure called "Q".
Ms Witzke, whose "America First" agenda calls for a ban on immigration to the United States for 10 years, told The Associated Press (AP) in January that she stopped promoting QAnon months earlier, saying it was "more hype than substance".
That did not stop voters in Tuesday's primary race from referencing Ms Witzke's support for QAnon, with an 18-year-old, Maggie Kosior, telling AP that "She is a supporter of them and so am I".
Ms Witzke is among several controversial candidates with ties to far-right conspiracy thinking, including businesswoman Marjorie Taylor Greene, who won a Republican primary in Georgia despite her support for QAnon.  
Still, the Delaware Republican will likely face an uphill battle to defeat her Democratic opponent, Senator Chris Coons, who won his party's primary.
Register for free to continue reading
Registration is a free and easy way to support our truly independent journalism
By registering, you will also enjoy limited access to Premium articles, exclusive newsletters, commenting, and virtual events with our leading journalists
Already have an account? sign in
Register for free to continue reading
Registration is a free and easy way to support our truly independent journalism
By registering, you will also enjoy limited access to Premium articles, exclusive newsletters, commenting, and virtual events with our leading journalists
Already have an account? sign in
Join our new commenting forum
Join thought-provoking conversations, follow other Independent readers and see their replies