'Traitor': Lindsey Graham surrounded by Trump supporters at airport after breaking with president
After senator and longtime presidential ally calls for accountability, protesters swarm at airport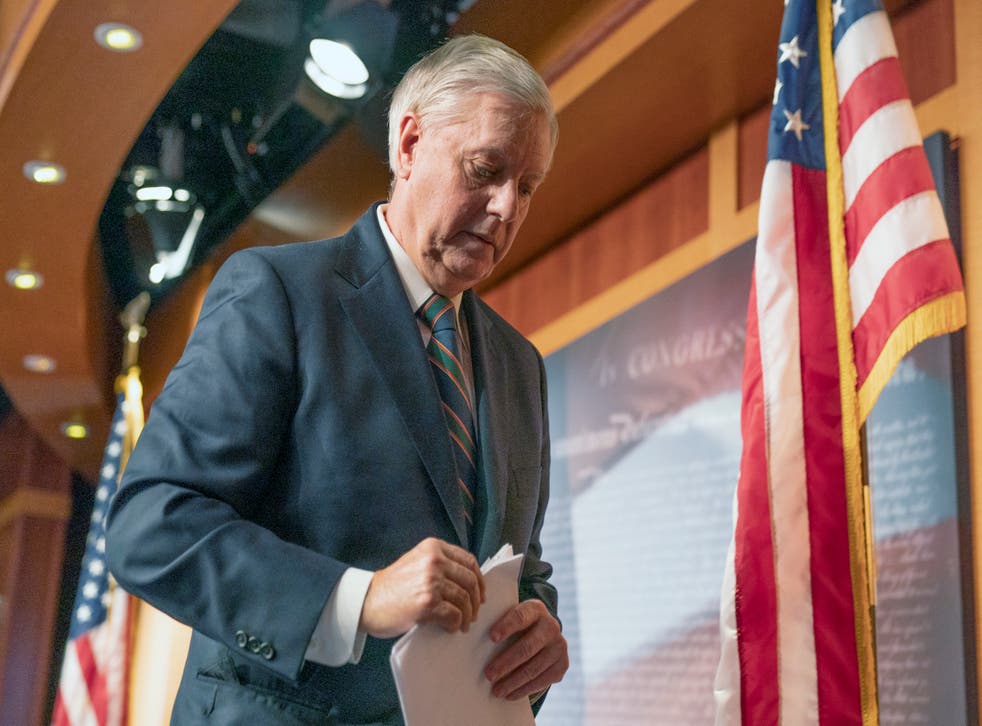 Leer en Español
Republican Senator Lindsey Graham was escorted by police from a terminal inside Ronald Reagan Washington National Airport after a group of Donald Trump's supporters chanted "traitor" and screamed "you work for us" after he condemned Donald Trump's response to a violent mob at the US Capitol and baseless allegations of election fraud.
"One day you will not be able to walk down the street," one woman yells in video shared by Politico's Daniel Lippman. "Today is the day."
In another video, a woman calls him a "garbage human being" and demands he "audit the vote," following calls from the president and his allies.
"You better enjoy GITMO," she yells.
The Independent has requested comment from the senator.
Senator Graham, who has been among the president's most reliable allies in Congress, said the Mr Trump must accept responsibility for his role in the violence that breached the Capitol and terroristed lawmakers and staff on 6 January, as a joint session sought to formally count the Electoral College votes in an election that the president has repeatedly told his supporters was "stolen" from them.
He calls the president's behaviour a "self-inflicted wound."
"When it comes to accountability the president needs to understand that his actions were the problem not the solution," the senator said during a news conference on Thursday.
He also said that "a good friend of mine, Rudy Giuliani" – the president's personal attorney who has led a spurious, failed legal battle to overturn election results before yelling to a crowd on Wednesday for a "trial by combat" – "did not help."
"Trump and I, we've had a hell of a journey. I hate it to end this way," Senator Graham said. "Joe Biden and Kamala Harris are lawfully elected and will become the president and the vice president of the United States on January 20."
Protests at the airport have echoed across social media, as the president's die-hard support believes he has been compromised into admitting defeat or are outraged that he turned on the mob he inspired.
After encouraging his supporters to march to the Capitol, triggering an insurrection attempt inside the halls of Congress as he sought to overturn election results, the president turned to social media after being suspended from his accounts.
"Like all Americans I am outraged by the violence, lawlessness and mayhem," he said in a brief video message.
He said that the rioters "who infiltrated the Capitol have defiled the seat of American democracy."
Register for free to continue reading
Registration is a free and easy way to support our truly independent journalism
By registering, you will also enjoy limited access to Premium articles, exclusive newsletters, commenting, and virtual events with our leading journalists
Already have an account? sign in
Register for free to continue reading
Registration is a free and easy way to support our truly independent journalism
By registering, you will also enjoy limited access to Premium articles, exclusive newsletters, commenting, and virtual events with our leading journalists
Already have an account? sign in
Join our new commenting forum
Join thought-provoking conversations, follow other Independent readers and see their replies