Man shot dead as Trump supporters and BLM protesters clash in Portland
Victim suffered gunshot wound to chest, police say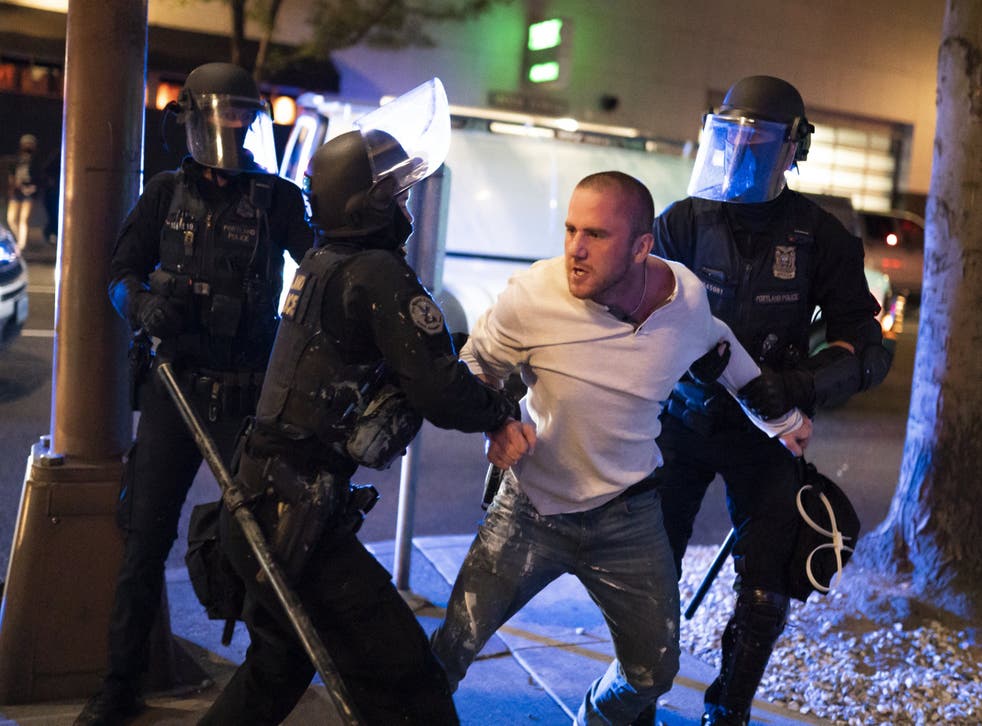 Leer en Español
One person has been shot dead amid clashes between Donald Trump supporters and racial justice protesters in the streets of Portland.
A man was fatally shot in the chest in the city in Oregon on Saturday evening, according to police.
They did not immediately link the protests and death, which happened in the same area.
A murder investigation has been launched.
Fights broke out on Saturday between a caravan of the US president's supporters and counter-protesters in the city centre.
Police said the convoy had left the area at around 8.30pm local time on Saturday, and officers heard gunshots at about 8.46pm, according to a statement.
Officers arrived at the shooting scene "within a minute", police said, but the man who was shot died despite efforts by people at the scene to save him.
Protests have been happening in Portland every night for more than three months after George Floyd, a black man, died after a police officer knelt on his neck for almost nine minutes in Minneapolis.
Police declared a riot early on Saturday after fires were set outside a police union building.
The caravan of around 600 vehicles had arrived in the city centre just as a protest planned for Saturday was getting under way.
It marked the third Saturday in a row that Trump supporters have rallied in the city.
As they arrived, protesters attempted to stop them by standing in the street and blocking bridges.
Videos from the scene showed sporadic fighting, as well as Trump supporters firing paintball pellets at opponents and using bear spray as counter-protesters threw objects at them.
Earlier this week, the US president invoked Portland as a liberal city overrun with violence at the Republican National Convention.
Additional reporting by agencies
Register for free to continue reading
Registration is a free and easy way to support our truly independent journalism
By registering, you will also enjoy limited access to Premium articles, exclusive newsletters, commenting, and virtual events with our leading journalists
Already have an account? sign in
Register for free to continue reading
Registration is a free and easy way to support our truly independent journalism
By registering, you will also enjoy limited access to Premium articles, exclusive newsletters, commenting, and virtual events with our leading journalists
Already have an account? sign in
Join our new commenting forum
Join thought-provoking conversations, follow other Independent readers and see their replies