CPAC: Marsha Blackburn expresses outrage at media fact-checking Trump, despite his thousands of false claims
'First they decided they were going to fact-check him – the leader of the free world'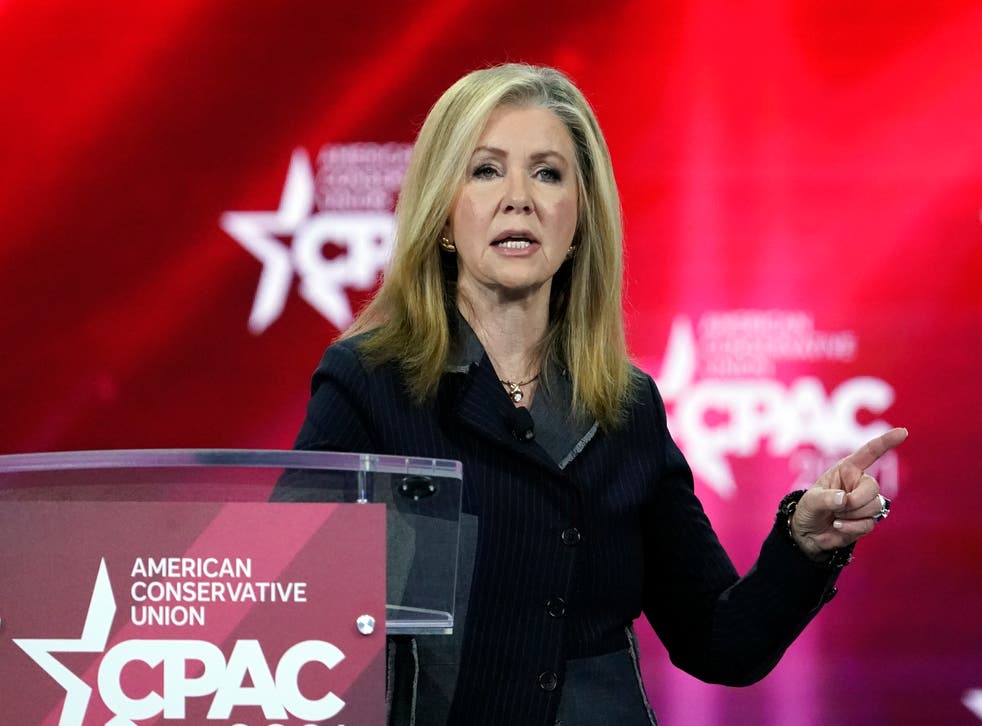 Leer en Español
Senator Marsha Blackburn, a Republican of Tennessee expressed outrage at the CPAC conference that former President Donald Trump was often fact-checked by publications and social media sites, despite him repeatedly making false claims in tweets and speeches.
During her speech in a segment called "America Uncancelled" she said: "First they decided they were going to fact-check him, the leader of the free world," Ms Blackburn said. "And then they were going to block him. Send a message. And then they were going to temporarily ban him, then they were going to permanently ban him from Facebook and Twitter. The leader of the free world."
Mr Trump was officially banned from Twitter and Facebook in January following months of him spreading misinformation about the 2020 presidential election.
At the time, the president was claiming the election was "stolen" from him and that he had actually won. But the Trump campaign team failed to ever provide significant proof of these claims in a court of law.
Read more: Follow live updates from the 2021 CPAC
In response to these false claims, the social media sites first added fact-checking labels on Mr Trump's tweets and posts to provide users with more information about what he was writing, a practice Ms Blackburn appeared to oppose. But the events of the 6 January Capitol riots convinced each platform to ban the president, as he was accused of inciting the violence.
Mr Trump made a total of 30,573 misleading or false claims during his four years as president, according to a Washington Post tally.
These numbers heightened on Election Day and in the months following, as Mr Trump made a record-breaking 503 false or misleading claims on 2 November, alone, in his attempt to win the election.
"Big Tech" has faced backlash from Republicans after multiple key players decided to ban Mr Trump following the events on 6 January.
Twitter was the first to implement a ban on the former president from its site, and the company announced recently that they never intended to lift the ban so Mr Trump could rejoin. This despite the chances that Mr Trump could run for president again in 2024.
"When you're removed from the platform, you're removed from the platform," Twitter CFO Ned Segal told CNBC earlier in February.
"Our policies are designed to make sure that people are not inciting violence," Mr Segal said. "He was removed when he was president and there'd be no difference for anybody who's a public official once they've been removed from the service."
Snapchat has also permanently banned Mr Trump from its platform.
Facebook, which owns Instagram, has indicated the former president the temporarily banned from its platforms currently stands. The Facebook Oversight Board, an independent digital supreme court for the company, would be reviewing the case and announce if the ban will become permanent in the coming months.
Join our new commenting forum
Join thought-provoking conversations, follow other Independent readers and see their replies