Trump endorses Martha McSally as she faces Kyrsten Sinema to become Arizona's first female senator
The state is seeing a record level of voter turnout in 2018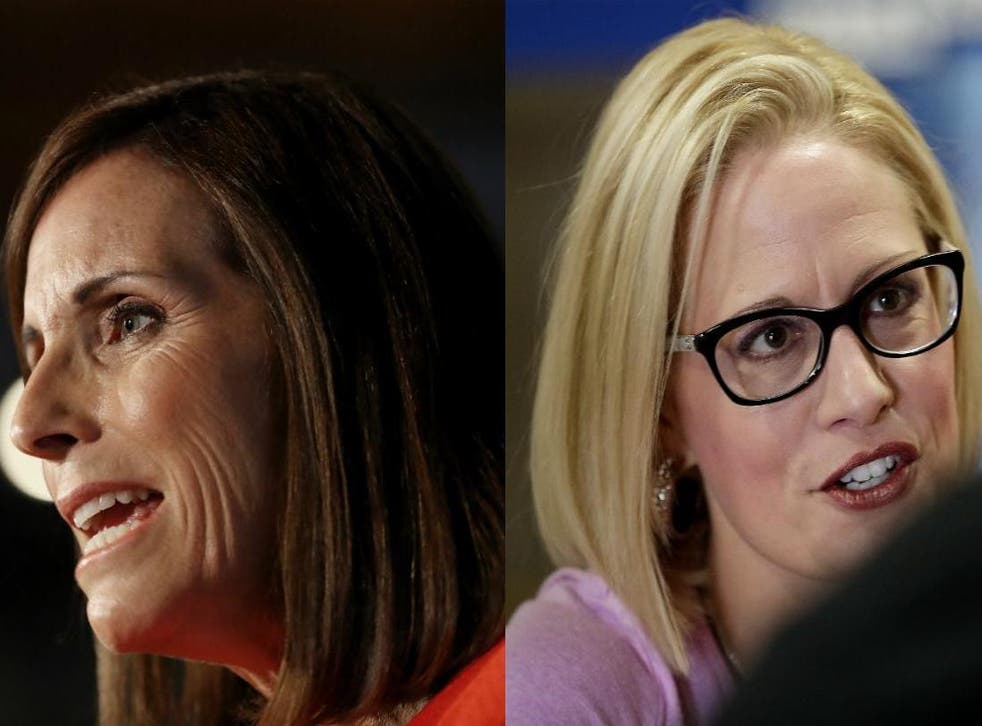 Donald Trump has endorsed Martha McSally in the race to become an Arizona senator - in one of the key races in November's midterm elections given the slim majority Republicans hold in the Senate.
Ms McSally facing a surprisingly tough challenge from her Democratic opponent, Kyrsten Sinema, who sailed to victory in this week's primaries by branding herself as a moderate alternative to Donald Trump's allies in the state GOP.
Ms McSally, an Air Force veteran and the first female American pilot to fly in combat, joined each of the Republican candidates for Senate in supporting the president's agenda, after previously standing in opposition to his hard-line immigration policies.
Her goal in the Republican primaries, according to analysts, was to essentially stop the president from endorsing either of her two opponents, including the controversial former Sheriff Joe Arpaio — who Mr Trump pardoned last year — and Kelli Ward, another staunch supporter of the White House.
After abandoning her support for a bill to protect undocumented minors who entered the country with their families, embracing the term "fake news" and vowing to help build the president's proposed border wall, it appeared her mission was a success.
Mr Trump celebrated the Arizona congresswoman as an "extraordinary woman" on Twitter after she secured the Republican nomination in Tuesday's primaries.
"She was a very talented fighter jet pilot and is now a highly respected member of Congress," the president wrote. "She is Strong on Crime, the Border and our under siege 2nd Amendment. Loves our Military and our Vets. Has my total and complete Endorsement!"
The two nominees will now face off in November's midterm elections, guaranteeing the state elects its first female senator. While a Democrat has not held the office in nearly 30 years, a record number of voters flocked to the polls on Tuesday night, with Ms Sinema securing 80 per cent of the total Democratic vote. She beat out Deedra Abboud, a progressive activist who garnered 20 per cent of the vote. The race is wide open as the GOP look to protect their 51-49 advantage in the Senate.
However, Ms McSally has already begun labeling her Democratic opponent as a leftist who is not capable of accomplishing her goals in Washington.
Secretary Kirstjen Nielsen: Every US state must prepare for Russian election interference in midterms
The Republican addressed the upcoming midterms this week, calling her opponent "Hollywood Sinema" in a Trump-styled attack and pointing out the alleged differences between her and the Democratic candidate.
"It's a choice between a doer and a talker. Between a patriot and a protester," she said. "I'm not a talker, I'm a doer. I'm an aviator, not a bloviator."
Florida and Oklahoma also held elections on Tuesday night, with a shocking upset arriving after Andrew Gillum defeated Democratic establishment pick Gwen Graham in the state's Democratic gubernatorial primaries. If elected, Mr Gillum will become the first black governor of Florida. He faces Republican candidate Ron DeSantis, a congressman hoping to replace Rick Scott, who is vying for a Senate seat against Democrat Bill Nelson.
World news in pictures

Show all 50
In Oklahoma, business executive Kevin Stitt defeated Oklahoma City Mayor Mick Cornett in the Republican primary runoff for the seat of Mary Fallin, the Republican incumbent who is retiring. Mr Stitt will face Oklahoma Attorney General Drew Edmondson, a Democrat who has enjoyed a way of energy across the state amongst Democratic voters.
Ms Sinema has seen that same surge in energy across Arizona, making her candidacy a clear threat to the reliably red Senate seat. As Ms McSally attempts to brand her as a far-left choice for Arizona voters, the lawmaker has released a series of local ads and interviews in which she describes a willingness to work across party lines.
"I don't know when it became, like, uncool to compromise," she recently told reporters. "But I am working to make it cool again. And I'm really proud of the work that our team has done in the last six years serving in Congress, of reaching across the aisle and working literally with anyone to get stuff done."
Join our new commenting forum
Join thought-provoking conversations, follow other Independent readers and see their replies