Maryland sues Trump administration to stop Matthew Whitaker running the Justice Department
Mr Whitaker is overseeing the probe into Russian meddling in the 2016 election, which the president has called a 'witch hunt'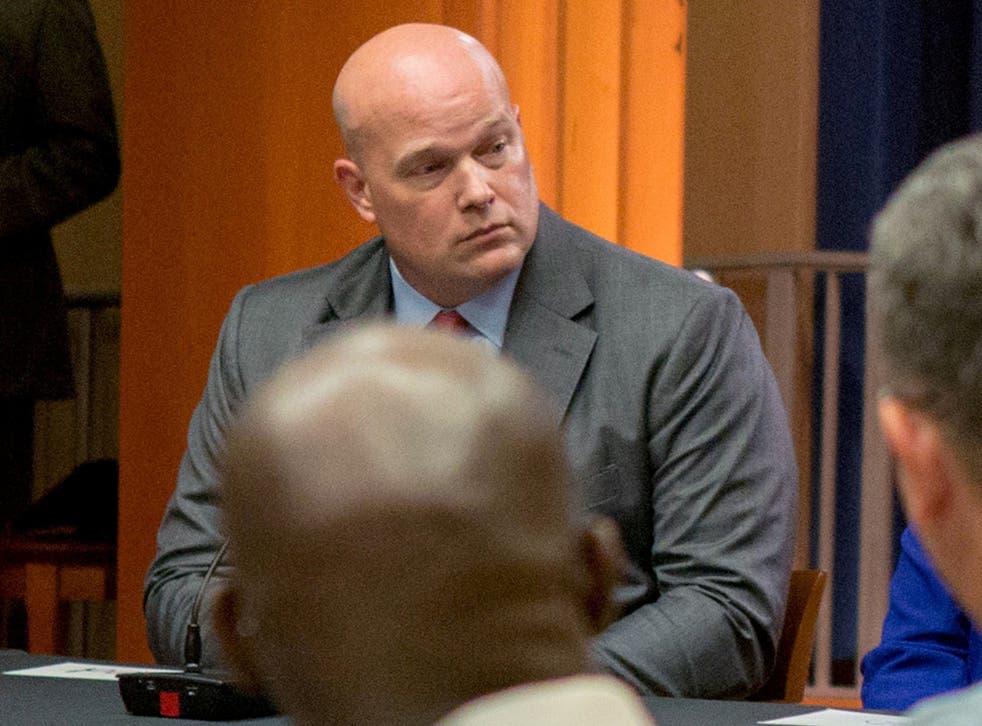 The State of Maryland is challenging the appointment of Matthew Whitaker as acting attorney general, arguing that Donald Trump overstepped his constitutional authority in doing so.
President Trump named Mr Whitaker as acting attorney general after forecing former Attorney General Jeff Sessions to resign just a day after the midterm elections last week, sparking concern that special counsel Robert Mueller's investigation into Russian meddling in the 2016 election could be in jeopardy under the temporary leadership.
Maryland Attorney General Brian Frosh filed the motion challenge to Mr Trump's appointment on Tuesday, saying that placing Mr Whitaker in charge of the Justice Department is illegal and unconstitutional and that Deputy US Attorney General Rod Rosenstein should be in charge instead.
Congressional Democrats have voiced concern that Whitaker, a Trump loyalist, could undermine or even fire Mr Mueller.
"The Constitution and Congress have established vitally important processes for filling high-level vacancies in the federal government," Mr Frosh said in a statement.
He continued: "Few positions are more critical than that of US Attorney General, an office that wields enormous enforcement power and authority over the lives of all Americans. President Trump's brazen attempt to flout the law and Constitution in bypassing Deputy US Attorney General Rosenstein in favour of a partisan and unqualified staffer cannot stand".
The filing says that Mr Whitaker's appointment is the first time since Congress passed a succession law for the Justice Department in 1868, that an individual named to be acting attorney general was not already in a Senate-confirmed position.
World news in pictures

Show all 50
The motion was filed as a part of the state's broader lawsuit over the future of the Affordable Care Act, or Obamacare. where the state is seeking a ruling that the healthcare law is still enforceable despite efforts by the Trump administration to shut down the law. The motion challenging Mr Whitaker relies in part on the fact that Mr Sessions is named in the original lawsuit, and therefore gives the judge the ability to rule on who is acting attorney general.
Mr Whitaker had been working as Mr Sessions' chief of staff before his resignation, and his appointment has been met with protest from those concerned that his past comments on the Mueller probe — which has reportedly included an evaluation of possible Trump campaign collusion with Russian intelligence forces during the 2016 campaign — show that he is likely to hamstring the investigation.
Those critics point to numerous past statements by Mr Whitaker regarding the Mueller probe, including a previous suggestion that whoever replaces Mr Sessions could cut the special counsel's budget so much that the investigation would effectively be ended.
However, while White House counsellor Kellyanne Conway has come to Mr Whitaker's defence, arguing on Fox News Sunday that the acting attorney general made those claims as a "private citizen" before joining the administration, the cries of Democrats are difficult to ignore.
On Monday evening, the Justice Department announced that Mr Whitaker is consulting with ethics officials to determine if he should recuse himself from overseeing the special counsel's Russia investigation. Doing so would once again put Mr Rosenstein back in direct oversight of that investigation.
"Acting Attorney General Matt Whitaker is fully committed to following all appropriate processes and procedures at the Department of Justice, including consulting with senior ethics officials on his oversight responsibilities and matters that may warrant recusal", a Justice Department official said on Monday night.
Support free-thinking journalism and attend Independent events
Mr Sessions had recused himself from overseeing the Mueller probe during his time as attorney general, citing his role with Mr Trump's 2016 campaign and Justice Department rules for that decision. In response, the president had frequently criticised his attorney general and suggested that he would not have appointed him to lead the Justice Department had he known Mr Sessions would recuse himself from the issue that has bogged down Mr Trump's presidency.
Join our new commenting forum
Join thought-provoking conversations, follow other Independent readers and see their replies