Senator who said nurses 'play cards' at work says she will shadow one for 12 hours
Maureen Walsh opposed bill to allow nurses mandatory, uninterrupted meal and rest breaks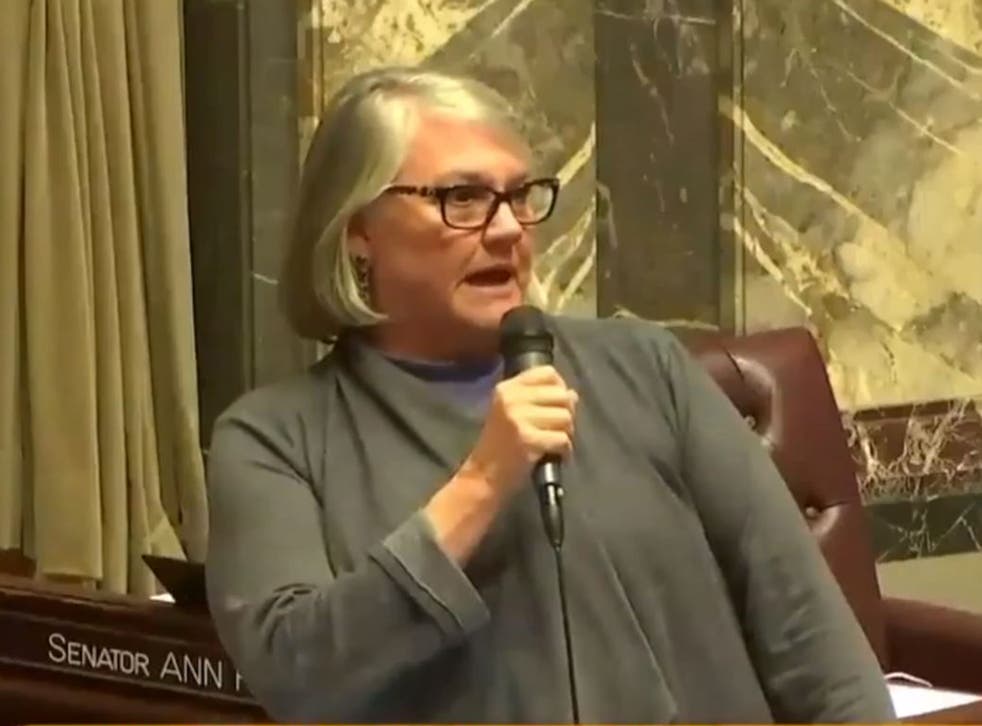 A state senator who suggested that nurses "probably play cards for a considerable amount of the day" has now said she would shadow a nurse for 12 hours.
Maureen Walsh, a Republican senator for Washington, made the remarks on the Senate floor on 16 April while denouncing a bill that would allow nurses to get mandatory, uninterrupted meal and rest breaks.
She said she opposed the legislation because it "does not apply" to districts like hers with many critical access hospitals, which have fewer than 25 beds.
"I understand helping with employees and making sure we have rest breaks," said Ms Walsh, who voted against the bill, House Bill 1155. "We need to care for patients first and foremost."
Ms Walsh's comments were met with backlash by nurses around the country. A nurse in Chicago, Juliana Bindas, 27, started a petition on Change.org asking Ms Walsh to spend a day shadowing a nurse so she could gain a deeper understanding of what a nurse's basic shift is like.
The Democrat challengers to Trump in 2020

Show all 25
The senator has since indicated that she will accept the invitation.
"Nurses don't really have time to even take a bathroom break, let alone play a deck of cards," Ms Bindas said on Tuesday. "It is completely false. We are busy taking care of your family members; we are making sure our patients are comfortable."
Ms Walsh apologised on Monday "to those I offended with my comments".
"I really don't believe nurses at our critical access hospitals spend their days playing cards, but I did say it, and I wish I could reel it back," she said in a statement. The senator could not be reached for comment on Tuesday.
Ms Walsh – who mentioned in her apology that her mother was a registered nurse – said she was trying to point out that the staffing needs of smaller, rural hospitals were different from those of the larger hospitals with "hundreds of patients".
The executive director of the Washington state Nurses Association, Sally Watkins, said she did not think that a hospital's size, location or number of beds ought to make a difference.
"It should not matter where a nurse works: All nurses should have a break," Ms Watkins said. Ms Walsh argues that critical access hospitals should be exempted for cost reasons, but, Ms Watkins said, "in many ways hospitals are already spending that money."
According to a 2018 Gallup poll about Americans' perceptions of various professions, nurses received the highest rating for honesty and ethics for the 17th consecutive year, with 84 per cent of Americans indicating high or very high levels of trust in them. But to take the job means to be prepared to be worn out.
"Nurses get frustrated and oftentimes leave the profession because they can't work without breaks," Ms Watkins said. "It becomes a fatigue issue."
In Washington state, nurses can take breaks, but those breaks can be interrupted.
"Nurses can be called back to their unit," Watkins said. "Some hospitals call a bathroom visit a break."
Ms Bindas spoke about the need for personal time. "If there was a way we could have an uninterrupted lunch break it would be important not only for the physical but mental and emotional as well," she said. "So you can also take care of yourself."
Ms Walsh offered an amendment to the bill on 16 April limiting nurses to eight-hour shifts. But in her statement she said she was abandoning the amendment after hearing from nurses in her district that they prefer to work 12-hour shifts to spend more time with their families.
"In recognition of that, I support the removal of the amendment and am confident it will be stripped off," Walsh said.
But 12-hour shifts are rarely just 12 hours. In Ms Bindas' experience, a 12-hour shift can easily run more than two hours over because nurses usually stay to hand off to other nurses, check on their patients and write reports.
Support free-thinking journalism and attend Independent events
"Nurses go into this career because it's a selfless career," Ms Bindas said. "At the end of the day every nurse deserves respect and to be appreciated."
In her statement, Ms Walsh left the door open for a learning experience.
"I understand from news accounts that a petition is being circulated urging me to spend a day shadowing a nurse at a local hospital for 12 hours, and walk a mile in her shoes," she said. "I look forward to receiving it and am happy to accept."
New York Times
Join our new commenting forum
Join thought-provoking conversations, follow other Independent readers and see their replies