Maxine Waters urges supporters not to counter-protest militia group targeting her
The California congresswoman has become the focus of an 'ongoing protest' staged by the Oath Keepers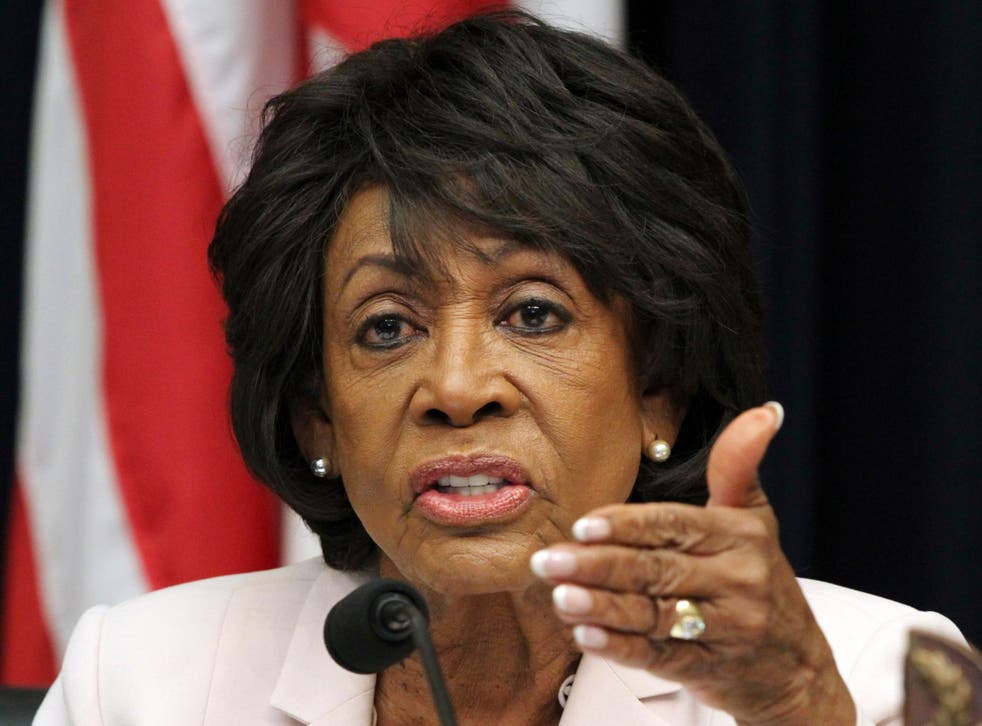 Maxine Waters has warned her supporters against staging counter-protests to the militia group that's planning demonstrations outside of her California offices.
The Democratic congresswoman released a statement on Tuesday night after becoming the target of the Oath Keepers, a militia organisation associated with anti-government movements. She said the group's main goal was to "inflame racial tensions and create explosive conflict in our community," adding that residents throughout district should not get "baited" into confrontations with the group.
"I am requesting those individuals and groups planning a counter-protest to not be baited into confronting the Oath Keepers with any demonstrations in opposition — such an occurrence would only exacerbate tensions and increase the potential for conflict," Ms Waters said. "In order to ensure the peace and security of our community, it is best and preferable if no other demonstrations are scheduled on the same date and time as the Oath Keepers' planned protest."
The Oath Keepers released a "call to action" against the congresswoman earlier this week, encouraging members to "stand against terrorism" by joining the group on the sidewalk outside of Ms Waters' district office in Los Angeles beginning Thursday afternoon.
"This is the launch of an ongoing protest that may go on for several weeks," the Oath Keepers website said, inviting other "patriotic groups" to join the demonstration.
Ms Waters, a frequent critic of Donald Trump, has become a controversial Democratic figure in conservative circles for her rebuke of the White House administration. A quote she gave during a recent demonstration in California received heavy criticism for supposedly "inciting violence" — despite her never encouraging any physical harm throughout the speech.
Maxine Waters: Americans should confront Trump cabinet members every time they step out in public
"If you see anybody from that Cabinet in a restaurant, in a department store, at a gasoline station, you get out and you create a crowd and you push back on them," she said. ""You tell them that they are not welcome, anymore, anywhere."
The Oath Keepers slammed the speech, saying Ms Waters was "inciting terrorist violence and threats of violence" in their call to action.
"It is time for all of us "sheepdogs" within the American warrior class (police, military, first-responders) to unite in common defence of the Constitution we all swore to defend, and in defense of our homes, families, and communities against those who would destroy this nation from within, in alliance with enemies from without, such as the drug cartels who now terrorise all of Mexico and who are now bringing their terror, rape, murder, and corruption north into our nation," Oath Keepers founder Stewart Rhodes said in a statement. "Remember, our oath is to defend the Constitution against all enemies, foreign and domestic."
Violence on the streets of Charlottesville

Show all 9
The Oath Keepers have been among a variety of militia groups showing up at far-right demonstrations across the country.
One such rally became deadly when a car was driven though a crowd of counter-protestors at the Unite the Right march in Charlottesville, Virginia, killing 32-year-old activist Heather Heyer. James Alex Fields Jr, who is not connected to the Oath Keepers, now faces 29 counts of federal hate crimes and first-degree murder charges.
That chaos appeared to be the exact type scenario Ms Waters was hoping to avoid by releasing her statement ahead of the Oath Keepers' planned protest.
"As I have stated many times, peaceful protest and civil dissent is the foundation of our democracy," she continued. "Nevertheless, because of the Oath Keepers' history of promoting violence and intimidation, my primary concern is to maintain the safety and security of the protestors, staff, and constituents of California's 43rd Congressional District — a task that would be exceedingly complicated by large crowds of protestors and counter-protestors."
Register for free to continue reading
Registration is a free and easy way to support our truly independent journalism
By registering, you will also enjoy limited access to Premium articles, exclusive newsletters, commenting, and virtual events with our leading journalists
Already have an account? sign in
Register for free to continue reading
Registration is a free and easy way to support our truly independent journalism
By registering, you will also enjoy limited access to Premium articles, exclusive newsletters, commenting, and virtual events with our leading journalists
Already have an account? sign in
Join our new commenting forum
Join thought-provoking conversations, follow other Independent readers and see their replies